SC puts Lokur panel on hold
Decision made after solicitor-general Tushar Mehta conveyed a promise from the Centre for a prompt legislative solution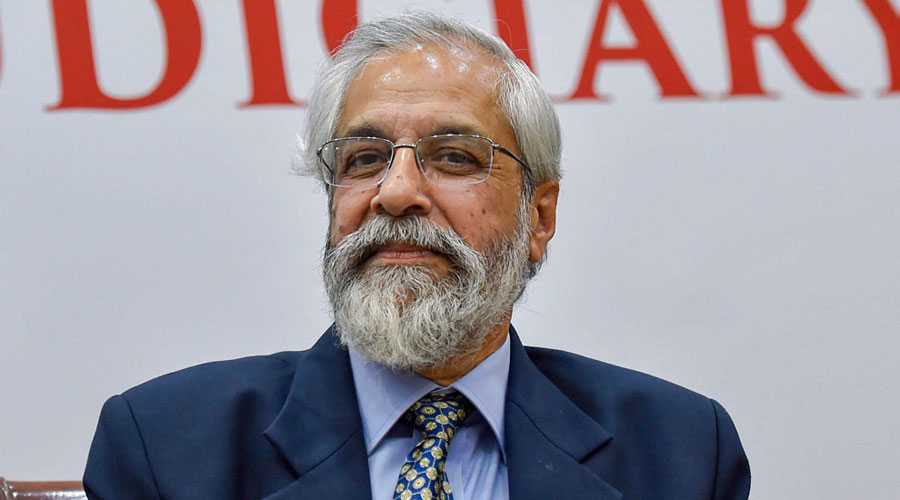 Justice Madan B. Lokur
File picture
---
New Delhi
|
Published 27.10.20, 12:46 AM
|
---
The Supreme Court on Monday kept "in abeyance" a 10-day-old order appointing a retired judge, who is a trenchant critic of the State's misuse of the sedition law, as a one-man committee to check air pollution in Delhi.
A bench headed by Chief Justice S.A. Bobde put the Justice Madan B. Lokur committee on the backburner after solicitor-general Tushar Mehta, who had previously opposed the former apex court judge's appointment, conveyed a promise from the Centre for a prompt legislative solution.
As a sitting judge, Justice Lokur had headed a bench that delivered an unpalatable verdict for the Narendra Modi government on extra-judicial killings. After retirement, he had condemned the use of the sedition law against "youngsters, students talking about doing something good for the country".
On October 16, the three-judge bench had tasked Justice Lokur with ensuring the prevention of stubble burning in Punjab, Haryana and Uttar Pradesh, an age-old practice that aggravates air pollution in the National Capital Region in October-November every year.
On Monday, Mehta told the court the Centre would within three to four days issue an ordinance, to be later replaced by a regular law, creating a permanent body to deal with stubble burning.
Senior advocate Vikas Singh, representing public interest petitioner Aditya Dubey who had sought the judicial committee, argued that legislation would take a long time and the Justice Lokur panel should therefore not be delayed.
But the bench, which included Justices A.S. Bopanna and V. Ramasubramanian, rejected his argument after Mehta said: "This government is different, it works faster…. The matter is being dealt with on a war footing. Several ad hoc measures have been taken."
Justice Bobde said: "We welcome the step (promised by the government). This is not a matter for a PIL."
Singh said: "I don't understand the interests of the Union of India in getting the order suspended."
Justice Bobde told Singh the court was free to keep its own order in abeyance.
"What is your problem? After all, you are a PIL petitioner," the Chief Justice said, adjourning the matter till October 29.
In September this year, Justice Lokur had told a webinar, without mentioning names: "(The charge of) sedition is being used with an iron hand to curb free speech, which is an overreaction to people expressing views."
Alluding to Dr Kafeel Khan, he had said that recently in Uttar Pradesh, a speech calling for the unity and integrity of the country was used to keep the speaker in preventive detention on the ground that the speech was against the country's integrity.
In 2018, dealing with a public interest plea on alleged extrajudicial killings of more than 1,500 people in Manipur between 1985 and 2001, a bench headed by Justice Lokur had ordered a CBI inquiry despite the Modi government arguing this would demoralise the armed forces.
Justice Lokur's willingness to express dissent also showed in the way he had combined with three other apex court judges in January 2018 to hold a news conference and accuse then Chief Justice Dipak Misra of allocating key cases to certain favoured junior judges.