Still mum on Madi Sharma
Sharma has become the centre of attention as the Internet dredged up details of an MEP visit to Maldives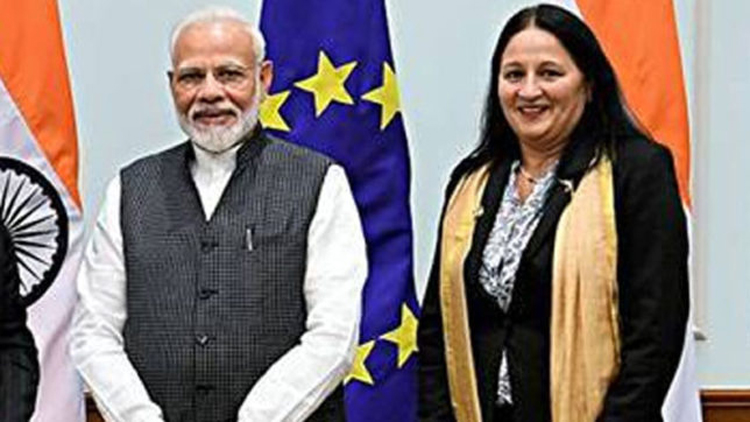 Modi and Madi in New Delhi on Monday
(PIB picture)
---
New Delhi
|
Published 30.10.19, 08:33 PM
|
---
The Narendra Modi government remained tight-lipped on the private visit of members of the European Parliament (MEPs) to Srinagar or who authorised Madi Sharma, the self-professed "international business broker", to invite them on behalf of Prime Minister Narendra Modi.
Sharma has become the centre of attention as the Internet dredged up details of an MEP visit to Maldives in 2018 ahead of the presidential elections in the atoll nation.
In that instance, the Maldivian government had complained to the president of the European Parliament about the three MEPs and two others associated with the EU, including Sharma, entering his country on a tourist visa but presenting "themselves as though they were an official delegation of the EU".
In that letter, the ambassador to the mission to the EU, Ahmed Shiaan, referred to Sharma as member of the European Economic and Social Committee (EESC), a post she was nominated to by the UK and continues to hold as mentioned in her invitation letter to the MEPs for the Kashmir visit. The EESC is a EU grouping of civil society organisations.
Two of the MEPs who went to the Maldives in that private election monitoring exercise — Ryszard Czarneki of Poland and Tomas Zdechovsky from the Czech Republic — visited India this week at the invitation of Sharma.
Zdechovsky's office clarified on Wednesday that he was not part of the MEPs' delegation that visited Srinagar though his name popped up on the list. He said in a statement his schedule and flights to India were different from the rest of the delegation and he did not visit Kashmir.
He was to have met Modi in August but that appointment got postponed. "The meetings with other officials now were just held around the same time."
What remains a mystery is why the government needed Sharma to organise the MEPs' visit when the BJP has a very active foreign affairs department which has organised big diaspora events overseas and got local politicians to attend them too — the latest being HowdyModi in Houston in September.
The Telegraph tried to contact Vijay Chauthaiwale, who is in-charge of the BJP's foreign affairs department, but he did not respond.