Sonia Gandhi is interim Congress president
CWC members, special and permanent invitees were divided into five groups to elicit region-wise views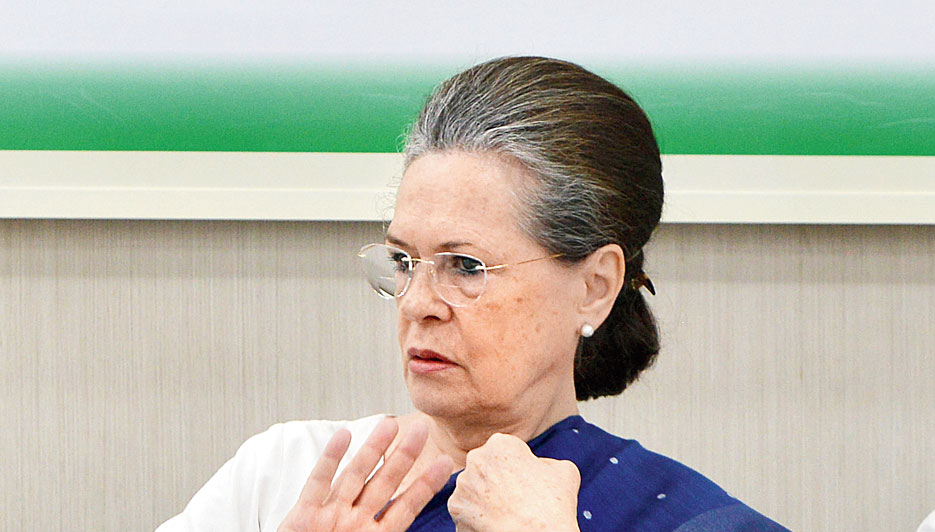 Sonia Gandhi at the meeting on Saturday.
(Prem Singh)
---
New Delhi
|
Published 10.08.19, 09:18 PM
|
---
Sonia Gandhi returned to the helm of the Congress on Saturday as interim president, yielding to the party's pleadings to rescue it from the crisis created by Rahul Gandhi's refusal to lead.
As the news broke late in the night, a wave of delight swept through the Congress ranks, which were sinking into despair anticipating a new president who would lack authority or acceptability within or outside the party.
Those being cited as Rahul's possible replacement ahead of Saturday's Congress Working Committee (CWC) meeting, convened to choose a president, had not inspired confidence among party workers or leaders.
Sonia, who became Congress president in 1998 and continued for a record 19 years, had been unwilling to shoulder the responsibility again at the age of 73. After repeated pleas, she agreed to accept the job only till a regular president was elected.
The working committee had met at 11am and decided to widen the consultative process to avoid the charge of a small coterie taking crucial decisions.
It decided to involve office-bearers from the states, AICC secretaries, MPs, heads of the frontal organisations and party chief ministers. Those who could not come to Delhi were consulted over the phone.
The CWC members and special and permanent invitees were divided into five groups to elicit region-wise views.
Although Sonia and Rahul were part of these groups, they stayed away arguing their presence would not be proper as they had decided not to be part of the consultative mechanism.
"It's a mistake that our names were added to the groups," Sonia said.
The five groups held discussions through the day and submitted reports to the CWC, which met again at 8.30pm.
All five groups had unanimously reposed their faith in Rahul, with some suggesting Priyanka Gandhi Vadra should lead if Rahul did not relent. No other name was suggested.
This was conveyed to Rahul but he declined to continue as party chief, citing accountability for the electoral rout. The CWC then unanimously said that Sonia alone could stabilise the ship.