Snow paralyses Valley, Lt Governor stays away
Murmu camps in Jammu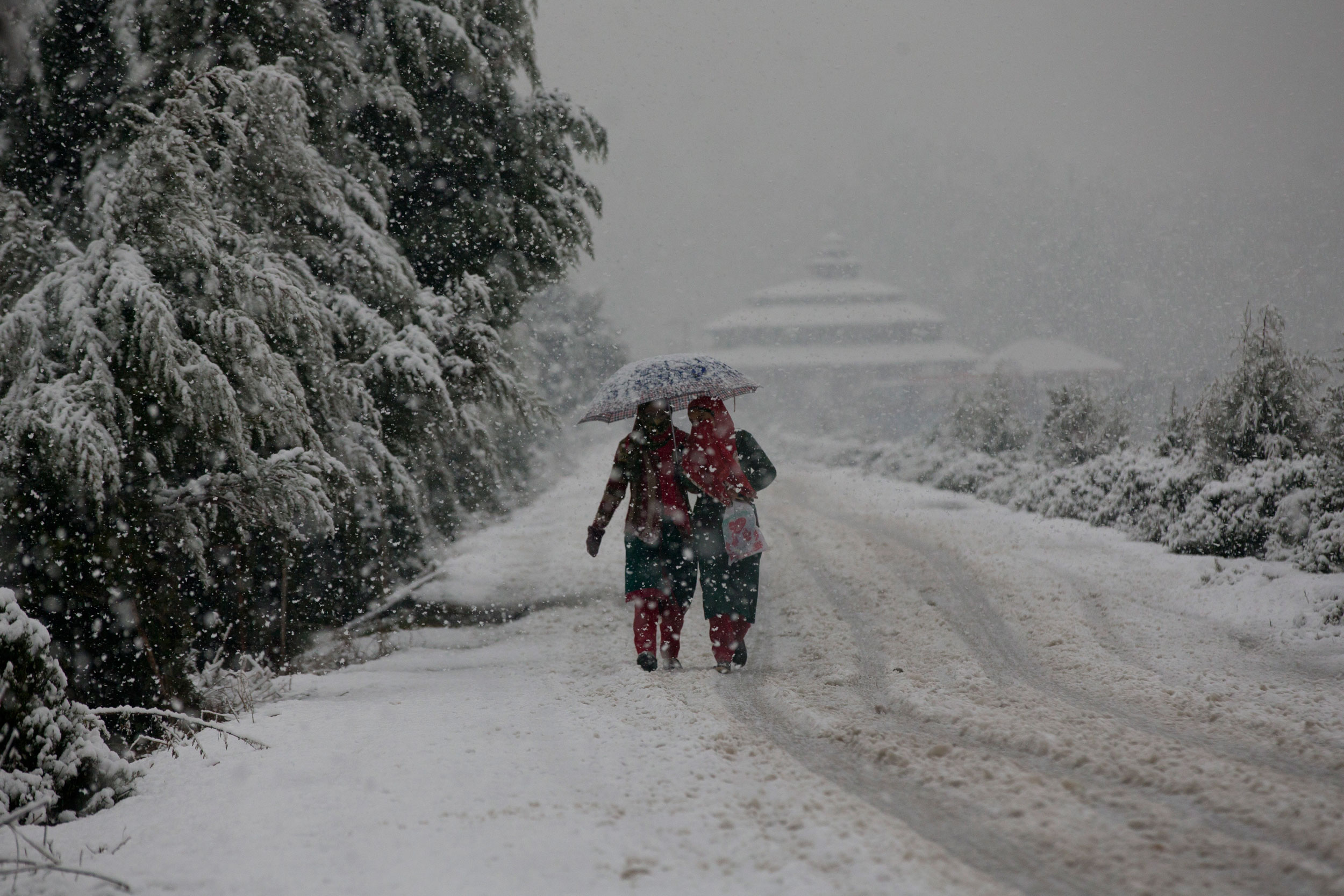 Kashmiri girls walk on a road covered with snow in Srinagar November 7, 2019.
(AP)
---
Srinagar
|
Published 14.11.19, 08:23 PM
|
---
The first crisis in the fledgling Union Territory of Jammu and Kashmir has turned on its head Prime Minister Narendra Modi's promise of better governance as the team leader, Lt Governor Girish Chander Murmu, is missing in action on the ground.
Murmu has not visited the Valley even once after the region witnessed heavy snowfall on November 7 that paralysed life for days, with many areas still struggling.
Civilian governments in the erstwhile state used to react differently to such emergencies, with the chief minister of the day rushing to the Valley to take stock of the situation.
Murmu has been camping in Jammu since November 3, a day ahead of the first biannual "Darbar Move" in the Union Territory of Jammu and Kashmir to the winter capital. The civil secretariat shuttles between Srinagar and Jammu every six months.
The Met office has predicted moderate to heavy snowfall across Kashmir from Thursday. The Valley received intermittent rain on Thursday but there was no snowfall till late evening.
The absence of Lt Governor Murmu from the scene has come as a surprise as Modi had repeatedly drawn attention to how "dynastic politics" in Jammu and Kashmir had stifled development while promising to take the place to greater heights in the aftermath of scrapping the state's special status.
"I have complete confidence that the people (of Jammu and Kashmir) will achieve their aims with new enthusiasm in an atmosphere of good governance," the Prime Minister had said in his speech on August 8 after the August 5 cancellation of the special status.
Murmu took over as the Union Territory's first Lt Governor on October 31 in Srinagar and spent a few days here during which he visited Anantnag and Baramulla districts.
"On November 3, the Lt Governor shifted to Jammu. He was in Delhi when the Valley received the season's first snowfall (on November 7) but he continued his stay there for some more days. He has been in Jammu after returning from Delhi," an officer said.
Murmu called a review meeting on November 12 in Jammu and issued directions to officers in the Valley through a video conference.
An official spokesman said the Lt Governor had directed officers to take "prompt action to alleviate the miseries of people because of the heavy snowfall". Chief secretary B.V.R. Subrahmanyam and other senior officers participated in the meeting.
During the meeting, Kashmir divisional commissioner Baseer Khan had claimed that "snow clearance from roads and restoration of electricity supply have been done in record time".
"It was informed that 100 per cent of major roads and more than 95 per cent of internal roads in every district of Kashmir have been cleared for traffic movement. Around 95 per cent of the electricity supply in Srinagar district, 78 per cent in Pulwama, 73 per cent in Kulgam and 70 per cent each in Shopian and Ganderbal have been restored," the spokesman said.But reports from the ground suggested that the snowfall had caught the administration napping as most roads in even Srinagar city were not cleared of snow for the first two days.
The National Conference MP from Baramulla in north Kashmir, Akbar Lone, regretted that Murmu did not lead from the front. "Had there been a popular government in place, the chief minister would have been leading from the front. It seems the Lt Governor did not take the issue very seriously," Lone told The Telegraph.
Lone, however, praised the officers for working tirelessly to restore power connectivity in north Kashmir.
Locals in Baramulla, however, said power supply in several areas was yet to be restored. "Electricity in Baramulla town was restored after five days. Several areas are still without power," a Baramulla resident said.
A middle-rung officer drew a stark comparison with previous civilian governments where chief ministers would at least try to be seen working on the ground.
"Action would follow as soon as the Met office would issue a travel advisory. But this time most people had no information whether any advisory had been issued," he said.