A reminder of how the cult can harm democracy
MP invokes Ambedkar to caution against 'hero worship' in politics
Manoj Jha referred to a paragraph in Ram Nath Kovind's speech that mentioned Baba Saheb's vision of an ideal society based on liberty, equality and fraternity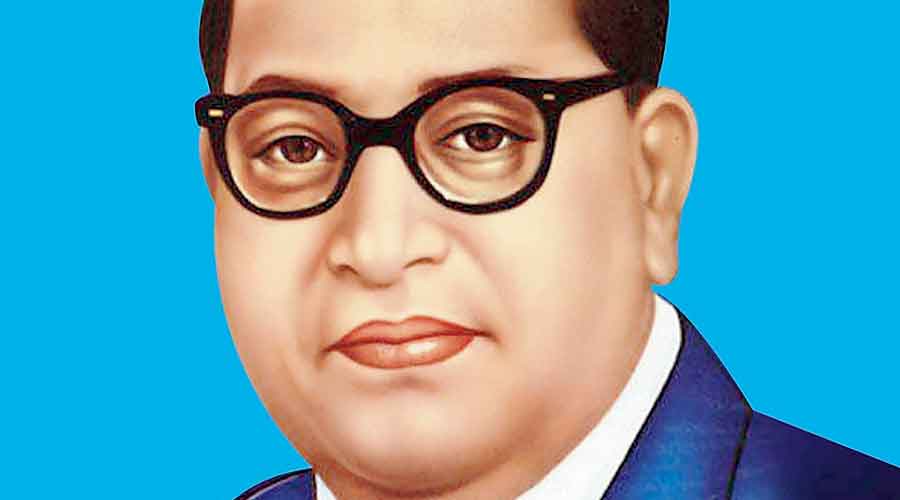 Bhimrao Ambedkar: Prescient.
File photo
---
New Delhi
|
Published 05.02.22, 03:27 AM
|
---
Rashtriya Janata Dal MP Manoj Jha on Friday invoked Bhimrao Ambedkar to caution against "hero worship" in politics and warned of a growing personality "cult" at the Centre that was threatening to "destroy" democracy.
While participating in the motion of thanks to the President's address, Rajya Sabha member Jha referred to a paragraph in Ram Nath Kovind's speech that mentioned Ambedkar's vision of an ideal society based on liberty, equality and fraternity.
"Baba Saheb had said hero worship was the biggest threat to democracy. At present, hero worship is the order of the day. Terminology regarding the government has changed. The Atal Bihari Vajpayee government was known as the NDA (National Democratic Alliance) government. Your government was initially called the NDA or the BJP government. Now it is called the Modi government," the RJD parliamentarian said.
"If the government becomes individual leader-centric and if the leader becomes the cult, internal democracy is destroyed and then democracy everywhere is destroyed," Jha cautioned.
Several Opposition MPs have criticised the Modi government for the attack on the autonomy of institutions, the propensity to take unilateral decisions thereby jeopardising the federal structure and going for money-guzzling projects that appear to be aimed more at aggrandising individual legacies. On Thursday, Trinamul Congress MP Jawhar Sircar had termed the Central Vista a "project of hubris".
Jha accused the Modi government of trying to create communal schisms in society. When Mahatma Gandhi returned from his visit to Noakhali after communal riots in 1946, he had changed the text of his favourite prayer from Bhajaman Pyare Sita Ram to Bhajaman Pyare Ram Rahim, Jha recalled.
"What are you doing? You are creating barriers between Ram and Rahim. You may get some appreciation now, but neither are you going to stay forever nor is the barrier," the RJD parliamentarian and college teacher said.
Jha cited how the President's speech had underlined the importance of mutual respect among leaders. However, that is gradually disappearing as is evident from the speeches at election rallies, he said.
Jha said the first general election in 1952 was fought on the issue of inclusive growth. Seventy years later, elections are being fought on the issue of Pakistan, he rued.