Rahul flags vanishing files as an 'anti-democratic experiment' by Modi govt
The document on Chinese incursion that was withdrawn from defence ministry website had contradicted the PM's claim that none had forcibly entered Indian territory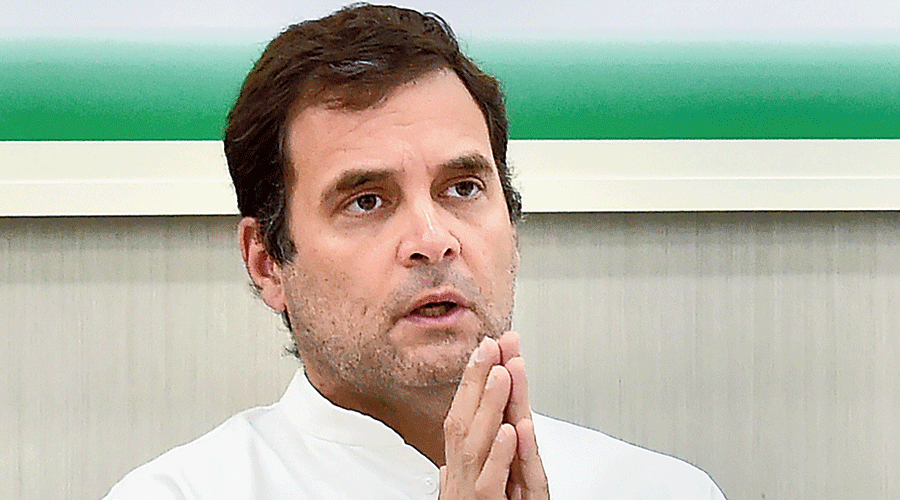 ---
New Delhi
|
Published 09.08.20, 02:25 AM
|
---
Rahul Gandhi on Saturday said the trend of files relating to sensitive matters vanishing was an "anti-democratic experiment" by the Narendra Modi government, not merely a coincidence.
Amid a controversy over a document on Chinese transgressions in Ladakh being pulled down from the defence ministry website, Rahul tweeted in Hindi: "As and when the country turns emotional, files go missing. Be it (Vijay) Mallya or Rafale, (Nirav) Modi or (Mehul) Choksi… the latest in the list of missing files is the documents relating to Chinese intrusion. This is not a coincidence (sanyog), this is an anti-democracy experiment (prayog) by the Modi government."
The Congress leader was playing on the Prime Minister's use of the words "sanyog" and "prayog" in the context of the anti-CAA protests earlier this year.
Addressing a public rally during the Delhi elections, Modi had said referring to the countrywide protests against the Citizenship Amendment Act, from Seelampur to Shaheen Bagh: "Is this a mere sanyog? No, it is a prayog, motivated by a design to destroy the communal amity within the country."
What has lent credibility to Rahul's allegation is the manner in which files relating to issues that could tarnish the image of the Prime Minister and the government have disappeared.
The document that was withdrawn from the defence ministry website had contradicted the Prime Minister's claim that none had forcibly entered Indian territory, nor had any Indian post been captured. 
Other documents that could damage the Modi dispensation have disappeared in the past. 
On the Rafale fighter jets, the Centre had told the Supreme Court in March 2019 that the documents relating to the French deal had been stolen from the defence ministry.
Attorney-general K.K. Venugopal had told a three-judge bench that the highly sensitive and classified documents had been stolen and that reports based on them were appearing in newspapers. 
As a controversy erupted after Rahul attacked the government for not keeping the files safely, Venugopal later denied they had been stolen.
In the case related to fugitive businessman Vijay Mallya earlier this week, the Supreme Court had to adjourn the hearing till August 20 after the judges found that some replies to the application filed in the matter were not available in the case records. The government officials concerned have been directed to furnish all the required details, including the names of the people who had dealt with the files concerning review petitions in the past three years.
Earlier in June 2018, files pertaining to several economic offenders, including fugitive diamantaires Nirav Modi and Mehul Choksi, were said to have been destroyed in a fire at the income tax building in Mumbai. The Congress had then repeatedly accused the Modi government of protecting the fugitives.The BJP was in power in Maharashtra when the fire gutted the files.
On Saturday, the 78th anniversary of the Quit India Movement, Rahul called upon people to take a vow to fight for justice. He said in a tweet: "New meaning will have to be given on the 78th anniversary of Quit India to the 'Karo ya Maro' (Do or Die) slogan given by Mahatma Gandhi: Fight against injustice, don't be frightened."
Untruth, Quit India
On the anniversary of the Quit India Movement, Prime Minister Narendra Modi announced a week-long drive till Independence Day to rid India of garbage, describing it as the "Gandagi, Bharat Chhoro Saptah" (Filth, Quit India Week). If this sounded like a parody of the "Angrezon, Bharat Chhoro" call of August 8, 1942, that had inspired India in the final push for freedom, Rahul Gandhi had a prompt reply: "Why not! We have to go a step further and clean the constantly increasing 'filth of untruth'. Will the Prime Minister initiate this satyagraha by telling the nation the truth of Chinese aggression?"