Pune wall collapse deaths: Tragic reminder of deep gap
Pune complex wall falls on shanties, kills 15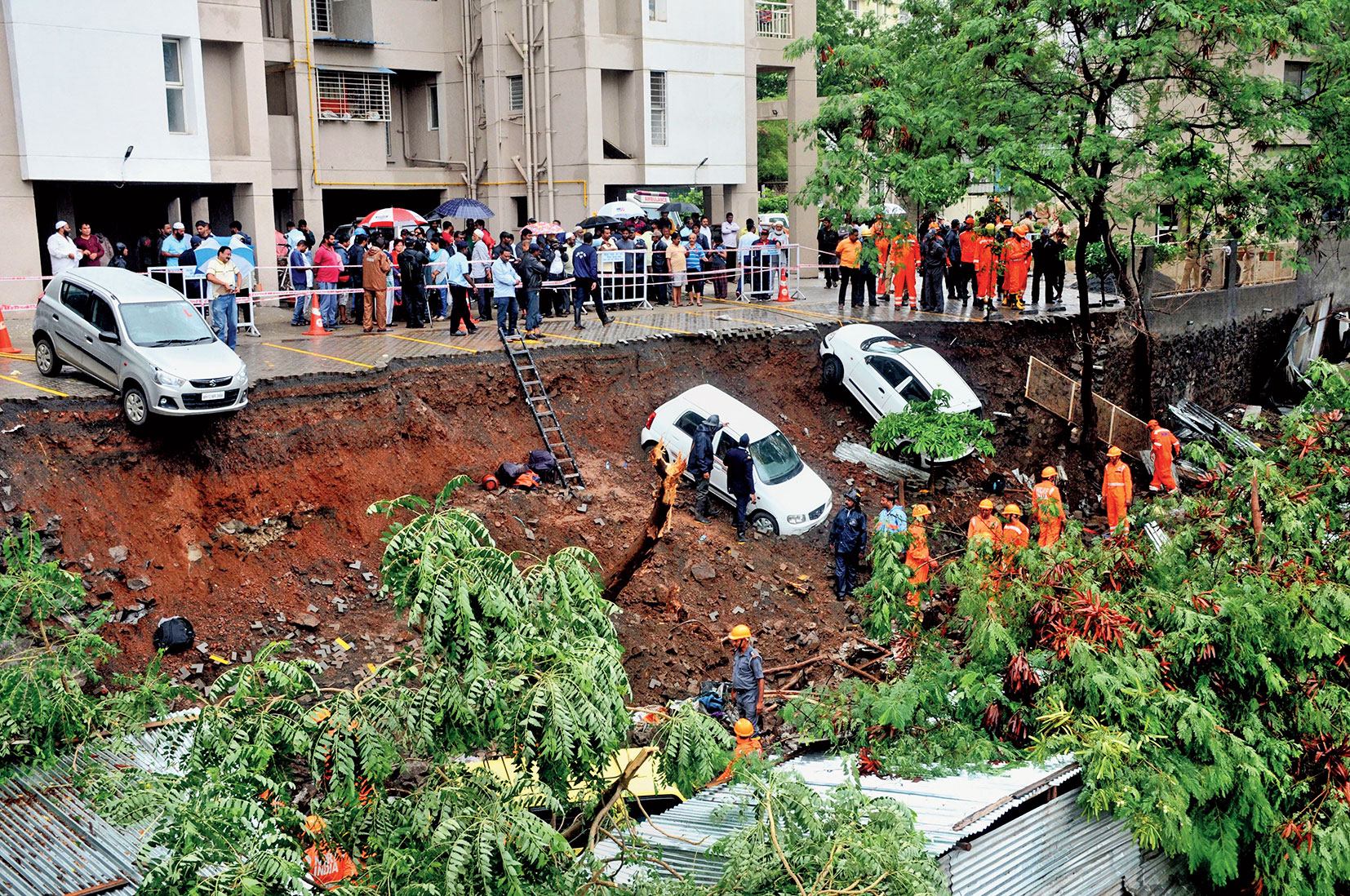 Some of the cars that were dislodged after the wall of the Pune housing society collapsed on the shanties in the adjoining property where a residential project is being built. Some cars also fell on the shanties.
(PTI)
---
Mumbai
|
Published 29.06.19, 11:32 PM
|
---
As many as 15 people have been crushed to death in Pune in a tragedy that has shone a torch on not only suspected reckless construction but also the wide income disparity in the country and the compulsions that force the poor to migrate to squalid shanties around affluent urban clusters.
The four children and 11 adults — all from Bihar — were killed in their sleep around 1.45am on Saturday when a portion of a 22ft-high compound wall of a housing society collapsed on adjoining shanties following incessant rain.
It is suspected that the wall of Alcon Stylus, the housing society, was weakened by excavation going on in the adjoining plot for a residential project called Kanchan Royal Exotica. Two promoters of Alcon were arrested on Saturday.
The intensity of the impact increased as many cars parked along the wall in the society complex also fell on the shanties, officials said.
The victims were labourers and their families hailing from Bihar's Katihar district. They lived in makeshift shelters at the under-construction residential project, where excavation was under way.
The youngest of the victims, Ovi Das, was aged two and the oldest, Bhima Das, 38. The chief ministers of Maharashtra and Bihar expressed deep sorrow, the tragedy setting the stage for a rare acknowledgement of India's faceless army that toils to improve the lifestyles of their more fortunate compatriots.
Saurabh Rao, commissioner, Pune Municipal Corporation, said prima facie it appeared the soil may have loosened because of heavy rain. Pune had received 73.1mm of rain on Friday, the second highest rainfall in June since 2010.
But Rao also blamed excavation being carried out "irresponsibly" close to the retaining wall of the housing society.
"Deep excavation work was going on at the site adjacent to the Alcon Stylus society. The retaining wall that caved in was located between the under-construction site and the housing society," he said.
"According to preliminary investigations, deep excavation was being carried out in an irresponsible manner at the site. The digging work was going on almost near the wall," Rao added.
Alcon Stylus residents said they had warned the developer about the precarious condition of the retaining wall of one of the buildings five months ago but no action was taken. Alcon Landmarks director Jagdish Agarwal subsequently told them that the wall was safe and if anything happened, he would take care of it, a resident said.
Police on Saturday registered a case of culpable homicide against five promoters of Alcon Landmarks and three of Kanchan Royal Exotica, for which the excavation was going on.