Priyanka takes bull by the horns: 'I support my family'
Drops off husband Robert Vadra at ED office, makes unscheduled visit to Congress HQ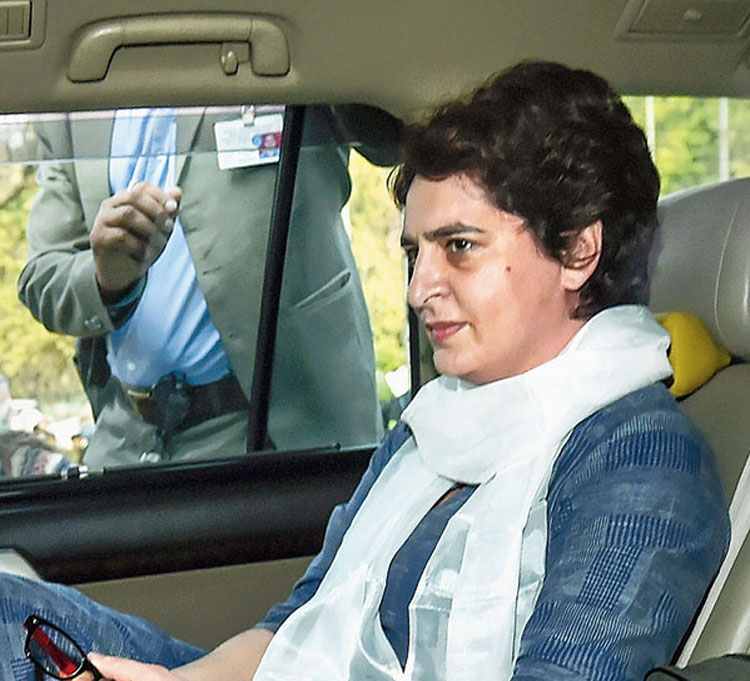 Priyanka Gandhi Vadra leaves after accompanying her husband Robert Vadra to the ED office on Wednesday.
(PTI)
---
New Delhi
|
Published 06.02.19, 09:31 PM
|
---
A categorical assertion — "I support my family" — and an unscheduled visit to the Congress headquarters by Priyanka Gandhi Vadra on Wednesday dovetailed into a bold pronouncement that she wasn't fighting shy of controversies surrounding her husband Robert Vadra.
"He is my husband, what's the message…? He is my family, I support my family," Priyanka told reporters in the afternoon after she dropped Vadra at the Enforcement Directorate for being questioned in a money-laundering probe.
Priyanka, the Congress general secretary in charge of eastern Uttar Pradesh, was responding to reporters outside the Congress headquarters who asked her what message she wanted to convey by being with her husband when he reached the ED office.
By choosing to accompany her husband to the ED office this afternoon and then dropping in at the party office, she demonstrated her will to take the bull by the horns. Her outing appeared to be a carefully crafted strategy to send out a message that she can't be cowed down by a political witch-hunt.
Vadra's public image, darkened more by BJP propaganda than any legal decree on wrongdoing so far, has always been seen as a handicap for Priyanka. Whether she will get hamstrung by perceptions about her husband has been fiercely debated in political circles for years.
But Priyanka seems keen to convey that she is not fettered by these imaginary shackles — optically, the decision to assume office on the day her husband appeared for being questioned paid off as the arresting images and the livewire topic dominated the television discourse since the afternoon.
She sat with Vadra in a white Toyota Land Cruiser, security men in tow, and dropped him outside the probe agency's office in Jamnagar House.
As the convoy of her vehicles left, the message that her politics wasn't going to be subjugated to her husband's personal troubles had been delivered.
After reaching the Congress headquarters at 24 Akbar Road, Priyanka indicated — through the statement "I support my family" — that she wasn't ready to distance herself from her husband's legal troubles.
He is my husband, what's the message…? He is my family, I support my family.
- Priyanka Gandhi
Few knew of Priyanka's arrival at the party office, and a routine media conference was in progress. As Congress workers spotted her, shouts of "Priyanka, Priyanka" erupted. Camerapersons ran out, along with correspondents, and a lonely spokesperson had to abruptly stop the briefing in the face of disruption never witnessed in the past.
Priyanka sat in her office, allotted to her 24 hours ago, for around 30 minutes as chaotic scenes unfolded on the party premises. She didn't have any scheduled engagement and left the office after meeting some party workers. The exit wasn't easy as Congress workers and journalists had gathered in numbers by then, blocking the passage.
The Special Protection Group and Delhi police personnel first jostled and then pushed in vain to make way. The SPG officers had to finally wrestle with the crowd to ensure that Priyanka got into the vehicle safely. The frenzied slogan-shouting continued as her cavalcade left, leaving security personnel gasping.
While many predicted this was going to be a regular affair now, one Delhi police officer said: "Difficult to handle such unplanned visits and must be avoided at all costs."
When Congress president Rahul Gandhi comes to the party office at least once a week, prior information is conveyed to security personnel, and the party office is sanitised in advance. Only those with appointments are allowed in.
Priyanka, who has been protected for long by the SPG, understands the security drill but on Wednesday she might have decided on her feet to make a political point by her unscheduled outing.
The Congress, too, emphatically contended that the BJP's charges at a media conference were outrageous.
The Congress leadership is geared up to fight the perception battle, anticipating much greater propaganda once Priyanka starts her campaign in eastern Uttar Pradesh. She is expected to visit the state in the next few days and hold a media interaction and a road show to begin with. She will also go to Allahabad for the Ardh Kumbh and later to Varanasi.