6 hours, 40 ED posers for Vadra
Robert Vadra denied all allegations and claimed he is being '"hounded and harassed" for political motives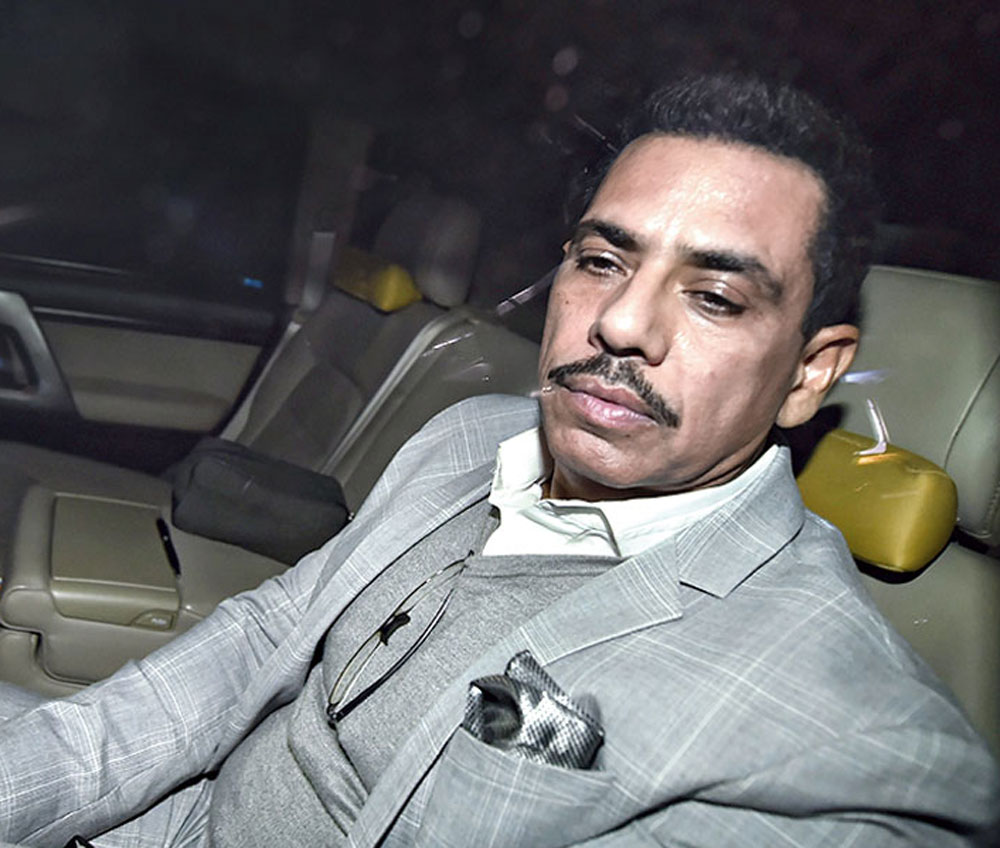 Robert Vadra leaves after the ED questioning on Wednesday.
(PTI)
---
New Delhi
|
Published 06.02.19, 10:20 PM
|
---
The Enforcement Directorate questioned Sonia Gandhi's son-in-law Robert Vadra for six hours on Wednesday in connection with a money-laundering case.
This was the first time that Vadra, who was questioned from 4pm till 10pm, was appearing before any probe agency over the allegations of dubious financial dealings against him, which were one of Narendra Modi's 2014 election planks.
Vadra's questioning comes two weeks after his wife Priyanka Gandhi Vadra formally entered politics as general secretary in charge of Uttar Pradesh, east, in the Congress.
Former Uttar Pradesh police chief Vikram Singh said the probe agencies' recent operations — including the CBI raids on the Calcutta police commissioner and Opposition leaders — smacked of political desperation on the BJP's part.
"This government had claimed the probe agencies had all the evidence against Vadra. But they have sprung into action just ahead of the Lok Sabha elections," he told The Telegraph. "Why were they sitting for over four-and-a-half-years?"
Vadra, who has denied all allegations, claims he is being '"hounded and harassed" for political motives.
Around 6.30pm, agency sources said 40 questions had been put to Vadra, and that he had been asked to give written answers to each. His lawyers were in an adjoining room.
The case relates to alleged money-laundering in connection with Vadra's purported purchase of a property in London, 12 Bryanston Square. The ED has told a court it has information about Vadra acquiring several other properties in London, including six flats.
The agency had raided the Delhi home and office of Manoj Arora, an employee of Skylight Hospitality LLP, a firm linked to Vadra, in December.
Agency sources said they had questioned Arora to ascertain the source of the funds spent on the purchase of the London property.
"We confronted Vadra with Arora's statement," an ED official said. "He (Vadra) was put through questions on transactions, purchase and possession of certain immovable assets in London."
A Delhi court had last week granted anticipatory bail to Vadra till February 16 and asked him to join the probe by appearing in person before the agency on February 6.
Rajasthan High Court too has directed him to appear before the ED on February 12 in connection with another money-laundering case.
Vadra's lawyer, Suman Jyoti Khaitan, told reporters: "He (Vadra) appeared (before the agency) on his own, without receiving summons. He answered every question. He had felt that something wrong was going to happen; so he had on his own gone to court and said he would appear voluntarily before the ED. He asked the court to give him a date."
On January 25, the CBI had registered a new case against former Haryana chief minister Bhupinder Singh Hooda and raided his Rohtak home in connection with alleged irregularities in land allocation in Gurgaon in 2009.
A controversial land deal between Vadra and real estate firm DLF is part of the probe. The allegation is that private builders had in connivance with public servants bought land cheap from farmers.