EC stalls poll notice, Team Modi campaigns
Vasundhara Raje announced free electricity for farmers just before election dates were made public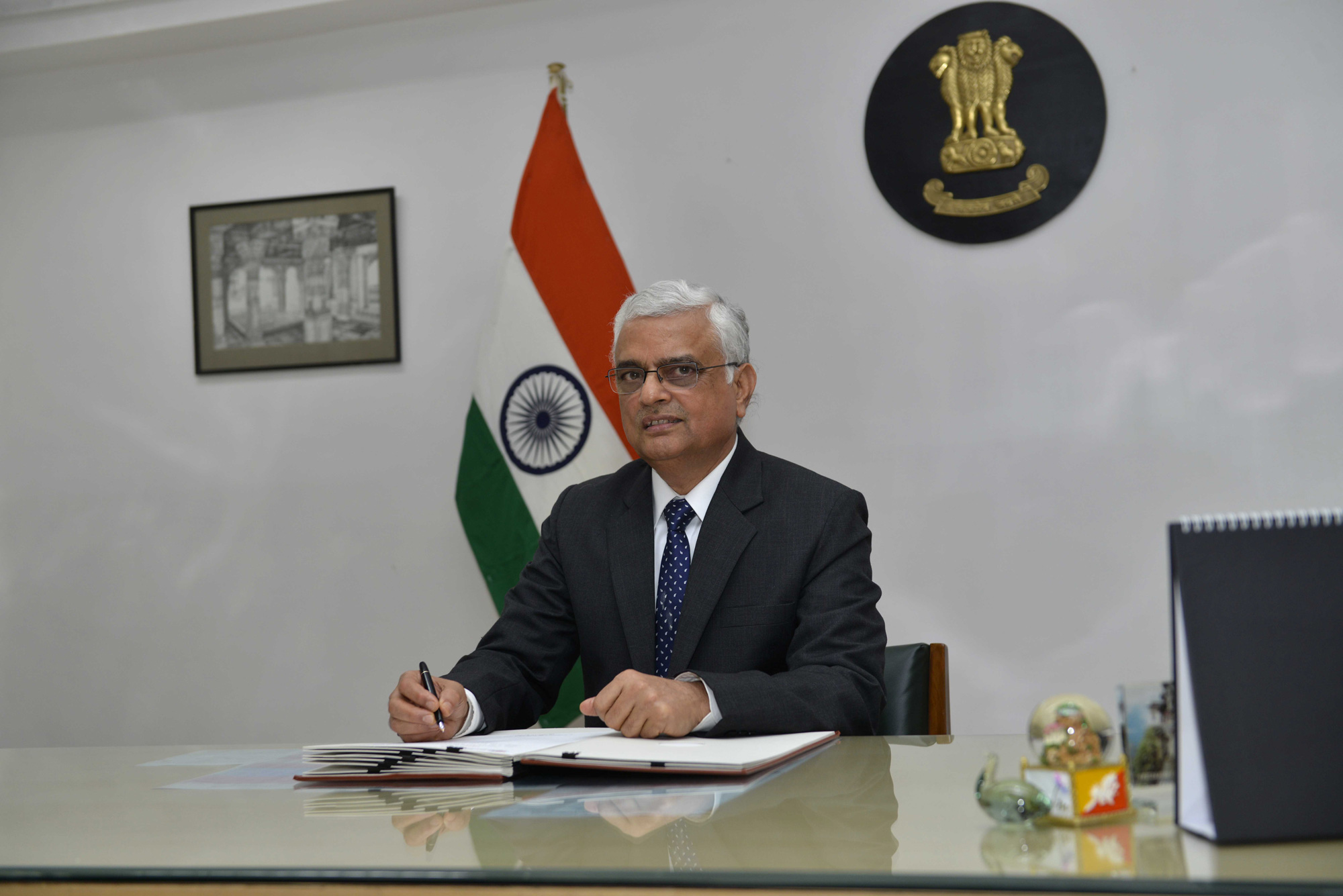 ---
New Delhi
|
Published 06.10.18, 08:57 PM
|
---
"I want to announce that the government yesterday (Friday) had started a scheme of free electricity for all farmers in rural areas having electricity connection in general category for specific limit," PTI quoted Raje as telling the rally. Modi focused his attention on attacking the Congress.

Raje's announcement triggered controversy as she had used the window thrown up by the postponement of the Election Commission's media conference to announce the free power scheme intended at wooing voters. (See timeline)
Assembly polls in five states, billed as a pulse-reader before the general election, will be held between November 12 and December 7, the Election Commission announced on Saturday afternoon and found itself sucked into a controversy.
Chief election commissioner O.P. Rawat announced the schedule at 3pm, postponing the media conference that was originally scheduled at 12.30pm. The model code of conduct, which bars announcements that can be construed as inducements to voters, kicks in as soon as the poll panel announces the dates.
On Saturday at 1pm — 30 minutes after the media conference was originally scheduled — Prime Minister Narendra Modi and Rajasthan chief minister Vasundhara Raje addressed a public rally in Ajmer. Chief minister Raje announced free electricity up to a specific limit for farmers with connections in the general category. The meeting ended just before the Election Commission announced the poll dates in Delhi.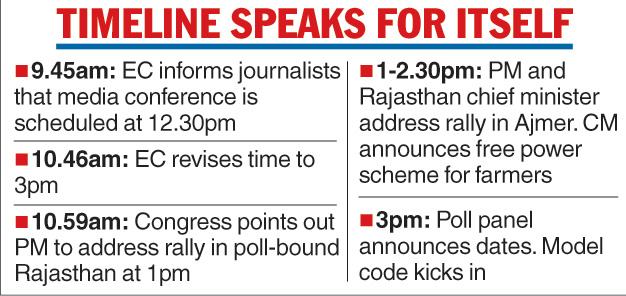 On Saturday at 9.45am, Sheyphali B. Sharan, the Election Commission's spokesperson and the Press Information Bureau additional director-general, messaged journalists that a media conference had been called at 12.30pm. At 10.46am, Sharan revised the time to 3pm.
Asked about claims that the announcement was postponed because of Modi's rally, Sheyphali B. Sharan, the Election Commission's spokesperson and the Press Information Bureau additional director-general, messaged: "Prime concern was for convenience of all of you media persons to reach in time at short notice of morning message and arranging logistics here."
But CEC Rawat cited a different bunch of "compulsions", some of whose direct link with the postponement of the news conference was not readily apparent. The stated reasons ranged from problems linked to the electoral rolls in Telangana and legal issues in Telangana as well as Tamil Nadu.
The latter part of Rawat's explanation was easier to figure out, although it did little to douse the controversy. "There has been speculation and some political statements also. For that I have to say politicians and political parties are political creatures and they have to see politics in everything because of their inherent nature. We have no comments to make on that," Rawat said, adding that any party could complain if they wished so.
Poll panel chief Rawat explained the postponement as follows: "This (postponement) was necessitated because of certain compulsions. One of the states (Telangana) had to publish electoral rolls on October 8 and we had a meeting with the DG, the Centre for Development of Advanced Computing, who are our technology experts, to resolve whatever difficulties we were facing, till late evening (Friday), and it was thought their engineers will be able to sort it out within two days and by the 8th, it will be published. But this morning (Saturday), after their assessment, it emerged that it will take more time."
Rawat added: "Second, there is a case pending with the honourable (Hyderabad) high court, and the honourable HC had ordered that first the final roll must be shown to them on 8th, that is Monday, only then it should be published. Third issue came, just before I was leaving home (on Saturday), from a chief secretary of a state that because of certain forecasts, those by-elections should not be announced and we should wait for cyclone or whatever it is. And then another issue from that state is an election petition which we thought that the candidate having expired, the petition would not survive. But it emerged that the petitioner filed a case again that because it was the fault in nomination, so if nomination was rejected, she should have been elected, the date of which was fixed yesterday as 23rd."
Sources said that the seat referred to was Tamil Nadu's Thiruparankundram Assembly constituency which fell vacant after the sitting All India Anna Dravida Munnetra Kazhagam MLA A.K. Bose died in August. Bypolls to the two Tamil Nadu Assembly seats, the other one being the late M. Karunanidhi's Tiruvarur, were not announced in any case. Chhattisgarh will kick off the polls in two phases on November 12 and 20, followed by Madhya Pradesh and Mizoram on November 28. Rajasthan and Telangana will vote on December 7. The votes will be counted on December 11. Bypolls in three Lok Sabha seats and two Assembly seats in Karnataka will take place on November 3 and counting on December 11.
The rolls for Telangana, he added, would be published on October 12. He explained that the problem is that of transliteration, that is, the software was unable to accurately record names written in Roman script in Telugu as operators "could not grasp training". They would apparently be able to do so within four days, and decisions on these issues were attributed to the postponement of the presser.
But Congresscommunications chief Randeep Singh Surjewala said in Calcutta: "The commission's explanation for the delay is preposterous. The commission was made to wait for Narendra Modi to finish his rally."