Show spine, Cong tells EC
The commission was to hold a news conference at 12.30pm to announce the poll schedule for Rajasthan, Madhya Pradesh, Chhattisgarh, Telangana and Mizoram, but eventually did so at 3pm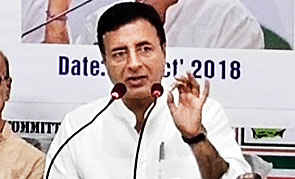 ---
Calcutta
|
Published 06.10.18, 08:58 PM
|
---
The Congress has accused Prime Minister Narendra Modi of exerting pressure on the Election Commission of India to defer issuing the election schedule for five states in order to hold a rally in Rajasthan where a free power scheme was announced.
The commission was to hold a news conference at 12.30pm to announce the poll schedule for Rajasthan, Madhya Pradesh, Chhattisgarh, Telangana and Mizoram, but eventually did so at 3pm. Modi's rally in Ajmer began at 1pm.
The Congress's communications chief, Randeep Singh Surjewala, alleged that the change in time followed pressure from the Prime Minister, so that "electoral bribes" could be offered before the model code of conduct became effective.
The poll panel has said the delay was on account of certain technical complications regarding the electoral rolls for Telangana.
"The commission's explanation for the delay is preposterous. The Prime Minister stands guilty of pressurising the commission to delay its press conference, as he was going to address a rally. The commission was made to wait for Narendra Modi to finish his rally," Surjewala said at a news conference in Calcutta.
"The commission had to defer the announcement of polls so that the Prime Minister and Rajasthan chief minister Vasundhara Raje Scindia could offer last-minute electoral bribes, in a desperate bid to woo electors…. Going forward, we hope the commission will show more constitutional spine, as the custodian of not only these elections but also of the general elections next year," he added.
Chief election commissioner O.P. Rawat later dismissed the allegation.
Surjewala accused the commission of having similarly succumbed to pressure from the BJP-led Centre last year, by delaying the announcement of the election schedule for Gujarat.
"In Gujarat last year, the BJP IT cell had tweeted the poll dates even before the commission. The commission delinked the Gujarat polls from the Himachal polls, so that the PM could make a series of announcements. Now the commission did something similar to enable the PM to do the same thing in Rajasthan. Is the BJP the super ECI?" he asked.