Pakistan denies threat to Kartarpur initiative
Pakistan clarified that none of its retaliatory measures following the revocation of Jammu and Kashmir's special status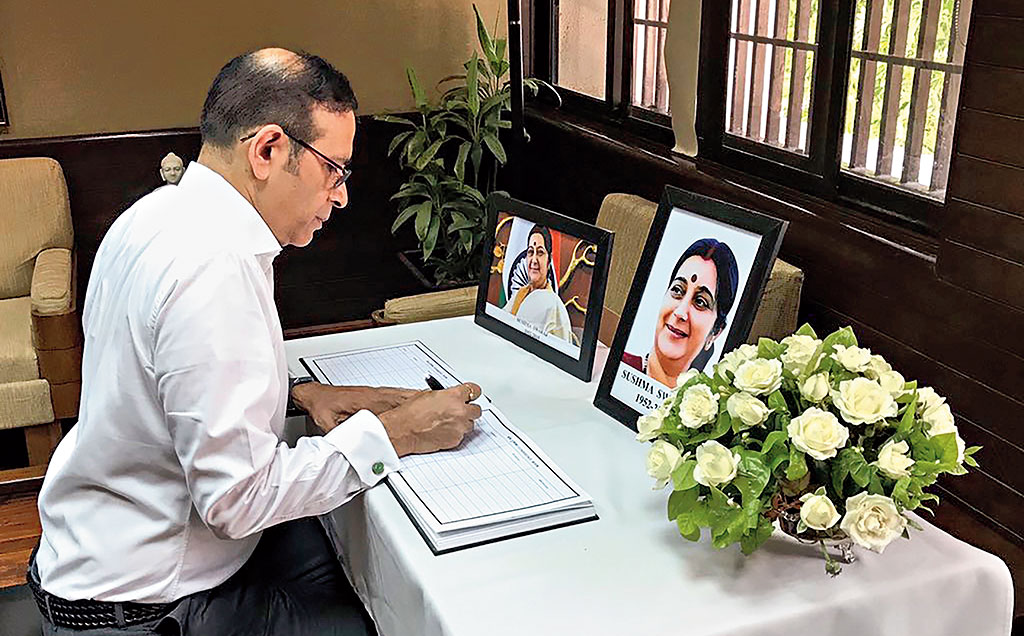 Indian High Commissioner to Pakistan Ajay Bisaria pays tribute to Sushma Swaraj in Islamabad on Thursday.
(PTI)
---
New Delhi
|
Published 08.08.19, 09:00 PM
|
---
The Narendra Modi government on Thursday chose an uncharacteristically non-belligerent response to Pakistan's decision to downgrade diplomatic ties.
It urged Pakistan to review its decision to expel India's high commissioner to operationalise the downgrade, suggesting it was invoking an alarmist vision of the region on a matter that was "entirely the internal affair of India''.
The external affairs ministry urged Islamabad to restore diplomatic relations with India so "that normal channels for diplomatic communications are preserved''.
In any case, New Delhi did not have the option of tit-for-tat retaliation as Pakistan's high commissioner-designate has not taken charge yet.
Pakistan has clarified that none of its retaliatory measures, not even its review of bilateral arrangements, would affect the Kartarpur Corridor initiative for Sikh pilgrims.
Islamabad, which has kept the option of further downgrading diplomatic ties open, is said to be using its leverage in the Afghan Peace Process -– which the Trump administration is keen to wrap up at the earliest -– to get the US to lean on India over Kashmir.
Reacting to this, former Afghan President Hamid Karzai tweeted: "Comments in Pakistan linking peace in Afghanistan to their objectives in Kashmir are indicative of Pakistan viewing Afghanistan as strategic depth. I call on Pakistan govt to stop using extremist violence as instrument of policy in the region. We hope the new measures by govt of India will lead to the betterment and prosperity of people in Jammu and Kashmir as the citizens of India.''
Islamabad has announced a blanket ban on the screening of Indian films, though this never stopped Bollywood movies from circulating in Pakistan in the past.
Northern Railway issued a clarification after reports claimed the Samjhauta Express had been suspended. It said Pakistani authorities had raised concerns about the security of the train's crew and guard, so it had sent its own engine and crew to bring the train from Wagah (Pakistan) to Attari (India). The train was carrying 110 passengers from Pakistan to India.
Earlier in the day, an Indian statement said: "Recent decisions by the government and Parliament of India are driven by a commitment to extend to J&K opportunities for development that were earlier denied by a temporary provision in the Constitution.
"Its impact would also result in the removal of gender and socio-economic discrimination. It is also expected to result in an upswing of economic activity and improvement in the livelihood prospects of all people of J&K.''
India said it was not surprised that Pakistan saw the decision negatively, for it would not be able to create disaffection in the state to justify cross-border terrorism in the face of development initiatives spurred by the removal of the special status.
With bilateral relations stagnant, the downgrading of diplomatic ties does not make much of a difference. Nor is New Delhi particularly perturbed by Pakistan's decision to observe India's Independence Day as a "black day".
Pakistan in any case observes February 4 as Kashmir Solidarity Day, when protests are held throughout the country.
In Islamabad, Pakistan's foreign office spokesperson told a questioner: "Notwithstanding the latest developments, Pakistan's Kartarpur initiative shall continue. Pakistan respects all religions and would continue the project."
The foreign ministers of the two countries are due to visit China. While S. Jaishankar's visit was announced on Monday, the day the government revealed its plans for J&K, Qureshi said on Wednesday he might "dash off to Beijing'' to discuss the new ground realities that even China is not too pleased with.
China has already said the bifurcation of Jammu and Kashmir to create the Union Territory of Ladakh is "unacceptable''.
Slowly but steadily, world capitals have begun taking serious note of the developments in the region. The UN secretary-general's spokesperson, Stephane Dujarric, had on Wednesday told the media in New York that "contacts are being had at various levels and we urge all parties involved to exercise maximum restraint''.