No ticket, Mulayam Singh Yadav's daughter-in-law joins BJP
The saffron party, hit by a spate of defections to the Samajwadi Party, tried to project Aparna's move as a "split" in the Opposition party and principal challenger's first family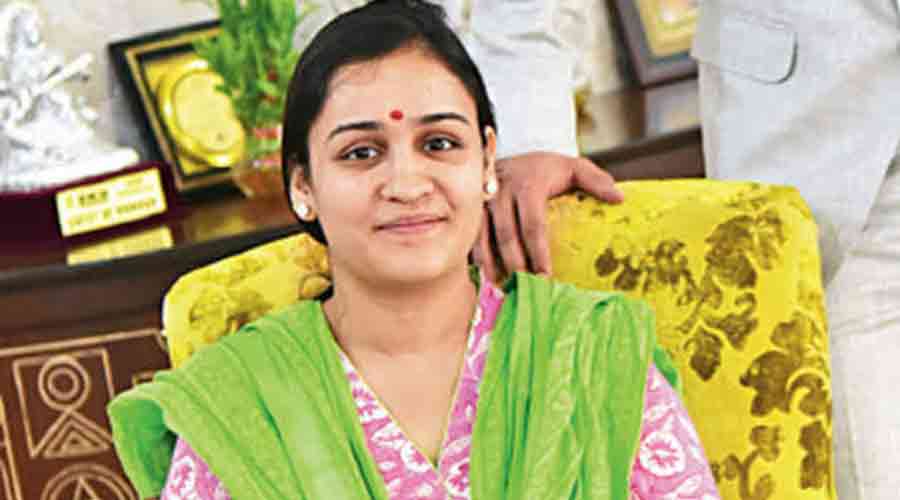 Aparna Yadav
Twitter@kumarsubodh
---
Lucknow
|
Published 20.01.22, 01:53 AM
|
---
Samajwadi Party patriarch Mulayam Singh Yadav's daughter-in-law Aparna Yadav on Wednesday joined the BJP after being refused a ticket for the February-March Assembly elections.
The BJP, hit by a spate of defections to the Samajwadi Party, tried to project Aparna's move as a "split" in the Opposition party and principal challenger's first family.
A day earlier, Shivpal Yadav, Mulayam's younger brother, had said Aparna should first work for the party before expecting anything in return.
Aparna, wife of Mulayam's second wife Sadhana Gupta's son Prateek Yadav, met BJP national president J.P. Nadda in New Delhi and soon after was inducted into the party by Uttar Pradesh deputy chief minister Keshav Prasad Maurya and state unit president Swatantra Dev Singh. Senior Uttar Pradesh leaders are camping in New Delhi for discussions with the high command over election candidates.
Although Aparna claimed before the media that she was "dedicating" her life "to the service of nationalism", she added in the same breath: "People know that I had put up a strong fight from the Lucknow Cantonment seat and lost. The party (BJP) leaders must have thought of something good for me."
Aparna, fighting on a Samajwadi ticket, had lost to the Congress's Rita Bahuguna Joshi in the 2017 Assembly elections. Joshi, now the BJP MP of Allahabad, is at loggerheads with the leadership for a ticket for her son Mayank from Lucknow Cantonment.
Prateek's uncle Pramod Kumar Gupta also joined the BJP along with Aparna. Pramod had won from Bidhuna in Kannauj district in 2012 when Mulayam was Samajwadi president and Sadhana was all-powerful in the family and the party.
However, with Mulayam's son Akhilesh Yadav consolidating his position in the party and also becoming chief minister in 2012, his stepmother's relatives were gradually sidelined.
Asked by reporters about Aparna and Pramod switching camps, Akhilesh said: "I congratulate them and send my best wishes (to the BJP). It is good that the ideology of the Samajwadi Party is spreading in their party."
"As far as election tickets are concerned, we can give them to only those whom the people of the area want and about whom we receive positive reports in our internal surveys," the Samajwadi chief added.
A source close to Akhilesh said: "Aparna had been trying to mount pressure on Akhilesh through Mulayam to elicit a promise of a cabinet berth if the Samajwadi Party came to power. Akhilesh never refused outright as he didn't want to confront his father. But he wanted all those associated with Sadhana to stop meeting him, let alone receive any benefits from him."
Shivpal said Aparna was "in a hurry for too much too early without doing anything for the people".
"She should have worked for the Samajwadi Party before demanding anything. She hardly matters in politics," he added.
The BJP tried to create an impression that there had been a split in Mulayam's family. Deputy chief minister Maurya said: "Akhilesh couldn't keep his family intact, how will he keep the state intact if the people commit the mistake of voting for him?"