Nitish Kumar slams Prashant Kishor for BJP-connection claim
'He keeps speaking for the heck of it for his own publicity'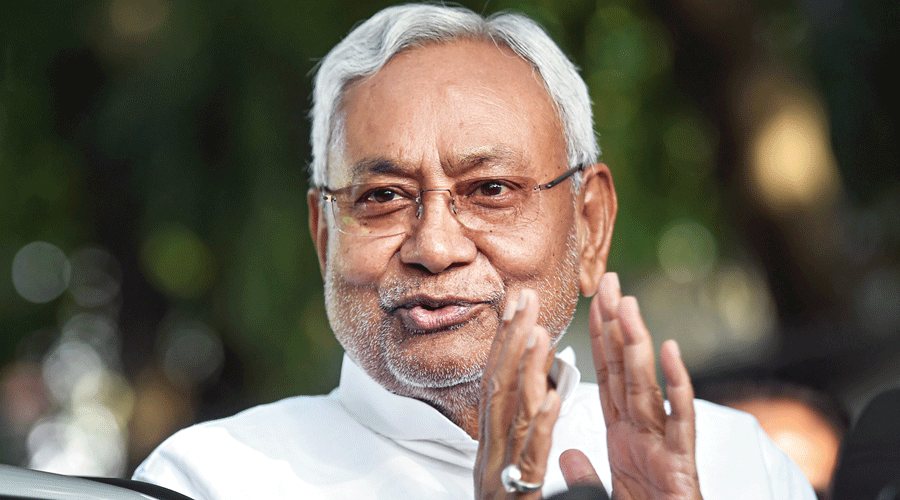 ---
Patna
|
Published 21.10.22, 11:21 PM
|
---
Bihar chief minister Nitish Kumar slammed poll strategist Prashant Kishor on Friday over his remark that the former was still inclined towards the BJP and had not closed his channels with the saffron party despite quitting the NDA to lead a Grand Alliance government in Bihar.
"Why do you take the name of that person? He (Kishor) keeps speaking for the heck of it for his own publicity. People keep speaking whatever they want to," Nitish said.
 "Let him speak. We are not bothered. I had given him much at one point in time. I don't know what he wants and says. Let him speak whatever he wants to. I gave a lot of respect to some people, but they misbehaved with me. What can one do? Leave it. Let's not comment on such things," he  added.
Nitish was speaking on the sidelines of an event organised to mark the birth anniversary of Sri Krishna Sinha, the first chief minister of Bihar.
Kishor has been on a padyatra in Bihar since October 2, to interact with the people to know the issues at the grassroots in his bid to form a political outfit and enter electoral politics.  "Nitish has not closed his channels with the BJP. Its biggest proof is that Rajya Sabha deputy chairman — JDU MP Harivansh has neither resigned from the post nor his party has asked him to do so," Kishor said on Thursday.
Kishor, who has offered poll strategy services to different parties in different states and the BJP at the Centre during the 2014 Lok Sabha poll, worked with the JDU during the 2015 Bihar Assembly polls.
He became a consultant to the chief minister; an official position with the status of a cabinet minister, after the then Grand Alliance swept the polls and was instrumental in setting-up Bihar Vikas Mission.
He later officially joined the JDU and was made the national vice-president.
 But, Kishor differed with Nitish after the latter left the Grand Alliance to shake hands with the NDA in 2017. He was expelled from the JDU in January 2020 for working against the interests of the party.
The two leaders have been taking potshots at each other and Kishor has been asserting that Nitish has turned senile and delusional.
Talking to reporters on Friday, Nitish also asked them to spare Bihar director-general of police (DGP) S.K. Singhal as he was about to "retire in two months" and "sometimes mistakes happen."
Singhal was conned by a person posing as Patna High Court chief justice allegedly at the behest of an IPS officer Aditya Kumar facing an FIR for not acting against the liquor mafia. The case against the officer was closed.
The person identified as Abhishek Agrawal has been arrested since then, while Aditya has been suspended and is absconding. However, this has left questions about the gullibility of the DGP and whether he accepts the recommendations to close cases.