Niranjan Jyoti returns for second innings
'People have to decide whether they want a government of those born of Ram or of those born illegitimately'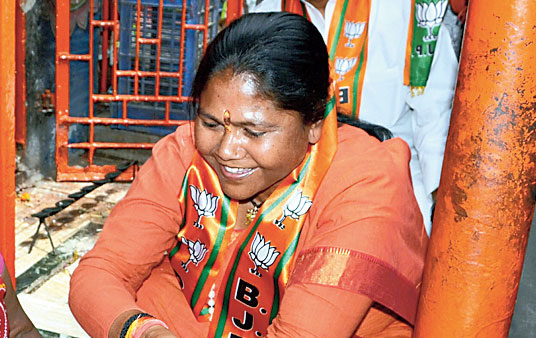 ---
---
BJP member Sadhvi Niranjan Jyoti, who had earned notoriety by drawing a distinction between a government of "Ramzadon (those born of Ram)" and one of "haramzadon (illegitimate children)", was retained as a junior minister on Thursday.
"Apko tay karna hai ki Dilli mein sarkar Ramzadon ki banegi ya haramzadon ki (You have to decide whether you want a government of those born of Ram or of those born illegitimately)," the saffron-robed MP and junior minister had told a party rally in west Delhi in December 2014.
Her remark had caused an uproar in Parliament. Ticked off by Prime Minister Narendra Modi, she had expressed regret in the Lok Sabha.
Another BJP leader known for making controversial statements, Mahesh Sharma, was, however, dropped. On one occasion, he had said former President A.P.J. Abdul Kalam was a nationalist and humanist "despite being a Muslim".