Never seen Chair behave like this: NCP chief Sharad Pawar
The former Union agriculture minister also objected to the manner in which the farm bills were passed in the Rajya Sabha on Sunday amid Opposition protests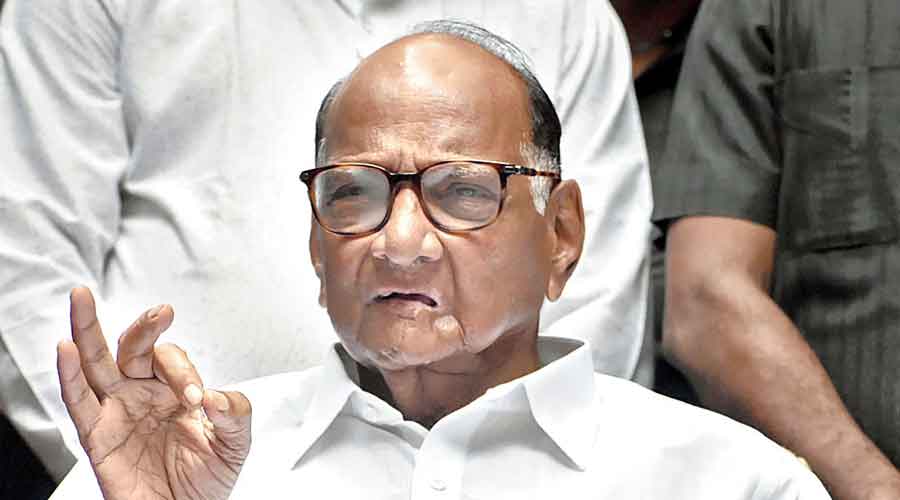 ---
|
Mumbai
|
Published 23.09.20, 01:32 AM
---
NCP chief Sharad Pawar on Tuesday said that never in his 50 years in legislative politics had he seen a presiding officer behave the way Rajya Sabha deputy Chairman Harivansh had during the passage of the farm bills and expressed concern over the Chair "not allowing" Opposition MPs to put forth their views.
Talking to reporters, the former Union agriculture minister also objected to the manner in which the farm bills were passed in the Rajya Sabha on Sunday amid Opposition protests.
The Rajya Sabha member said he was observing a fast in Mumbai on Tuesday in support of the eight MPs who had been suspended from the Upper House.
"Members like me had expected that the Chairman, the Deputy Chairman or those in the Chair would look at the issue seriously and give the members an opportunity to express their views. But it did not happen," the veteran leader said.
Opposition members had conveyed to Harivansh that he had not gone by the rules when the bills came up for discussion in the Rajya Sabha, Pawar said. "It was expected from the Deputy Chairman that he would at least listen to the rules the members were referring to. But it did not happen and immediately voting was held, that too by voice.… Hence, the members reacted sharply," he added.
The NCP leader pointed out that Harivansh had been projected as a leader who followed the ideology of Karpoori Thakur, the late Bihar chief minister who was considered an expert on parliamentary democracy and rights. But Harivansh had ignored all these ideologies, resulting in the suspension of Rajya Sabha members and the snatching of their rights, Pawar said.
Tax notice
Pawar has been served a notice by the income tax department in connection with the poll affidavits he had submitted to the Election Commission.
Pawar told reporters that the income tax department had sought his "clarification and explanation".
"I got the notice yesterday.... We are happy that they (the Centre) love us from among all the members.… The notice was served by the income tax department after the Election Commission asked (it) to.… We will reply to the notice," he said.
Pawar was responding to a query on reports that his daughter and Lok Sabha member Supriya Sule, Maharashtra chief minister Uddhav Thackeray and environment minister Aaditya Thackeray had received similar notices from the income tax department.
Pawar also made light of reports on the possibility of the imposition of President's rule in Maharashtra.
"Is there any reason for (imposing President's rule)? Is President's rule some joke?" he asked, adding that the ruling Sena-NCP-Congress Maha Vikas Aghadi combine enjoys a clear majority in the Maharashtra Assembly.
Pawar also criticised the central government for banning the export of onions.