Modi cites own example to assert India is functioning democracy
The PM used the platform of the United Nations General Assembly after two days of being nudged on democracy and tolerance by the US President and Vice-President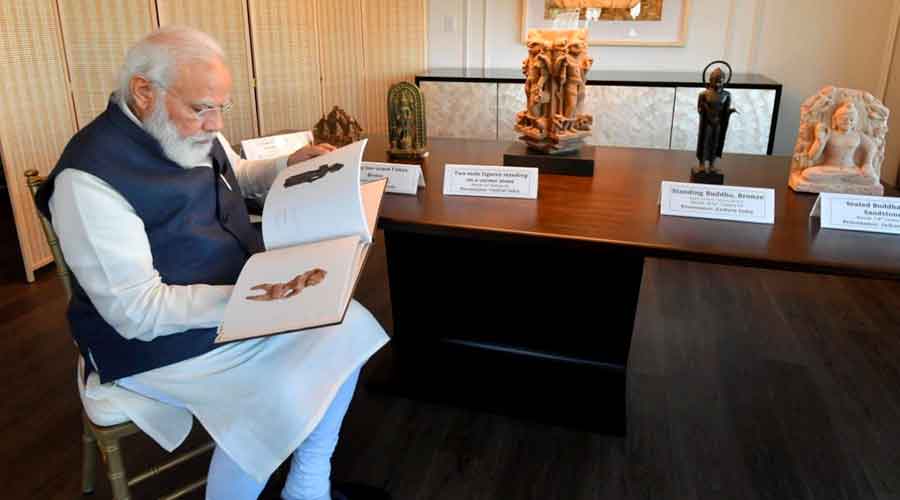 ---
New Delhi
|
Published 26.09.21, 01:15 AM
|
---
Prime Minister Narendra Modi on Saturday cited his own example to assert that India is a functioning democracy, using the platform of the United Nations General Assembly after two days of being nudged on democracy and tolerance by the US President and Vice-President.
Modi referred to his rise from son of a tea seller to Prime Minister as proof that "democracy can deliver, democracy has delivered".
Appearing to follow advice that he had given the nation last year, Modi said he represented a country that was proud to be the "mother of democracy".
The Prime Minister had on December 10, 2020, said: "When we glorify our democratic history with confidence, the day is not far away when the world will also say: India is the mother of democracy."
On Saturday, Modi used the UNGA to do that in an address that increasingly sounded like a campaign speech as he invoked several schemes of his government after underscoring India's diversity.
"Our diversity is the identity of our strong democracy. This is a country which has dozens of languages, hundreds of dialects, various ways of living and eating. It is a marvellous example of a vibrant democracy," the Prime Minister said.
He spoke about the threat posed to the world by the increase in "regressive thinking" and extremism.
"Under these circumstances, the entire world has to make science-based, rational and progressive thinking the basis of development," he said.
In the context of regressive thinking, he sought to admonish Pakistan without naming it by saying that a country that uses terrorism as a political tool should realise that terrorism can become a big threat to it too.
He also appeared to be taking on China — again without naming the country — when he stressed that ocean resources were a common resource that should be used, not abused.
"Our oceans are the lifeline of international trade. They should be protected from the race for expansion and exclusion," the Prime Minister said.
During this US visit, the Prime Minister has had to deal with subtle concern from the top echelons of power and voices from the streets — where protests were organised in both Washington and New York — at what the Economist Intelligence Unit has described as India's "democratic backsliding".
Earlier, exercising India's right of response at the UNGA to Pakistan Prime Minister Imran Khan's bid to broach Kashmir, Indian diplomat Sneha Dubey said: "Pakistan is a country which is an arsonist disguising itself as a fire-fighter."
Dubey underlined that Osama bin Laden had taken refuge in Pakistan.
Stating that South Asia and the whole world had suffered because of its actions, the young diplomat accused Pakistan of trying to cover up sectarian violence within its borders as acts of terror.
"Dissenting voices are muzzled daily…. Unlike Pakistan, India is a pluralistic democracy with a substantial population of minorities who have gone on to hold the highest offices in the country," Dubey said.