Mumbai police to probe allegations against Sameer Wankhede
The Narcotics Control Bureau's zonal director is the lead investigator in the cruise ship case in which actor Shah Rukh Khan's son Aryan is in jail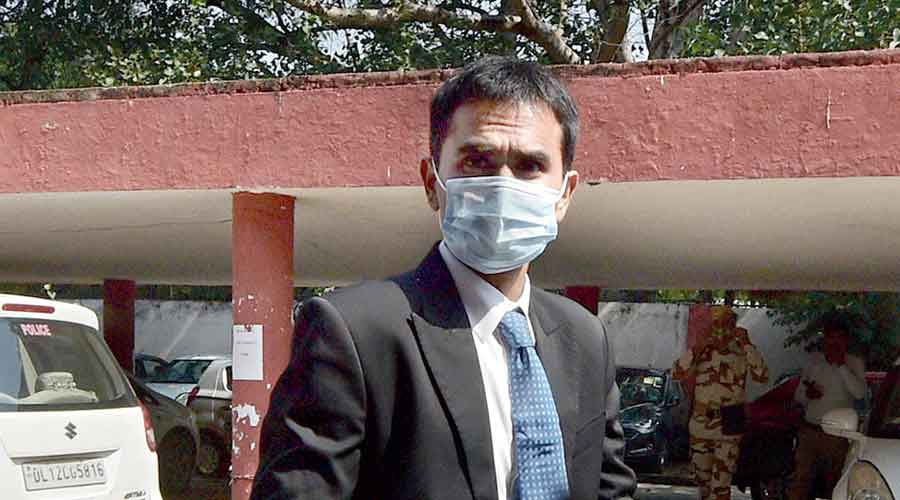 Sameer Wankhede in New Delhi on Tuesday.
PTI
---
New Delhi
|
Published 28.10.21, 01:15 AM
|
---
Mumbai police on Wednesday appointed an additional commissioner-level officer to probe the allegations against Narcotics Control Bureau's zonal director Sameer Wankhede, the lead investigator in the cruise ship case in which actor Shah Rukh Khan's son Aryan is in jail.
Aryan's bail hearing in Bombay High Court will continue on Thursday. "Tomorrow we will try to finish it," Justice N.W. Sambre said after Wednesday's hearing.
The NCB had earlier ordered a vigilance probe after independent witness Prabhakar Raghoji Sail alleged in a notarised affidavit that he had overheard plans for a demand for bribe, of which Rs 8 crore was to be paid to Wankhede.
Maharashtra minister Nawab Malik has also levelled serious charges against Wankhede, including that he used a fake caste certificate to get the Indian Revenue Service job under the Scheduled Caste quota.
Malik had shared on social media a birth certificate that purportedly shows that Sameer Wankhede was born Sameer Dawood Wankhede and that his father's name was Dawood Wankhede, suggesting he was a Muslim and not from a Scheduled Caste. The minister also shared a photograph of Wankhede and his first wife Shabana Qureshi.
Wankhede then said his father was Hindu and his mother Muslim and that his first marriage was registered under the Special Marriage Act, suggesting that it was an inter-faith marriage. He said his father's name was Dnyandev.
But Malik on Wednesday shared a copy of Wankhede's "nikah nama" or marriage certificate issued on December 7, 2006, showing that the wedding took place according to Islamic rituals. The "nikah nama" gives Wankhede's name as Sameer Dawood Wankhede.
On television, Wankhede's father acknowledged the nikah nama and his signature on it but said he did not know that his name was given as Dawood Wankhede there.
Wankhede on Wednesday accepted a nikah was held to honour his mother's wishes but said he was Hindu.
The qazi who conducted the nikah, however, told television channels the wedding could be solemnised according to Islamic rituals because both the bride and the groom were Muslim.
Malik said he had received a letter from an unnamed NCB official stating that Wankhede had framed innocent people in 26 fake drug cases. Malik said he had forwarded the letter to NCB director-general S.N. Pradhan.