Maya, Akhilesh snub Cong
BSP-Samajwadi-Rashtriya Lok Dal alliance in Uttar Pradesh strong enough to defeat the BJP says Akhilesh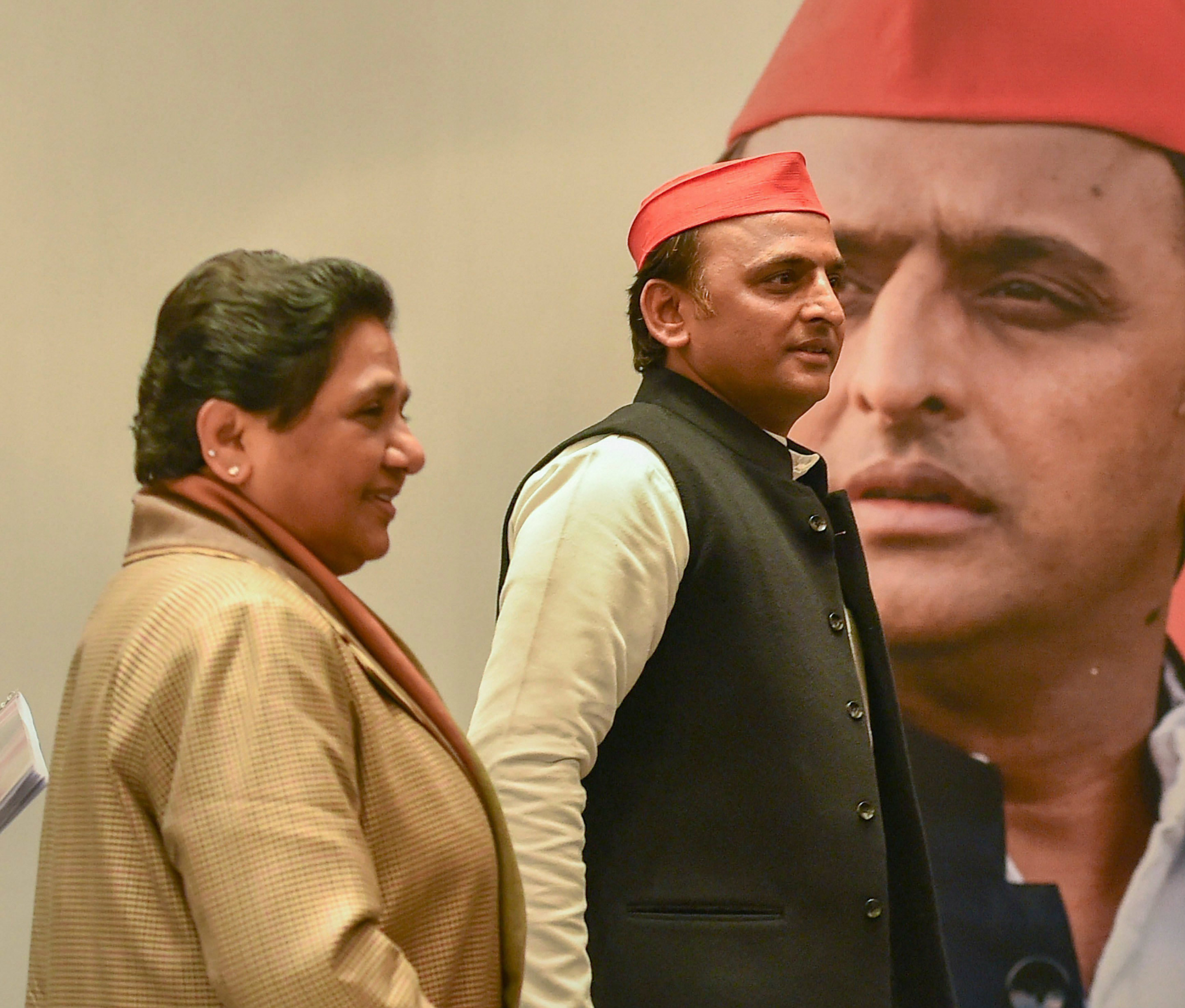 BSP chief Mayawati and Samajwadi Party president Akhilesh Yadav.
PTI file picture
---
Lucknow
|
Published 18.03.19, 10:17 PM
|
---
Mayawati and Akhilesh Yadav have warned the Congress "to stop creating confusion", stressing they don't have an alliance with the Grand Old Party for the Lok Sabha elections.
"The Bahujan Samaj Party wants to make it clear to its workers and supporters again that there is no alliance or understanding with the Congress. Our people shouldn't get confused by the rumours spread by Congress leaders," Mayawati told a party meeting here on Monday.
She tweeted the same message, adding that the Congress was free to field candidates from all the 80 Lok Sabha seats in Uttar Pradesh.
Samajwadi Party president Akhilesh re-tweeted Mayawati's post, adding that the BSP-Samajwadi-Rashtriya Lok Dal alliance in Uttar Pradesh was strong enough to defeat the BJP.
बीएसपी एक बार फिर साफ तौर पर स्पष्ट कर देना चाहती है कि उत्तर प्रदेश सहित पूरे देश में कांग्रेस पार्टी से हमारा कोई भी किसी भी प्रकार का तालमेल व गठबंधन आदि बिल्कुल भी नहीं है। हमारे लोग कांग्रेस पार्टी द्वारा आयेदिन फैलाये जा रहे किस्म-किस्म के भ्रम में कतई ना आयें।

— Mayawati (@Mayawati) March 18, 2019
The Congress had on Sunday left seven seats in the state free for senior leaders of the alliance to contest, reciprocating the combine's goodwill gesture of not fielding candidates from Rae Bareli and Amethi, represented by Sonia Gandhi and Rahul Gandhi.
State Congress president Raj Babbar had said that these seven seats had been given to the alliance as a mark of support for all those trying to defeat Prime Minister Narendra Modi.
Mayawati said: "Our alliance here is capable of defeating the BJP. The Congress shouldn't create confusion by leaving seven seats for the alliance."
Babbar told reporters on Monday that the Congress respected Mayawati and Akhilesh and didn't want to say anything that could help Modi. "It's our responsibility to consolidate the anti-Modi forces," he said.