March, Supreme Court plea against journalist Prashant Kanojia's arrest
Police action seen as 'high-handed, arbitrary'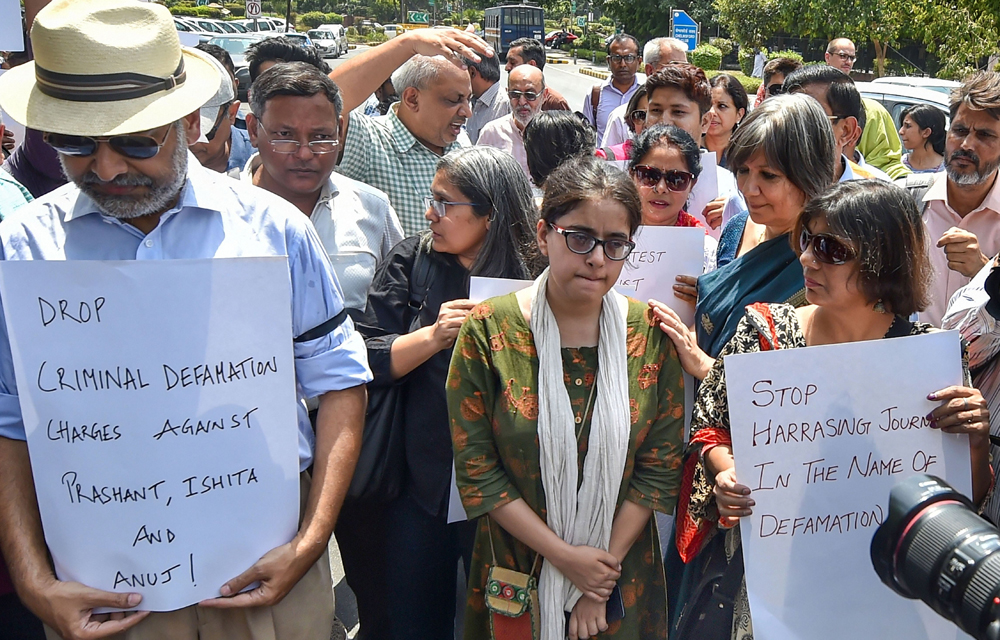 ---
---
Journalists and activists marched here on Monday protesting the arrest of a journalist, an editor and a TV channel head for telecasting and publicising the statement of a woman who claims to have sent a marriage proposal to Uttar Pradesh chief minister Yogi Adityanath.
Ishita Singh and Anuj Shukla, editor and head of the Noida-based Nation Live, and Delhi-based freelancer Prashant Kanojia were arrested on defamation charges on Saturday by Uttar Pradesh police.
Nation Live had telecast the statement, made before reporters, where the woman also claims to have been in regular online contact with the monk turned chief minister. Kanojia had posted the video with a tweet saying: "Ishq chupaye nahin chupta (Can't hide love) Yogi ji."
Kanojia's wife Jagisha Arora filed a writ in the Supreme Court on Monday for his release, which a vacation bench agreed to hear urgently on Tuesday.
The Editors Guild of India had on Sunday condemned the police action as "high-handed, arbitrary" and as "an authoritarian misuse of laws" and an "effort to intimidate the press, and stifle freedom of expression".
Jagisha told reporters at the march that the plainclothes police who accosted Kanojia at the couple's Delhi home on Saturday had "said they were taking him to the police station to talk to him; instead, they took him to Lucknow".
"We all expect the police and the government to obey the law, but what does one do when the state itself breaks the law?" she said.
"No proper information has been given to me by the police. Our friends in Lucknow say that he is under mental stress in jail."
Monday's march was called by the Indian Women's Press Corps, Press Council of India, South Asian Women in the Media and the Press Association. The organisers said they would write to the Union home minister and information and broadcasting minister to intervene, and to Adityanath asking him to withdraw the charges.
"There is fear (among) people today and some journalists are wary of being seen protesting. No one in their right senses can support what has happened," Press Council secretary-general Mohua Chatterjee told The Telegraph.
Besides journalists, several others joined the afternoon march on the hottest day in Delhi's recorded history. Among them was former student activist Umar Khalid, arrested for sedition in 2016 and yet to face trial.
"Each of these arrests (including those in previous libel and sedition cases by the government) are attacks on citizens who question the government," Khalid told this newspaper.
"Despite their massive majority, the government does not have answers to these basic questions. Journalists who have refused to align with this government are now facing this."
A PTI report quoted Siddharth Varadarajan, founding editor of the news portal The Wire, as saying: "Today, journalists can get arrested for using humour and irony in a social media post."
In the apex court, the bench of Justices Indira Banerjee and Ajay Rastogi accepted the plea by advocate Nitya Ramakrishnan, appearing for Jagisha, for an urgent hearing of the petition since it involved a citizen's right to life, liberty and free speech.
Jagisha has moved a habeas corpus petition seeking the production of her husband before the top court.
According to the petition, filed through advocate Shadan Farasat, due process was not followed during Kanojia's arrest.
"In order to obviate any release on bail, in an FIR carrying bailable offences only, the petitioner's husband was not produced before any magistrate to seek a transit remand. No arrest memo was prepared and neither the petitioner (wife) nor her husband was told of why he was being taken and who the 'arresting officials' in civil dress were," it says.
It seeks departmental action against the police officers responsible for the arrest, and "exemplary" damages to Kanojia.
Kanojia has been charged with "circulating rumours with an intent/likely to disturb public tranquillity", criminal defamation and provisions of the Information Technology Act. If convicted, he can be jailed for up to three years.