Manual scavenger count rises, despite ban
The number, according to the figures reported by the states in 2015, was around 13,770. The latest survey found 20,596 manual scavengers in 2018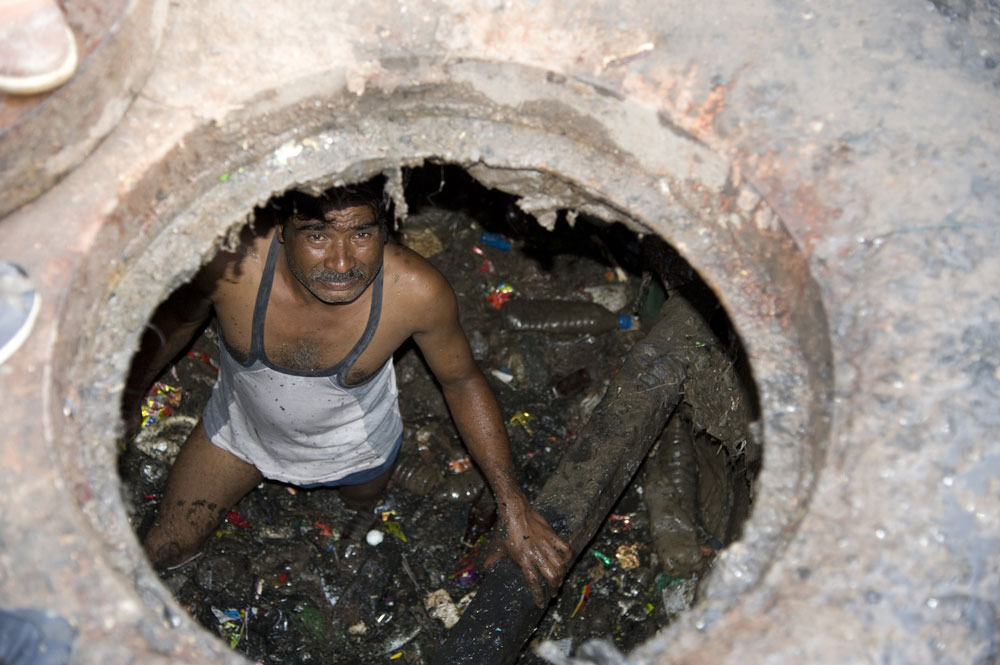 ---
---
Manual scavenging has been banned since 1993 but there has been little impact on the ground.
The latest data from a survey conducted by the National Safai Karamcharis Finance & Development Corporation this year on manual scavengers has found their number has risen by over 6,800 compared with figures states had supplied three years ago.
The number, according to the figures reported by the states in 2015, was around 13,770. The latest survey found 20,596 manual scavengers in 2018.
Social justice and empowerment minister Thawaarchand Gehlot on Tuesday said the figures the states supplied in 2015 had underestimated the actual number.
"The states did not report correctly because they wanted to avoid further questioning as the Supreme Court has fixed a deadline for ending the practice of manual scavenging," Gehlot told a workshop on prevention of hazardous cleaning of sewers and septic tanks.
The Supreme Court had earlier asked the states to provide these people with alternative avenues of employment by December 2014.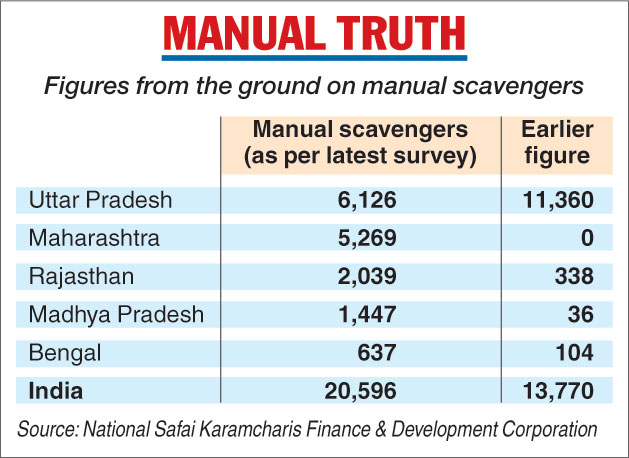 According to the results of the latest survey, the number of manual scavengers in Bengal had increased from 104 to 637.
Magsaysay award winner Bezwada Wilson disagreed with the figure of 20,596 manual scavengers, saying the latest survey was carried out at certain camps where the manual scavengers were to go and give their details.
"Only a household survey will give the clear picture. The socio-economic caste census had found 1.8 lakh manual scavengers in 2012. The manual scavengers do not feel the necessity to give details. This survey is incomplete," Wilson said.
Manual scavenging was banned through a central legislation in 1993 but the law did not have any penal provision. In 2013, Parliament passed the Prohibition of Employment as Manual Scavengers and Their Rehabilitation Act, which said engagement of a person as a manual scavenger was a punishable offence that could lead to jail for up to a year or a fine of 50,000, or both. But nobody has been convicted under this law so far.
Eleven people died last month while cleaning sewer tanks, including six in Delhi. Preliminary investigations suggested the workers were not given any safety equipment before they entered the sewer tanks.
While manual scavenging is banned, workers with adequate safety equipment, such as gloves and oxygen-connected masks, can be hired.
The law also says that contractors engaging manual scavengers must take permission from competent authorities to ensure that they follow the safety norms.
According to the norms, each manual scavenger would get an immediate one-time assistance of Rs 40,000. They would be provided training for an alternative job and funds credit to help them start a new venture.