Lok Sabha becomes pitch for sloganeering
Opposition MPs respond to BJP chants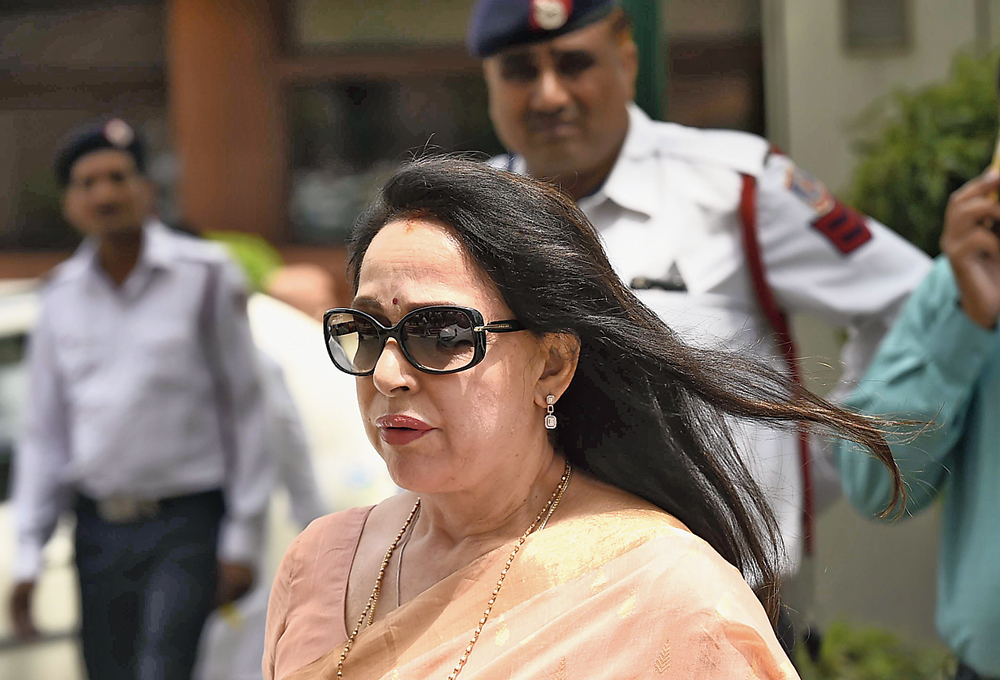 ---
---
Jai Shri Ram, Bharat Mata ki jai, Radhe Radhe, Har Har Mahadev, Jai Ma Kali, Allahu Akbar, Insha Allah, Jai Yogi, Jai Modi, Jai Ma Durga, Constitution zindabad, Jai Hind, Jai Bangla….
The Lok Sabha on Tuesday resembled an arena for a slogan-shouting contest as the Opposition matched the BJP on the second day the new MPs took oath of office.
On Monday, the first day of oath-taking, the BJP MPs who number 303 had asserted their presence with loud chants of Bharat Mata ki jai and Jai Shri Ram — slogans that at times appeared to be taunts aimed at the Opposition.
On Tuesday, the Opposition retaliated. The Bahujan Samaj Party, Samajwadi Party and the Trinamul Congress were particularly vocal but they were not the only ones.
As the AIMIM's Asaduddin Owaisi walked up to take oath, BJP members shouted Jai Shri Ram and Vande Mataram. Owaisi was seen signalling to them to chant louder. When he concluded his oath, he said: "Jai Bhim, Takbir, Allahu Akbar, Jai Hind."
Later, the BSP's Shafiqur Rehman Barq too was greeted with slogans of Jai Shri Ram and Vande Mataram by BJP members.
Barq, elected from Sambhal in Uttar Pradesh, concluded his oath by saying: "Constitution Zindabad". "As far as Vande Mataram is concerned, it is against Islam and we cannot follow it," Barq added.
The BJP MPs then chanted Vande Mataram and Jai Shri Ram louder than before.
Moradabad MP S.T. Hassan of the Samajwadi Party concluded his oath with "Hindustan Zindabad".
The slogans are not officially recognised and did not enter the Lok Sabha records.
There was a mild face-off between Congress president Rahul Gandhi and two BJP MPs as they ended their oaths with chants of "Bharat Mata ki jai".
After Arun Kumar Sagar chanted the slogan twice, Rahul was heard asking him to do so once more. Rahul did the same when the next BJP member, Ajay Kumar, took oath.
Ajay retorted that he would repeat the slogan if the Congress president completed it. When the BJP MP said "Bharat Mata", Rahul responded with "Jai Hind".
As Trinamul's Kakoli Ghosh Dastidar rose to take oath, BJP members chanted Jai Shri Ram. She responded with Jai Maa Kali. After concluding her oath, she said "Jai Hind, Jai Bangla".
Kalyan Banerjee of Trinamul shouted "Banglar jai, Bangalir jai".
Some Opposition members, however, ignored the provocation and stuck to the set format of oath-taking.
A few MPs, both from the BJP and the Opposition, chose to be different. The BJP's Ravindra Kumar chanted "Jai Yogi, Jai Modi". Danish Ali of the BSP said "Jai Hind, Jai Bhim, Jai Samajwad, Jai Kisan". The BJP's Hema Malini chanted "Radhe, Radhe". Hema has been elected from Mathura, the town regarded as the birthplace of Lord Krishna and Radha.
Sonia oath
UPA chairperson Sonia Gandhi took oath on Tuesday, a day after her son Rahul who now represents Wayanad in Kerala. The alphabetical order of states is followed in oath-taking.
While there was loud thumping of desks by Congress members, voices were heard from the BJP benches "greeting" Sonia "for taking oath in Hindi". She represents Rae Bareli in Uttar Pradesh. Rahul appeared to be capturing the moment on his cellphone.
Immediately after, her sister-in-law and BJP MP Maneka Gandhi was administered the oath and they greeted each other with folded hands.