Punjab chief minister Amarinder Singh will sit on a dharna at Raj Ghat, Mahatma Gandhi's resting place, in Delhi on Wednesday as President Ram Nath Kovind has refused to meet him in connection with the new farm laws despite three requests.
Sources said Amarinder not only wanted to request the President to give assent to the farm bills passed by the Punjab Assembly to negate the impact of the Centre's laws but also apprise Kovind of the grave supply crisis in the state perpetrated by the Union government's refusal to allow goods trains to ply despite farmers lifting a rail blockade.
While farmers are facing an acute fertiliser crisis, power plants are on the verge of shutdown because of coal shortage.
The Punjab chief minister has decided to stage a relay protest as prohibitory orders under CrPC Section 144 are in force in Delhi because of the coronavirus-induced restrictions.
While all Congress MLAs of Punjab will reach Delhi on Wednesday, Amarinder will sit at Raj Ghat with only four of them at a time. There is no clarity on whether the protest will continue indefinitely.
Punjab Congress chief Sunil Jakhar told The Telegraph over the phone from Chandigarh: "We are saddened by the refusal of the President to meet the chief minister. This is against the spirit of the Constitution. The President usually doesn't rebuff any chief minister like this. The Centre's attitude is an assault on federalism. Their attitude doesn't augur well for democracy. If we want to convey our sentiments to the President, what is wrong in it?"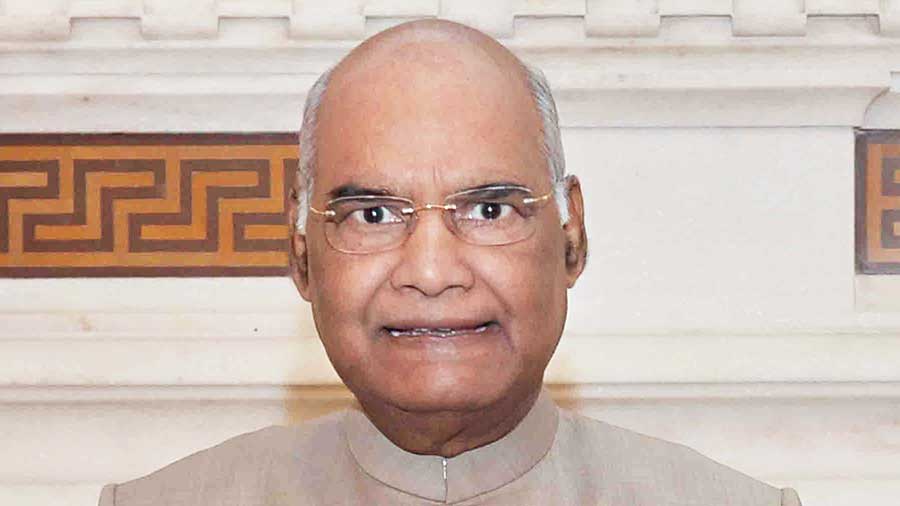 Ram Nath Kovind File picture
The chief minister's office had made a request to Rashtrapati Bhavan for an appointment on October 21. The CMO followed it up with a reminder on October 29. It received a reply on Monday, saying the President could not meet Amarinder at this stage because the farm bills were still with the governor. The chief minister made another request on Monday itself but Rashtrapati Bhavan didn't change its mind.
Senior Punjab minister Rajinder Singh Bajwa was quoted by local media as saying: "The Centre's attitude is unfortunate. Don't they consider Punjab as part of India? Talks are held even with Pakistan but Punjab cannot be invited for talks? What we are facing is akin to an economic blockade of Punjab. It is as if the Centre wants to teach Punjab a lesson for protesting against the farm laws.
"Rail lines — Delhi-Amritsar and Delhi-Pathankot — are all clear but goods trains are not allowed to ply. Do they want to ruin Punjab's economy?"
Farmers in Punjab have vehemently opposed the Centre's farm laws that they fear would rob them of minimum support price and facilitate a takeover of the farm sector by big private companies.
Supplies of essential commodities have been badly hit as a result of the Centre's move to stall trains. Amarinder described the situation as grim. Supplies to other states like Himachal Pradesh and Jammu and Kashmir have also been hit as goods trains are not coming to Punjab.
The farmers, who have scaled down their protests after appeals from the Punjab chief minister, are planning to reach Delhi and start an agitation in the national capital.
Amarinder had on Sunday written to BJP president J.P. Nadda explaining how the suspension of goods trains could trigger dangerous consequences on national security and on the armed forces, in addition to common citizens, farmers and industries. The chief minister had said the situation could become extremely dangerous for the country if the armed forces were deprived of critical supplies, amid hostile relations with China and Pakistan.
Amarinder called for collective will and statesmanship to resolve the festering imbroglio and said: "The onus lies on all of us…. We need to all liaise together, with the common goal of solving the contentious issue, in the interest of the country."