Kannan Gopinathan arrested on way to Aligarh Muslim University
The IAS officer was going to address a protest meeting against the CAA and the December 15 police action on students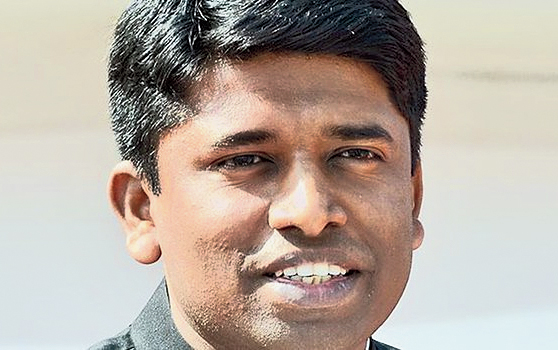 Kannan Gopinathan
(Picture sourced by The Telegraph)
---
Lucknow
|
Published 04.01.20, 11:24 PM
|
---
Kannan Gopinathan, the IAS officer who resigned in August in protest against the clampdown in Jammu and Kashmir, was detained in Agra on Saturday morning to prevent him from visiting Aligarh Muslim University.
The former bureaucrat was travelling to AMU from somewhere in Madhya Pradesh to address a protest meeting on the campus against the citizenship amendment and the December 15 police action on students. He was also scheduled to meet the injured students at the campus hospital.
However, his car was stopped on a highway about 20km from the Aligarh district borders and about 40km from Aligarh town. He was handed a copy of a magistrate's order asking the police to prevent him from travelling to AMU.
"A law-and-order problem was created at AMU after statements against the Citizenship (Amendment) Act by Dr Kafeel Khan and Yogendra Yadav," the order read.
Kafeel, a Gorakhpur-based paediatrician, was arrested in 2017 after serial baby deaths at Baba Raghav Das Medical College, Gorakhpur, and given bail after more than a year. He blames chief minister Yogi Adityanath's "apathy" for the baby deaths. Yadav is a political activist from Delhi.
Officers said Kannan had been taken into custody under CrPC sections 106 and 117 (preventive measure to maintain peace) and the penal code's section 155 (liability of person for whose benefit a riot is committed).
He was released after three hours against a personal bond and escorted out of the state along the same highway.
After his detention, Kannan had tweeted: "The order shared is for Aligarh district. But am being detained in Agra."
In subsequent tweets, he said: "Being taken to another place from here. Guesthouse it seems…. Taking me to this dhaba. Police have been very cordial and respectful. Saying they are just doing as per order."
Kannan, a 2012-batch IAS officer from the Kerala cadre, had resigned while serving in Dadra and Nagar Haveli as power and non-conventional energy secretary. He said he was quitting to regain "my voice" following the security lockdown in Jammu and Kashmir.
A police source said Kannan's car was followed as soon as it entered Agra district and was stopped at Saiyna toll plaza on the Agra-Gwalior highway.
"I was asked to stop Kannan because Section 144 had been imposed in many parts of the state, including Agra and Aligarh, after the anti-citizenship act protests," Agra senior superintendent of police Bablu Kumar said. "We detained him in Agra as a pre-emptive measure."
Section 144 of the CrPC bans any gathering of more than four people. Kannan's car had only one more passenger besides the driver.
The magistrate's order asked the police to prevent several other social activists --- Harjeet Singh, Ankita Om, Fahad Ahmad, Sabina Abbas Naqvi and Kavita Krishnan --- from entering AMU, where they too were scheduled to speak.
It was not clear whether they made an attempt to reach Aligarh and were detained, but the 2.30pm campus meeting did not take place.