Jawans in Varanasi to fight 'fake chowkidar'
Over 100 retired or suspended army and paramilitary soldiers have gathered in Modi's constituency to declare 'war' on him for his 'abominable' words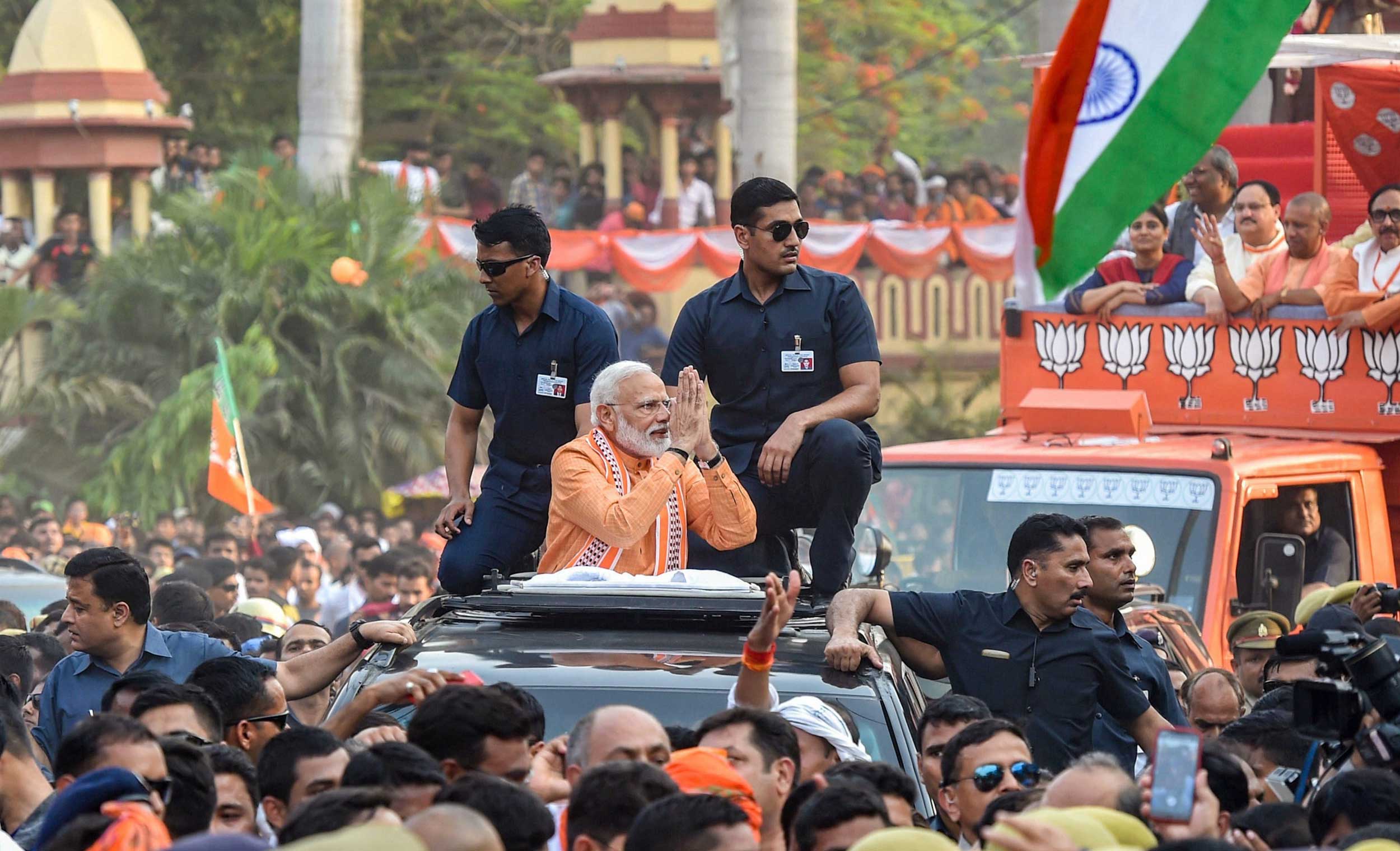 ---
|
Varanasi
|
Published 26.04.19, 02:04 AM
---
If service chiefs have complained against Prime Minister Narendra Modi's politicising of military operations, scores of jawans past and present have now banded together to question his pro-army credentials.
Over 100 retired or suspended army and paramilitary soldiers have gathered in Modi's constituency to declare "war" on him for his "abominable" words and his actions that they say are "weakening the nation" and promoting corruption in the army.
They have been camping in a godown in the Maduadih area of Varanasi, pooling their meagre resources to campaign door to door for Tej Bahadur Fauji, a suspended BSF jawan who filed his nomination as an Independent on Wednesday to signal that the country's soldiers are against Modi.
If possible, they want to show Modi black flags when he files his papers on Friday. "Modi is an impostor, a fake chowkidar. I am the real chowkidar fighting against a fake chowkidar," Tej Bahadur said.
His campaign comes at a time Modi has been claiming to have restored the forces to their glory and is seeking votes citing the cross-border strikes under his rule, drawing a complaint to the President from scores of veterans, including service chiefs.
Modi's reference to surgical strikes is one of the two major grouses the former and suspended soldiers have against him. They accuse him of "revealing a military secret" by publicising the surgical strike on terror launch pads across the Line of Control on September 29, 2016.
The other is that Modi, after promising to fight corruption during the 2014 campaign, has "stood by corrupt officers" in the forces.
All the suspended jawans now camping in Maduadih have paid the price for protesting corruption and exploitation by their superiors, with the government ignoring their complaints and siding with the accused officers, they say.
"The September 2016 strike was not the first surgical strike. I myself have been part of many surgical strikes in Pakistan-controlled territory in the past," Om Prakash Singh, 62, who had retired from the army as a havildar in 2001, told The Telegraph.
"Once I got trapped and stayed there (Pakistan-controlled territory) for three days during a one-man covert mission. But it was all kept a secret. We were trained to think that if our operation was leaked to anybody, there must be a mole in the army. What does that make Modi for revealing the surgical strike of 2016?"
The western Uttar Pradesh resident was speaking in the godown, which doubles as the election office of Tej Bahadur, a resident of Rewari in Haryana who was suspended last year for protesting the quality of food in BSF camps.
"Although I'm a retired soldier, I shall keep the details of the surgical strikes I participated in a secret," Om Prakash, who had served in Jammu and Rajasthan, said.
"Modiji has committed a crime and insulted the forces by using them for political gain. His words are abominable and he is weakening the nation."
Pankaj Mishra, 32, a suspended CRPF jawan, accused Modi of promoting the institution of the batman — a soldier assigned to a commissioned officer as a personal servant and also known as a "buddy", "sahayak" or "sewadar".
"At least 4,000 complaints lodged by soldiers, saying officers are forcing them to do menial work at their homes, have been pending in the Prime Minister's Office for the past three years," Mishra said.
"We are forced to wash the clothes of the officers' wives and children. We are engaged in building their houses, cleaning their toilets and taking their wives out to shop. I raised my voice and was tortured and suspended."
Mishra said he had run away from a CRPF camp in Assam and was eventually jailed for four months "on the direction of the government when I registered a complaint with the PMO and the home ministry". He is out on bail and never thought twice when Tej Bahadur contacted him to campaign for him.
The troopers acknowledge that the exploitation of batmen has existed for decades but say they had voted for Modi in 2014, swayed by his anti-corruption plank and hoping he would end the abuse, and now feel betrayed.
"Modi is dishonest; that's the reason I have been suspended for speaking out against corruption in the forces," Mishra said.
Tan Singh, 54, who had taken voluntary retirement from the Indo-Tibetan Border Police five years ago and formed the Jagrukta (Awareness) Mission to combat the exploitation of soldiers "by officers and the government", echoed Mishra.
He said the soldiers would defeat Modi, if not now then surely in the future.
"We are at war with Modi and will defeat him. We may be politically weak today but we will be strong in the coming years and defeat Modi," Tan Singh said.
"One or the other soldier will keep contesting against Modi and I assure you that we will defeat him in future elections."
He called an ITBP jawan on his mobile and asked him to tell this newspaper about the "hardships and atrocities" he was facing in the force.
The jawan, who requested not to be named, said: "I shall either kill myself or kill someone in my battalion if my voice remains unheard. When I protested against the corruption in the purchase of food for the troops, my weapons were taken away and I was sent to a Maoist zone with a baton.
"I wrote to the Prime Minister and the home minister but they secretly alerted those officers who were involved in corruption."