J&K reality check for BJP
Independents were way ahead in the Srinagar Municipal Corporation, winning 53 out of 74 wards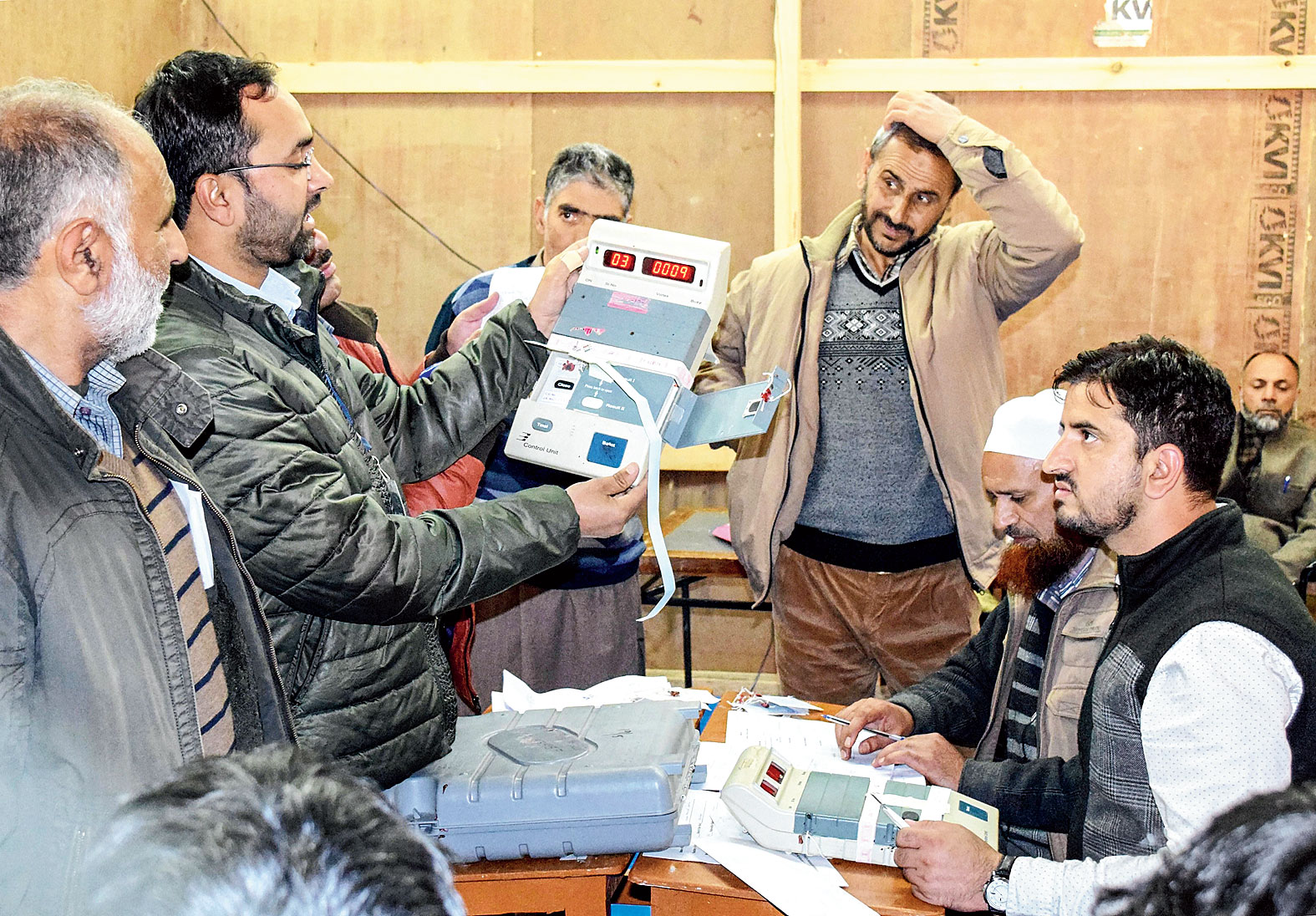 ---
|
Srinagar
|
Published 20.10.18, 08:24 PM
---
The BJP on Saturday trumped the Congress in the municipal elections but must have been left with a sobering thought after the erosion in support in Jammu and Ladakh and the realisation that gains in Kashmir might be short-lived.
The four-phase polls held this month are being seen as a semi-final for the Assembly elections that are due by 2020 but can happen anytime soon as the state is now under governor's rule.
If these elections were held now and the municipal polls were a barometer, the BJP could see its tally go down. The good news for the party in Saturday's results was that it won the coveted Jammu Municipal Corporation, winning 43 out of 75 wards, while the Congress won 14.
Independents were way ahead in the Srinagar Municipal Corporation, winning 53 out of 74 wards. The Congress won 16 and the BJP, four.
Across the state, the BJP won 312 wards out of 959 but Independents bagged 51 more, winning 363 wards. The Congress, the only rival of the BJP after key players National Conference and the PDP boycotted the polls, was not far away, winning 257 wards.
The BJP won 212 of the 520 wards in Jammu, the Congress 110 and Independents 185. It means the BJP won only 40 per cent of the wards, way below its performance in the 2014 Assembly polls when it won two-thirds of the seats — 25 out of 37 — in the region.
The party failed to open its account in Ladakh, where 19 of the 26 wards went to the Congress. The BJP had won the Ladakh parliamentary seat for the first time in the 2014 elections but lost all the four Assembly seats in the state polls later that year. It continued its poor show in the region in Saturday's results.
The party opened its account in Kashmir, winning 100 out of 413 wards, after the Valley clocked a turnout of less than 5 per cent. Of these 100 wards, 76 came unopposed. The Congress won the highest number of wards — 157 — in Kashmir, 78 of them unopposed. As many as 185 wards went uncontested.
While the BJP's performance in the Valley might look impressive, the results would surely look vastly different in Assembly or parliamentary elections if the NC and the PDP choose to contest.
Prime Minister Narendra Modi and the party leadership, however, claimed victory. "I thank the people of Jammu and Kashmir for their support to the @BJP4JnK in the urban local body elections. I assure the people of the state that the Party will work hard to fulfil the aspirations of the state's youth and serve the state with utmost diligence," Modi tweeted.