Hasina raises NRC at talks
Hasina had said that Modi had assured her that her country would not be affected by the NRC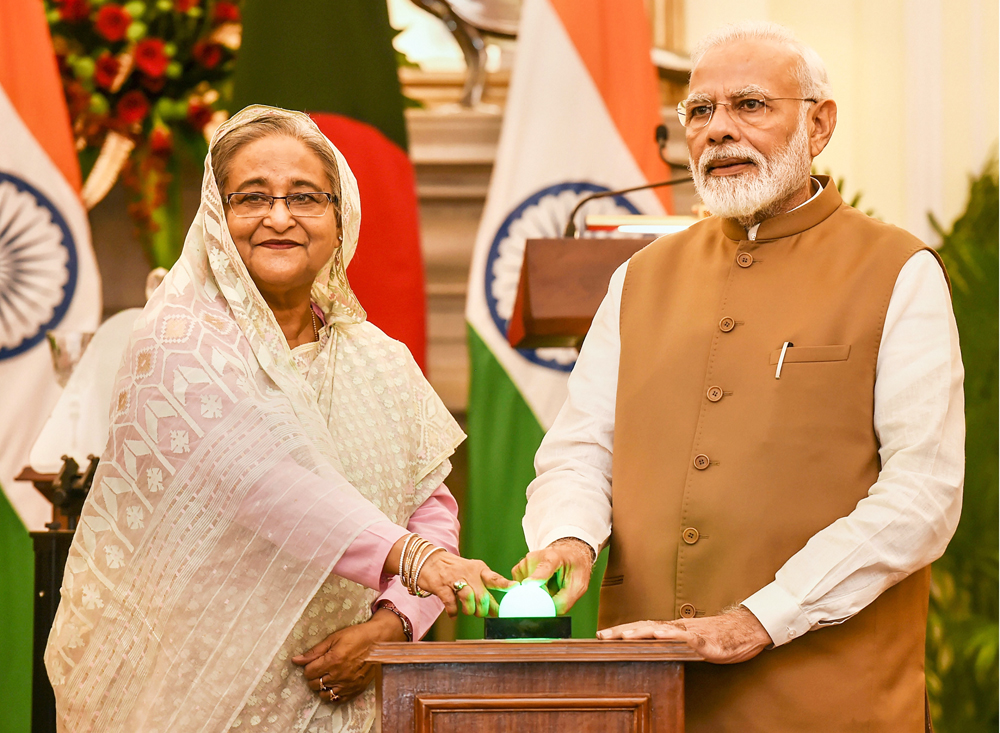 Prime Minister Narendra Modi with his Bangladeshi counterpart Sheikh Hasina launch a bilateral project after a meeting at Hyderabad House in New Delhi, Saturday, October 5, 2019.
(PTI)
---
New Delhi
|
Published 06.10.19, 12:53 AM
|
---
Sheikh Hasina raised the National Register of Citizens during delegation-level talks here on Saturday morning despite Narendra Modi's assurance to her in New York that Bangladesh would not be affected by it, indicating that Dhaka is not convinced by India's stated position.
While there was no mention of the NRC in the media statements made by the two Prime Ministers or in the joint statement, government sources said Bangladesh had brought up the issue during the bilateral engagement.
India iterated that this is an ongoing and court-mandated process and "we will see as the situation emerges", the sources added.
It is this absence of clarity over what will happen to those who are left out of the NRC after the appellate process is over that is a matter of concern for Bangladesh, which is bearing the burden of the Rohingya refugee crisis.
On Thursday, Hasina had said during a reception at the Bangladesh high commission that Modi had assured her in New York that her country would not be affected by the NRC.
Pluralism call
On Friday, Hasina made two statements at the World Economic Forum that are a telling comment on the Modi regime.
"We should move beyond the majority-minority mindset. Pluralism has been a strength of South Asian countries. We should be able to celebrate South Asia's regional, ethnic and linguistic diversity. This is fundamental," the Bangladesh Prime Minister said, speaking about the region in general.
She also made a direct appeal to India not to suddenly announce decisions such as the export ban on onions without a warning to importing countries. The Modi government has a penchant for surprise announcements that leave everyone affected scrambling. The demonetisation decision, too, had affected neighbouring countries besides Indians.
Tripura water cheer
Tripura is one of the biggest beneficiaries of Hasina's visit. The two Prime Ministers inaugurated a project for sourcing bulk LPG from Bangladesh to Tripura, plugging Dhaka into Modi's pet Ujjwala scheme.
They also agreed for early start of the work on withdrawal of 1.82 cusecs of water for drinking from the Feni river in Bangladesh for the people of Sabroom town in Tripura.
Hasina reminded India about the 2011 agreement to sign and implement a framework for sharing Teesta waters. Modi told her discussions were on with all stakeholders. Bengal chief minister Mamata Banerjee is opposed to sharing the Teesta waters with Bangladesh, maintaining that there is not enough water in the river to share.