Haryana minister becomes first volunteer to receive Phase 3 Covaxin dose
Vaccine successfully administered on Anil Vij, says doctor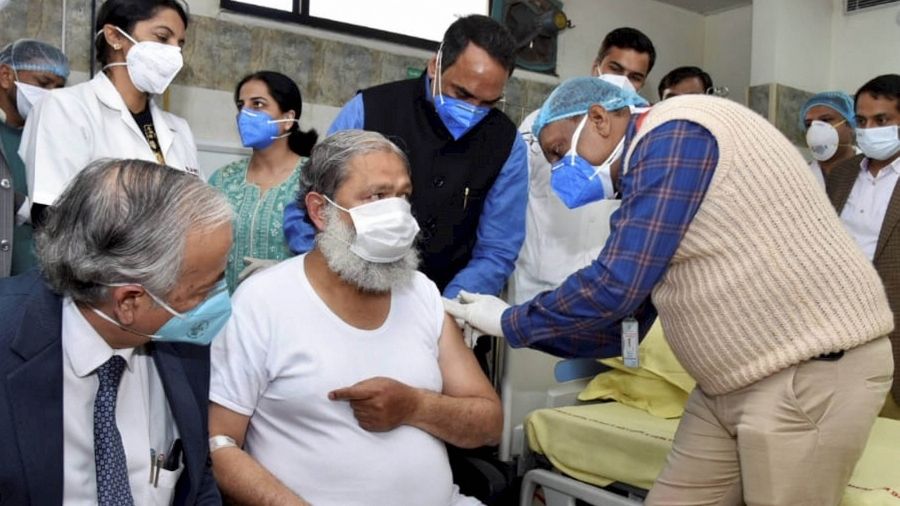 ---
Ambala
|
Published 20.11.20, 04:10 PM
|
---
Haryana health minister Anil Vij on Friday was administered a trial dose of indigenously made potential coronavirus vaccine, Covaxin, at Ambala, as he became the first volunteer in the state to receive the dose during the third phase of the trials.
He also became the first cabinet minister of any state government in India to have volunteered for taking the trial dose of Covaxin.
The 67-year-old Bharatiya Janata party leader was given the dose at the Civil Hospital in Ambala Cantt, as the third phase of the human trials of the Bharat Biotech vaccine in the state began on Friday.
Dr Kuldeep Singh, Civil Surgeon at Ambala, told reporters that the dose was successfully administered to Vij.
The minister was kept under observation at the hospital after he received the shot, before which he had undergone some medical tests.
While talking to reporters prior to reaching the hospital, the minister said if all goes well, the potential vaccine against Covid-19 will be made available to the masses by the beginning of next year.
Vij, who has diabetes and underwent a surgery, said that he did not have any disease that will affect him adversely after he receives the vaccine shot.
On Wednesday, the Ambala MLA said that the third phase of the human trials of Covaxin will begin on November 20 as he offered to volunteer for the same.
Bharat Biotech, in collaboration with the Indian Council of Medical Research (ICMR), is developing the vaccine indigenously, the first and second phases of whose trials were successfully completed last month.
On Monday, the vaccine makers said that the Phase III trials of Covaxin will involve 26,000 volunteers across 25 centres in India, making it the largest clinical trial conducted for a Covid-19 vaccine in the country.