Flurry after pizza man tests positive
72 families home-quarantined in South Delhi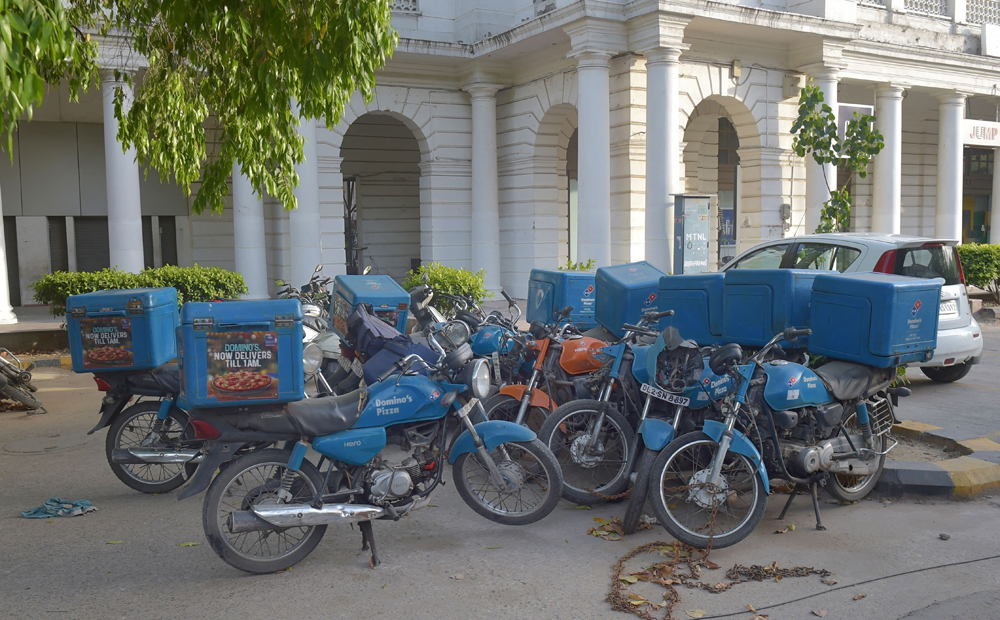 Bikes of delivery men parked near a building at Connaught Place during the nationwide Covid-19 lockdown, in New Delhi, Thursday, April 16, 2020.
(PTI)
---
New Delhi
|
Published 16.04.20, 10:25 PM
|
---
Pizza outlets and delivery services rushed to assure customers they were safe after it emerged on Thursday that a pizza-delivery man who worked for a South Delhi outlet had tested positive for the novel coronavirus earlier this week.
The bid to soothe the frazzled nerves of customers came even as social media brimmed with calls to shun food deliveries as long as the pandemic lasted.
The South Delhi district administration has home-quarantined 72 families the delivery man had serviced in the past 15 days and sent 16 of his colleagues to an isolation centre for a fortnight.
An employee of a Mother Dairy outlet he had come in contact with has also been quarantined at the dharamshala turned isolation facility in Chhatarpur.
South Delhi deputy commissioner B.M. Mishra told The Telegraph that results of tests conducted on the 17 were awaited.
Delhi's health minister Satyendar Jain told ABP News the restaurant that employed the delivery man would be prosecuted if it was found that it had allowed him to work despite knowing he had a cough.
The delivery man who works for a Mojo Pizza outlet in South Delhi's Malviya Nagar had tested positive three days ago at the capital's Ram Manohar Lohia hospital where he was sent for tests after he sought treatment for a cough at Safdarjung Hospital.
The 19-year-old has no travel history and the source of the virus is yet to be traced.
After the story broke in The Indian Express on Thursday, Twitter was abuzz with calls to shun outside food and deliveries all together.
Several gated residential areas here had already blocked the entry of any delivery person even before the Malviya Nagar case.
Mojo's owner Box8 issued statements elaborating their safety measures and announced the closure of the outlet for a fortnight.
Domino's Pizza denied false rumours that it was their outlet in question and said they would henceforth do only contact-less delivery — where pizzas are left at doorsteps.
Deepinder Goyal, CEO of Zomato, which aggregates orders for the outlet, put out an almost alarmist tweet, an indication of the turmoil the industry is facing.
He tweeted a list of precautions for customers that included: "…a) don't touch the food packaging with your bare hands b) empty the food into your own containers asap and dispose the packaging c) then wash your hands thoroughly d) re-heat the food before you eat for that last millimetre of safety."
In a thread of tweets, Goyal also iterated that the virus does not spread through food. "The latest FSSAI guidelines make some things very clear — there are no reports or any evidence of COVID-19 being linked to transmission by food. Viruses need to enter living cells in order to be able to replicate. Unlike bacteria, they never replicate in food," he said.
"In the case of Covid-19, the main risk involved is human-to-human transmission during food handling – i.e. from close contact with an infected food handler or customer. (This is the primary reason why we launched contactless delivery)…."
He added: "Delivery folks are not recommended to wear gloves, because it may give them a false sense of security and result in them not washing hands as frequently as required. Wearing gloves is not a substitute for hand washing."
The National Restaurants Association of India has said it would take almost a year for the industry to recover and has appealed to the Centre to waive several taxes and assume the employer's provident fund liability.
The association has estimated that at least 70 lakh people work for the industry that has an annual turnover of more than Rs 4 lakh crore.
Plea to Kejriwal
Several activists have demanded that the Delhi government fulfil its obligation to provide additional rations to the poor. In a letter to chief minister Arvind Kejriwal, the activists, including Anjali Bharadwaj and the CPI's Annie Raja, said: "We are extremely concerned to note that despite passage of three weeks since the announcement was made by the Central government, the distribution of additional food grains and pulses has not taken place in Delhi. According to a press release dated April 9, 2020 issued by the Government of India, the Delhi government had not even lifted the additional earmarked stock."