Farmers burn effigy of 'Kisan ka Ravan' on Dussehra
Rahul asks Modi to reach out to farmers
The BJP has, however, accused the Congress of instigating the protests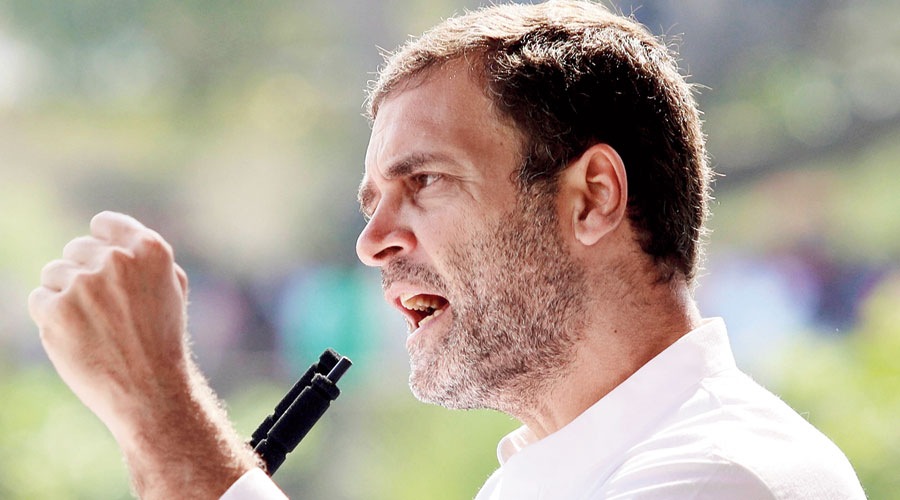 Rahul Gandhi
File picture
---
New Delhi
|
Published 27.10.20, 01:10 AM
|
---
Rahul Gandhi has described farmers' burning of the Prime Minister's effigy on Dussehra as a "very dangerous precedent" and asked Narendra Modi to reach out to them and provide the healing touch.
Farmers at many places in Punjab and Haryana had on Sunday replaced Ravan's effigy with Modi's for the burning ceremony, calling the Prime Minister "Kisan ka Ravan (Farmers' Ravan)".
At some places, portraits of industrialists Mukesh Ambani and Gautam Adani were attached to Modi's effigy.
Farmers are angry over the recent farm laws passed by Parliament, which they fear would deprive them of the relative security of minimum support prices and leave them vulnerable to exploitation by big companies.
After social media reported the trend widely with photographs and videos, Rahul tweeted: "This happened all over Punjab yesterday. It's sad that Punjab is feeling such anger towards the Prime Minister."
He added: "This is a very dangerous precedent and is bad for our country. The Prime Minister should reach out, listen and give a healing touch quickly."
In BJP-ruled Haryana, police cracked down on the protesters. They rounded up farmers from many villages and booked Bharatiya Kisan Union (BKU) leader Gurnam Singh Charuni over the burning of the Prime Minister's effigies and charged him with creating enmity in society.
The BKU, a non-partisan farmers' organisation with a presence in several states across the country, is leading the agitation for the withdrawal of the new laws. Over 250 farmers' unions have joined the protests.
Punjab chief minister Amarinder Singh has repeatedly warned the Centre of unforeseeable consequences in the border state, which has faced militancy in the past, if the farmers lose faith in the system.
Rahul too has described the new farm laws as a sinister move that would destroy agriculture and enslave India.
While the Congress has extended support to the agitation, the farmers' unions have so far not allowed politicians to join their movement.
Even women and children have been participating in the agitation, publicly venting their fury at the Prime Minister. Songs are being sung to express the farmers' anger.
The BJP has, however, accused the Congress of instigating the protests.
Union agriculture minister Narendra Singh Tomar tweeted: "On one hand, the Congress is making wild and baseless allegation of fascism, and on the other hand, shamelessly organising burning of Prime Minister's effigy. Their dubious character is exposed in front of everybody."
He seemed to be alluding to an article Sonia Gandhi has written accusing the Modi government of assaulting democratic institutions.
Reacting to the effigy burning, Punjab Congress chief Sunil Jakhar tweeted: "Entire Punjab has expressed its anger & resentment unequivocally. Up to the BJP now to take note and make amends, as Rahul Gandhi says, or charge entire Punjab for promoting enmity and breach of peace as they did to BKU's Charuni in Haryana. Conciliation or confrontation?"