'China was allowed to take our land'
Rahul: Bhagwat knows truth, can't face it
RSS chief in his speech had admitted the Chinese intrusion — something Prime Minister Narendra Modi has not done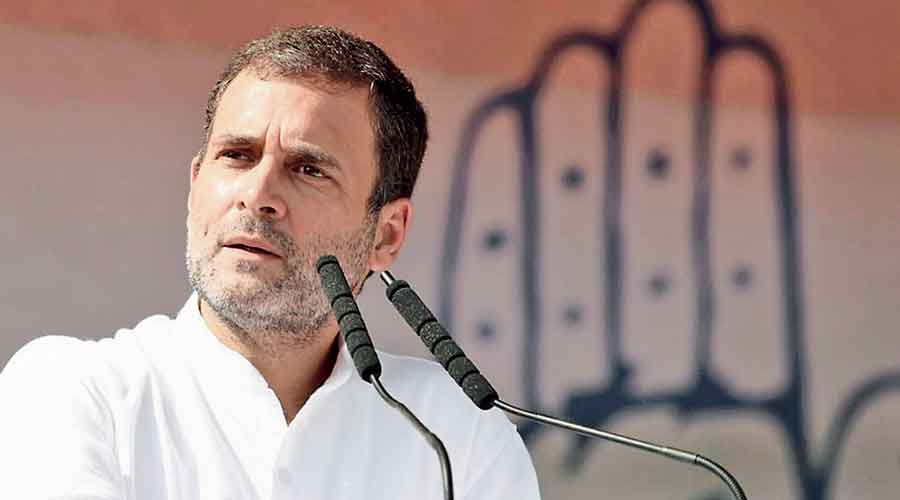 ---
---
Rahul Gandhi on Sunday confronted RSS chief Mohan Bhagwat on the question of the Chinese intrusion, accusing him of not speaking the truth despite knowing that India's territory has been captured.
Responding to the RSS chief's customary Vijaya Dashami speech, Rahul tweeted: "Deep inside, Mr Bhagwat knows the truth. He is just scared to face it. The truth is China has taken our land and the Government of India & RSS have allowed it."
Bhagwat in his speech had admitted the Chinese intrusion — something Prime Minister Narendra Modi has not done — but claimed that India's firm response had rattled the neighbour.
"Bharat tan ke khada ho gaya (India stood firmly). Bharat ne jo pratrikriya di, usse Cheen ko dhakka mila (China received a setback by the response given by India). The setback — economically and strategically — was good enough. China would not have anticipated it."
Bhagwat did not explain the setback.
The Congress has been demanding restoration of status quo ante. Rahul has repeatedly said that nothing short of status quo ante was acceptable. The Congress has dismissed the banning of some mobile apps and the informal calls for boycott of Chinese goods as inadequate.
While Bhagwat suggested that the only way to curb the Chinese tendency of expansionism was to strengthen India economically, strategically and diplomatically, he did not explain whether the Modi government was on course to achieve that target.
India's economy is in a mess, with GDP growth stuttering at minus 23 per cent. China's economy didn't dip into the negative territory despite the impact of the pandemic.
India's relations with neighbours are also not very healthy while Modi personally ran a huge risk by supporting Donald Trump's campaign in the US election.
Rahul, in his message on Vijaya Dashami, said: "Truthultimately triumphs."
Congress president Sonia Gandhi in her message said, "Dussehra is a symbol of victory of justice over injustice, truth over untruth and wisdom over arrogance." She added: "There is no place for arrogance, untruth and betrayal of promise in a ruler's life. That's the key message of Vijaya Dashami."