Everyone must use face masks when outdoors, says health ministry
In a shift in stand, government advisory pitches for making them at home using clean, washable cloth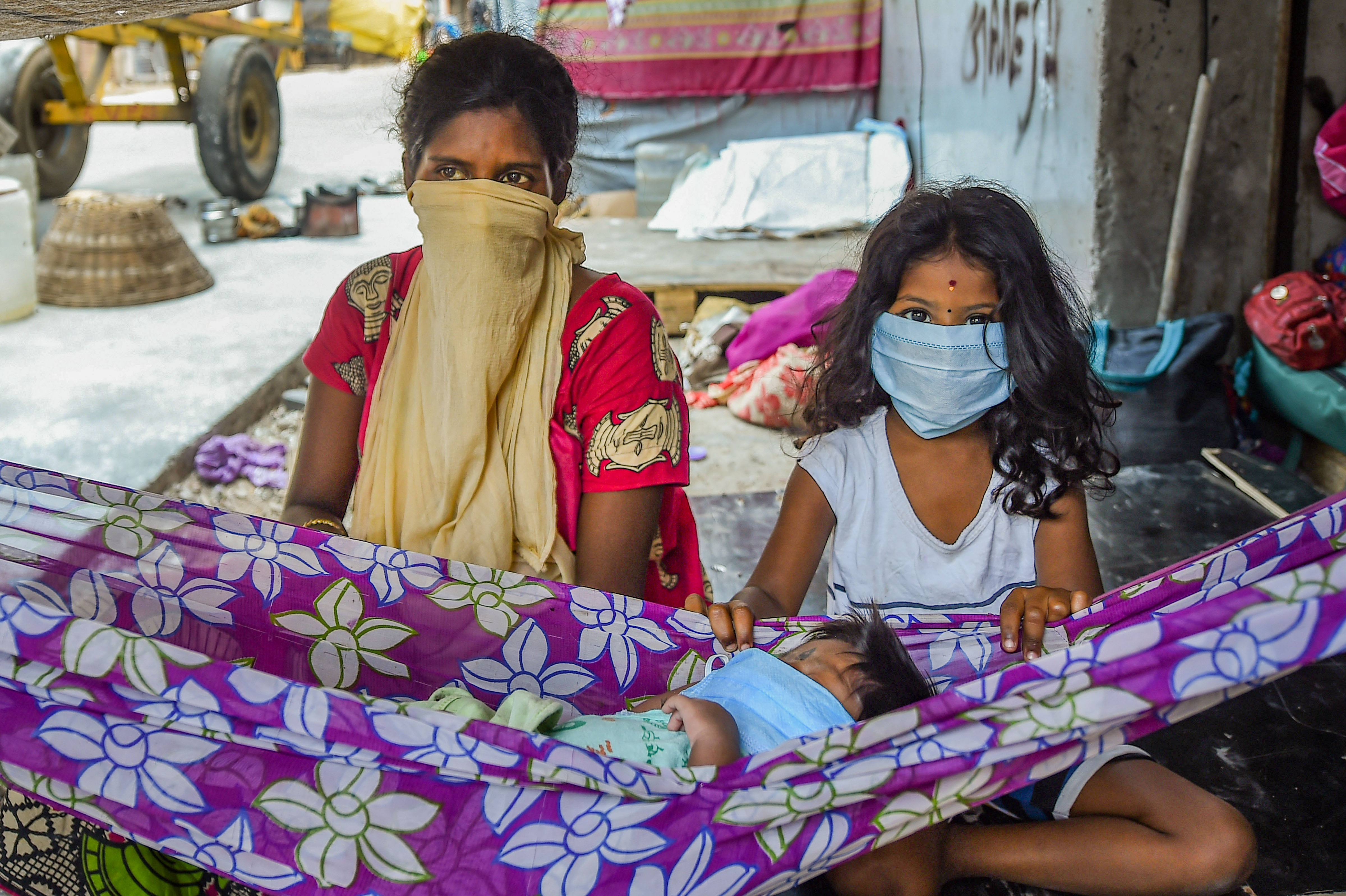 Homeless people are seen wearing masks inside their makeshift homes during the nationwide lockdown, in the wake of coronavirus pandemic, in Chennai, Tuesday, March 31, 2020.
PTI
---
Published 04.04.20, 12:25 PM
|
---
The Union health ministry appeared to have shifted its stand on the use of masks on Saturday, asking those without a medical condition to consider using a "homemade protective cover for face & mouth" while venturing outdoors.
This shift in stand comes amid an ongoing debate on the use of face masks for the general public, particularly when several European nations have already mandated the use of face masks for all people irrespective of whether they are showing Covid-19 symptoms or not.
"People who are not suffering from medical conditions or having breathing difficulties may use the handmade reusable face cover, particularly when they step out of their house," the Union health ministry advisory said on Saturday.
Telegraph Online has reported how a video on the efficacies of using a face mask sponsored by the Czech government had gone viral after which several countries of Europe, including Slovakia, Bosnia-Herzegovina and Austria had decreed their use for all.
The government of India and several health experts have been maintaining that the use of face masks should be limited to medical practitioners and those with Covid-19 symptoms in the face of a global shortage of personal protective equipment for doctors.
Four days ago, the Union health ministry joint secretary Lav Agarwal had said "…not everyone needs to wear a mask. Clearly defined guidelines have been issued on when the masks should be worn."
He had, however, added that homemade masks could be considered. "This issue is also being examined technically suitable guidelines will be issued," he said.
The debate on the global stand on masks has been on for some time with several countries considering making face masks mandatory for all. With new information about the spread of the coronavirus, through the air and by people with no symptoms, the consensus seems to be veering towards its use by all.
"We are aware that social distancing and personal hygiene are keys to prevent Covid-19 infections. Certain countries have claimed benefits of homemade face cover for the general public," the Union health ministry advisory said.
Using a manual on making masks at home, the ministry advised people to make two sets of face covers so that one can be washed while the other is used.
"These face covers could be made out of clean cloth available at home, which needs to be thoroughly cleaned and washed before a face cover is stitched/made," said the advisory.
On Friday, the United States' public health agency, Center for Disease Control and Prevention, recommended that everyone wear non-medical face covering in public spaces.
In Asian countries, from South Korea to Singapore, the lower rate of infection is being attributed to, among other measures, population-wide use of face masks. Some of these countries are those that have dealt with previous epidemics like SARS and H1N1.
WHO has, all along, maintained that not everybody requires masks.
"In the community, we do not recommend the use of wearing masks unless you yourself are sick and as a measure to prevent onward spread from you if you are ill," said infectious disease epidemiologist Maria Van Kerkhove at a media briefing on Monday.
Public health officials although warn that masks should not replace social distancing and hand washing.
#IndiaFightsCoronavirus :

The Advisory and Manual Use of Homemade Protective Cover for Face and Mask can be seen at:https://t.co/Dj8ojLRfXQ@PMOIndia @drharshvardhan @AshwiniKChoubey @PIBFactCheck @COVIDNewsByMIB @MIB_India @DDNewslive @airnewsalerts @IndiaDST @PTI_News

— Ministry of Health 🇮🇳 #StayHome #StaySafe (@MoHFW_INDIA) April 4, 2020