Event to felicitate Booker winner in Agra called off after complaint
Geetanjali Shree's novel contains objectionable content against Hindu gods and goddesses, claims complainant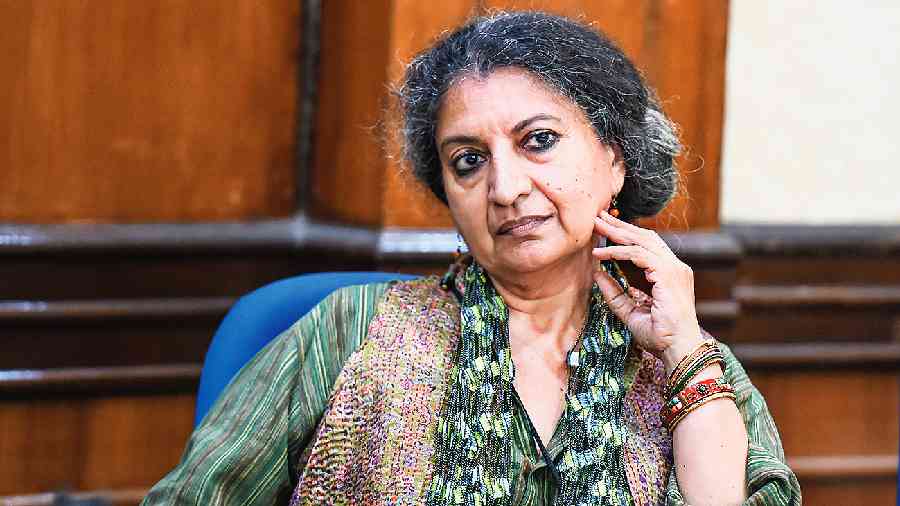 Geetanjali Shree
PTI file picture
---
Lucknow
|
Published 31.07.22, 02:33 AM
|
---
A felicitation scheduled in Agra on Saturday for Booker-winning Hindi author Geetanjali Shree was abruptly cancelled after a complaint was lodged with police and tweeted to chief minister Yogi Adityanath that her novel had "objectionable content against Hindu gods and goddesses".
The police denied forcing cancellation of the event, which had been organised by two cultural bodies, Ranglila and the Agra Theatre Club.
Anil Shukla, a Ranglila member, said the organisers had called the programme off after Agra police "informed" them about the complaint, lodged at a police station in Hathras town, 55km from Agra.
Shree, who in May this year became the first Indian to win the International Booker Prize for her Hindi novel Ret Samadhi, could not be reached for comments.
Ram Bharat Upadhyaya, a member of the organising committee, told reporters that the Delhi-based author had said she was "hurt" that her novel had been "dragged unnecessarily into politics".
Ret Samadhi has been translated into English as Tomb of Sand. Set in north India, it tells the story of 80-year-old Ma, who insists on travelling to Pakistan, simultaneously confronting the unresolved trauma of her teenage experiences of Partition, and re-evaluating what it means to be a mother, daughter, woman and feminist.
According to the police, complainant Sandeep Kumar Pathak alleged that the novel depicted the relationship between Shiva and Parvati in poor light, and sought the registration of an FIR against the author.
Officers said Pathak had tweeted his complaint also to state director-general of police D.S. Chauhan and chief minister Adityanath. Whether Pathak is associated with any organisation or political party remains unclear.
Ashish Kumar Singh, officer in charge of Sadabad police station in Hathras, denied any role in the event's cancellation and said: "We will move forward with the complaint after reading the book."
The organisers had also planned to stage a play based on Private Life, a story by Shree.
Shukla told reporters in Agra: "The author was born in adjoining Mainpuri and studied in many districts of Uttar Pradesh. Her father (Anirudh Pandey) was an IAS officer posted in the Agra division."
Additional reporting by PTI from Agra