Elgaar Parishad: Bombay HC grants default bail to Sudha Bharadwaj
Pleas of eight other co-accused rejected on technical grounds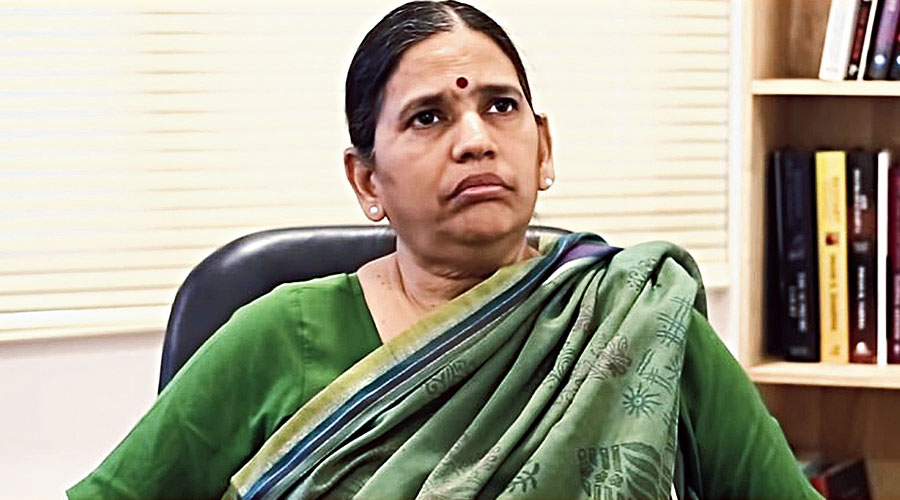 Sudha Bharadwaj.
File picture
---
New Delhi
|
Published 02.12.21, 02:15 AM
|
---
Lawyer and civil rights activist Sudha Bharadwaj was granted default bail by Bombay High Court on Wednesday in the Elgaar Parishad case because of the police delay in completing the probe.
However, the default bail pleas of eight other co-accused were rejected on technical grounds.
Bharadwaj, who practised in Chhattisgarh High Court and is national secretary of the People's Union for Civil Liberties (PUCL), had been arrested from her home in Faridabad, near New Delhi, in August 2018.
A bench of Justices S.S. Shinde and N.J. Jamadar said that Bharadwaj, accused of being part of a conspiracy to overthrow the Union government, was entitled to default bail and its denial would be in breach of her fundamental right to life and personal liberty guaranteed under Article 21 of the Constitution.
Bharadwaj and the others had in their respective bail pleas contended that the Pune judges who had taken cognisance of their cases had no jurisdiction to do so as cases under the anti-terrorism law, the Unlawful Activities (Prevention) Act, could only be decided by a designated special court. The high court accepted the argument.
Pune city police had transferred the case to the NIA in 2020. Bharadwaj had also argued that additional sessions judge K.D. Vadane had granted an extra 90 days to the police to file the chargesheet, which the high court held he was not authorised to do.
The high court said in its order: "By a catena of decisions, it has been held that the right of the accused to be released on bail, if the investigation is not completed and chargesheet is not filed within the period prescribed under Section 167 of the Code and as extended by special enactments, is indefeasible and also partakes the character of fundamental right flowing from 'the procedure established by law' under Article 21 of the Constitution of India."
The high court directed that Bharadwaj, lodged in the Byculla women's prison in Mumbai, be produced before the special NIA court in that city on December 8 to decide on the bail conditions and date of release.
According to the Criminal Procedure Code (CrPC), a chargesheet must be filed within 90 days of registration of an offence. A prosecuting agency cannot detain an accused beyond the 90-day period without filing the chargesheet. In UAPA cases, this can be extended to 180 days, if an extension is granted by a court that has jurisdiction.
If it is not done, the accused are entitled to default bail. Default bail under CrPC Section 167 is considered a judicial reprimand on investigators for inordinate delay in a probe.
The default bail pleas of Marathi journalist Sudhir Dhawale, Telugu writer P. Varavara Rao, Delhi-based prison rights activist Rona Wilson, Nagpur academic Shoma Sen, land rights defender Mahesh Raut and Maharashtra-based lawyers Surendra Gadling, Vernon Gonsalves and Arun Ferreira were rejected on the ground that they had not filed the appeal before the chargesheets were submitted in 2018 and 2019.
In all, 16 people were arrested for alleged links with Maoists who were accused of involvement in Ambedkarite event in Pune on December 31, 2017. The police investigated the organisers of the event for caste clashes the next day at Bhima village on the banks of the Koregaon river, near Pune city, that claimed one life.
The oldest accused, Jesuit priest and tribal rights activist Stan Swamy, 84, succumbed to post-Covid complications in June while awaiting bail. The elderly Rao is on medical bail for multiple ailments.
Additional solicitor-general Anil Singh had demanded a stay on the bail plea on behalf of the National Investigation Agency (NIA), citing two recent Supreme Court judgments in similar cases. However, the high court rejected his demand. The NIA is likely to move the Supreme Court against the bail order. Maharashtra's advocate-general A.A. Kumbhakoni also opposed the bail.
Advocate Susan Abraham who represented Dhawale and others told this paper that "they do not wish to take any steps until Sudha Bharadwaj's release".
The PUCL organised an online discussion on Wednesday night to analyse the verdict.
Bharadwaj's earlier pleas for ordinary bail and medical bail had been rejected.
Her friend, Delhi-based researcher Smita Gupta, told The Telegraph that Bharadwaj had diabetes and mild hypertension before her arrest.
"Now she has severe diabetes, arthritis, ischemia, osteoporosis and serious dental conditions that have left her unable to chew properly. She has also suffered several fungal infections in jail and lost 20kg," Gupta said.
Last year, the NIA had successfully opposed Bharadwaj's medical bail plea on the ground that she was "taking undue benefit of the pandemic".
The Maharashtra government has ignored pleas of civil society to recommend the release of the Elgaar prisoners —most of whom are elderly and ailing — on interim bail to a high-power committee mandated by the Supreme Court to decongest prisons during the pandemic.
Forensic analysis of devices of the accused by an American firm indicated planting of evidence on the computers of two of the accused.
Teltumbde bail plea rejected
The special NIA court in Mumbai on Wednesday rejected academic Anand Teltumbde's temporary bail plea. Teltumbde had requested 15 days' bail to visit his aged mother who is grieving the death of his younger brother Milind Teltumbde, a Naxalite who was recently killed in a police encounter. Anand Teltumbde's bail plea mentioned that he was from a reputed family and was married to B.R. Ambedkar's granddaughter Rama.