All India Lawyers' Union Delhi unit speaks up for farmers
They strongly condemned the brutal lathicharge on peacefully demonstrating farmers at Bastara Toll in Karnal, Haryana, on August 28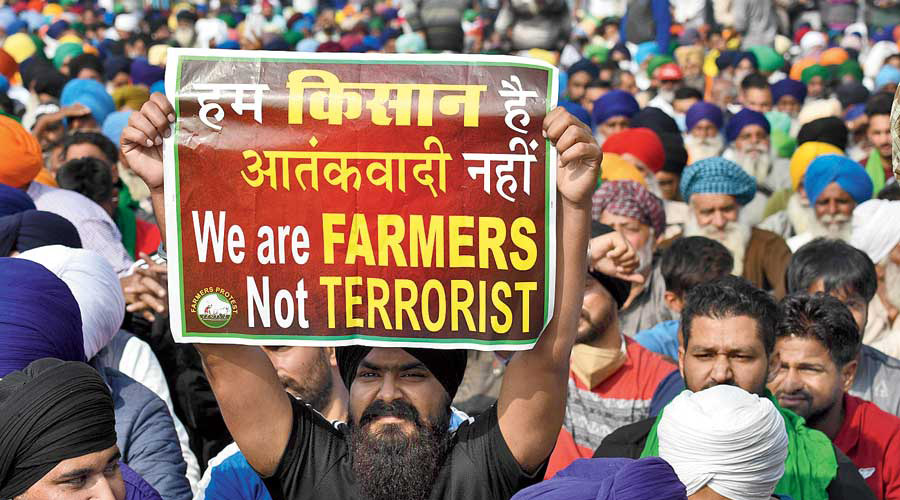 Strongly condemning the brutal lathicharge on peacefully demonstrating farmers at Bastara Toll in Karnal, Haryana, on August 28, the lawyers' forum, citing eyewitness reports and video clippings, said that the police action "was a calculated and well orchestrated action by the sub-divisional magistrate (SDM) Karnal and the police to oppress and suppress the peaceful agitation of farmers…"
PTI
---
New Delhi
|
Published 03.09.21, 12:48 AM
|
---
The Delhi unit of the All India Lawyers' Union on Thursday urged the Haryana government to order a judicial probe and take stern action against police and government officials, including the Karnal sub-divisional magistrate, for the lathicharge on protesting farmers.
Strongly condemning the brutal lathicharge on peacefully demonstrating farmers at Bastara Toll in Karnal, Haryana, on August 28, the lawyers' forum, citing eyewitness reports and video clippings, said that the police action "was a calculated and well orchestrated action by the sub-divisional magistrate (SDM) Karnal and the police to oppress and suppress the peaceful agitation of farmers…"
According to the forum, eyewitnesses have clearly testified that SDM Ayush Sinha, who was on Wednesday transferred as an additional secretary to the Haryana citizen resource information department, was exhorting the police to hit and break the heads of farmers, which itself amounted to a grave criminal offence.
"The police brutally and literally followed the exhortation. A farmer namely Sushil Kajal succumbed to his severe head injuries inflicted by the police. He was not even given adequate medical aid by the police and a large number of farmers were severely injured in the brutal police lathicharge," the organisation said in a statement.
According to the forum, the police resorted to lathicharge without any warning to the demonstrating farmers and without any provocation.
"This is per se criminal offence, illegal, unjustifiable and violation of human rights and constitutional rights. The SDM and the police are liable for the death of Sushil Kajal and injuries caused to the farmers.
"The cause of the farmers' agitation is not the cause of the farmers alone. It is the cause of the entire nation, democracy, federalism and the very sovereignty of India," the organisation stated.
The forum said farmers have been peacefully agitating for the last nine months demanding repeal of the three anti-farmer and anti-people farm laws undemocratically passed in violation of the fundamental principles of parliamentary democracy.
"The agitation has been going on with solidarity from every section of the society and the people across the country. People from various walks of life — activists, intellectuals, youth, students and women — have been illegally slapped with sedition charges and other provisions of draconian laws only because they expressed dissent against the government and showed solidarity with the farmers," it said.
The organisation made the following demands:
SDM Karnal and the police officers responsible for the excesses should be suspended from service forthwith and suitable action, including prosecution for the murder of Sushil Kajal, should be taken against them.
Judicial inquiry should be ordered into the conduct and action of the SDM and the incident of lathicharge and police excesses at Karnal on August 28.
The family of the deceased farmer should be compensated sufficiently.
All the farmers who suffered injuries due to the police lathicharge should be also compensated.