Some parents call for cancellation
Covid surge casts a cloud on board exams
Parents of most private school students want tests to be cancelled and marks awarded on the basis of performance in rehearsal and internal assessments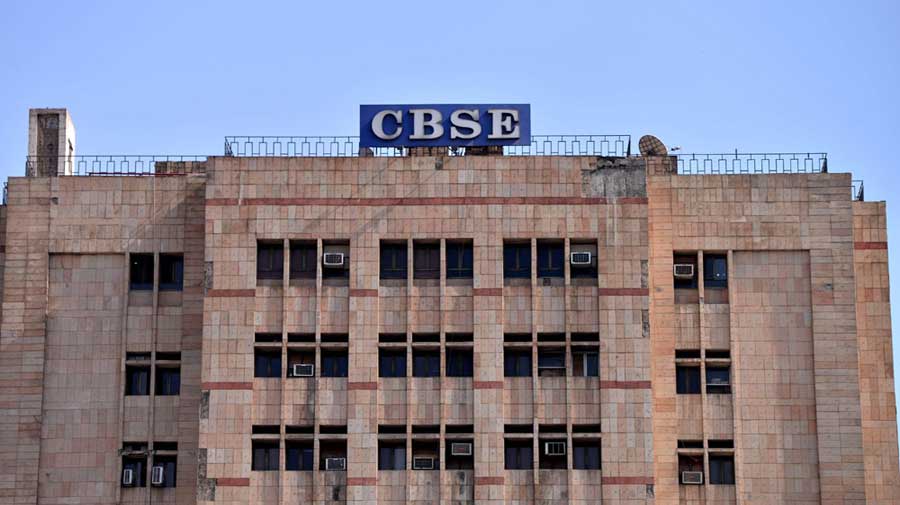 ---
---
Barely six months ago, Anu Rai had started taking the help of a private tutor to cover the syllabus before the Class XII board exams slated to start in the first week of May.
The family, living in a slum at Madanpur Khadar in southeast Delhi, has only one mobile phone, therefore Anu and her two brothers could not attend online classes regularly. Her father, electrician Sushil Rai, was forced to shell out Rs 450 per month for Anu's private tutor to see her through.
Anu's mother Renu Devi said the family had to borrow to pay the Central Board of Secondary Education (CBSE) exam registration fee of Rs 2,750 for Anu and her bother Aneet, who too studies in Class XII. They have another brother who is in Class IX.
For the past one month, the family is worried that the examination could be cancelled because of the resurgence of Covid-19 and students could be awarded marks on the basis of pre-board exams and internal assessments held by schools. Last year, some exams had already been held before the lockdown and marks had been awarded on the basis of that.
Anu and Aneet said they hoped to better their pre-board exam performance in the board exams.
"The pre-board exams have just concluded. I have done fine. But I can certainly do better in the board exams. If marks are awarded on the basis of the pre-board exams, it won't be good for us," Anu said.
The sharp increase in coronavirus cases across the country has cast a shadow on the conduct of the board exams. Parents of children in government schools are largely in favour of the conduct of board exams following Covid protocols.
"Our income is meagre. But we have spent Rs 12,000 on the education of Anu and Aneet in the past six months. They have prepared well. If the exams are not held, it will be a financial and academic loss for us," Renu said.
The parents of the majority of private school students want the board exams to be cancelled and marks awarded on the basis of performance in the pre-board exams and internal assessments such as projects and assignments.
The mother of a student in Gurgaon said health and safety were more important.
"It's not just about the students and teachers but also about their families and the elderly members at home. As it is, it has been a tough year mentally for kids to sit in front of the computer and learn. Wherever possible, like for Class X, internal assessments can be considered. For Class XII, since it is a critical year given the importance of marks and college admissions, online or offline exams can be considered," she said.
Academics said the 2020-21 academic year had been turbulent. Last year, the CBSE had to cancel a few papers and award marks by calculating the average of the best performance in subjects for which exams could be held. This year, students have had to largely rely on online education. Schools had begun allowing students to come to school for doubt clearance and practical classes since October and November 2020, but the pandemic's resurgence has affected these sessions.
Dipika Rao, the principal of DPS Palam Vihar in Gurgaon, spoke about difficulties in online exams and evaluation of answer papers. She also said that holding exams within the stipulated time could be challenging at times due to network issues and bandwidth. Also, it is difficult to upload lengthy answer papers within the stipulated time.
"The board should address the concerns of poor students who do not have the resources to take exams online. A huge number of children will be disadvantaged in the online mode. Many exam formats are not fully accessible over mobile phones," she said.
Rao said students had been away from school for long and would be out of practice on writing three-hour exams.
She also highlighted the financial difficulties faced by students in preparing for board exams because of salary cuts and job losses of parents and the loss of income in case of unorganised sector workers.
Rao said international boards like the International Baccalaureate and Cambridge had last year not held board exams and awarded marks on the basis of internal assessments. This should be followed by the CBSE, she said.
Former CBSE chairman Ashok Ganguly said the boards should have been better prepared this year.
"Unfortunately, we could not put in place formative (internal) assessments in a structured manner. The international boards managed it beautifully last year because they have a very scientific system of internal evaluation," Ganguly said.
He said the boards could have structured three-four formative assessments during this period and also a mix of summative (written exams) and formative tests in December or January where question papers could have been sent by the boards but the exams and evaluation could have been arranged at the school level. The final assessments could have been an average or mean of all such performances.
"With the situation becoming extremely grim, conducting external exams in April-May seems to be not advisable and may not even be feasible. The only option left now is to shift the board exams to the first week of July and the new session for Class XI and the undergraduate courses can begin in September," Ganguly said.