Covid: Children who lost parents during pandemic stare at uncertain future, scramble for aid
According to National Commission for Protection of Child Rights figures, 3,621 children have been orphaned in the pandemic and 26,000 have lost one parent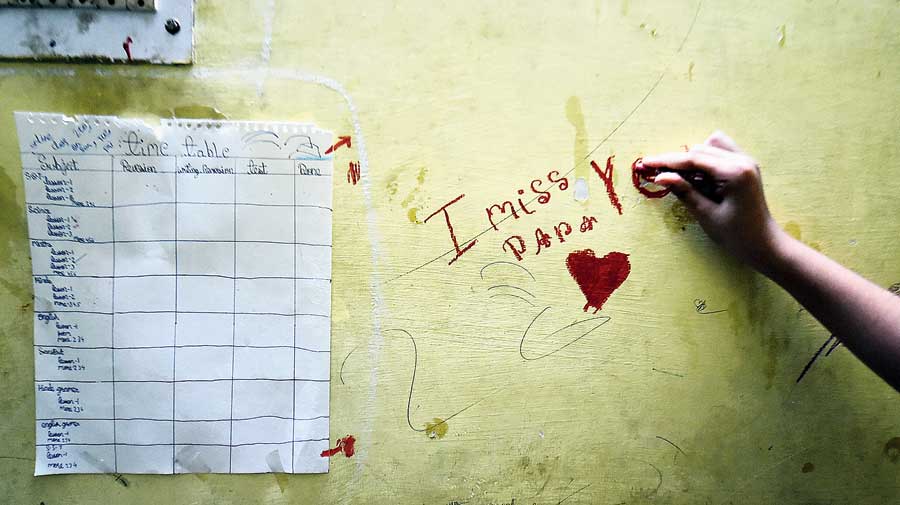 Shatakshi Sinha, 10, scribbles "I miss you papa" on a wall on May 9. The Delhi-based girl lost her father to Covid-19 a month ago.
PTI
---
Published 14.06.21, 02:18 AM
|
---
According to the National Commission for Protection of Child Rights (NCPCR), 3,621 children have been orphaned during the pandemic, and over 26,000 children have lost one parent.
Shatakshi Sinha, 10, is one of them.
The Delhi-based girl lost her father to Covid-19 a month ago.
Her mother Kalpana Sinha said: "Nothing will ever be normal again."
Kalpana's 57-year-old husband was an  editor at a Hindi publishing house and the sole breadwinner of the family.
After scrambling for an ambulance and a bed for hours, by the time we reached the hospital, we had lost him. I remember my little daughter running after the ambulance, pleading with me to take her along," Kalpana recalled. 
Gaurang (13) and Daksh Gupta (6), who live in Uttam Nagar in Delhi, lost their father, an e-rickshaw driver and the family's sole earner.
Even before the tragedy, life was so tough that the parents had decided to take the younger child out of school and shift the older one to a government school.
Three siblings — aged 9, 11 and 13 — lost both their parents to Covid-19 in the first week of May.
Their landlord refused to let their tenancy continue unless they paid rent.
Their uncle, a welder, took the three children in.
PTI
They are my sister's children and I love them. I want to ensure that they get an education and have a bright future, but there is only so much I can do. I do not earn enough to raise three children. I want the best for them, but I shall need help
- Mohammad Asif — Their uncle, whose wife is expecting