Coronavirus pandemic: Dharna at Rajghat
Sinha's sit-in is indefinite, although police were persuading him and others to leave the spot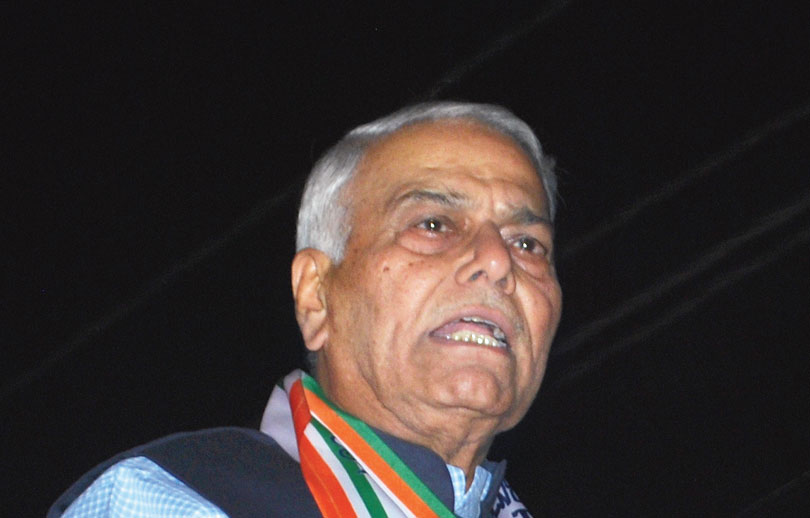 ---
New Delhi
|
Published 18.05.20, 09:11 PM
|
---
Former Union minister Yashwant Sinha was joined by the leaders of the Aam Aadmi Party and Rashtriya Janata Dal as he went on dharna outside Rajghat on Monday.
The erstwhile BJP leader called finance minister Nirmala Sitharaman's announcement of an economic stimulus as "rubbing salt in the wound of the poor."
Sinha said: "Yes, I am breaking the law (by staging a public protest during the lockdown), but under which law are workers being made to walk on highways. Laws are for the benefit of people and not to suppress people.
"We demand that the Centre deploy the army to use of resources at its disposal and take command of civil infrastructure to transport all workers on the roads back to their homes within 24 hours, with respect. They should be given food and medical check-ups."
A similar protest had taken place at the CPM office here recently, the first shoot of visible public political protest during the lockdown.
Sinha said: "There is a sheer lack of sensitivity in the government. Their eyes have still not opened even as police cane workers, trains crush them, and they get killed in trucks."
Sinha's sit-in is indefinite, although police were trying to persuade him and others to leave the spot when this report was filed. RJD MP Manoj Jha — who was at the stir — told The Telegraph, "I feel helpless even as an MP, as I am unable to help all the people who have been calling us in distress. The lives and deaths of workers don't figure anywhere in the PM's Stay At Home call."
AAP MP Sanjay Singh and MLA Dilip Pandey — the face of the relief effort in the capital — also joined. Singh said in a statement: "The only way to solve this issue is by running more trains. Indian Railways can carry 2,30,00,000 people per day. But the BJP government is not at all serious about the issue. Sometimes they say they are running 100 trains and sometimes they say they are running 15 trains."