Plasma trial in 10 states; city delves deeper
Convalescent plasma contains antibodies to the virus that causes Covid-19 and is under assessment worldwide for its efficacy against the infection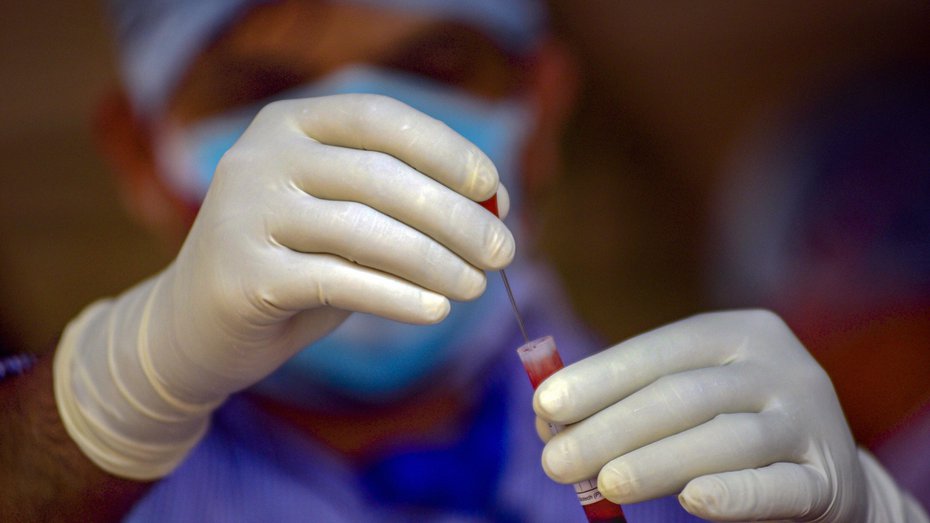 A medic works on a sample for Covid-19 Rapid Test at a camp during the nationwide lockdown imposed in a bid to contain the spread of coronavirus.
(PTI)
---
New Delhi
|
Published 08.05.20, 09:49 PM
|
---
Over 450 patients with the coronavirus disease scattered across 10 states will be offered convalescent plasma therapy under a clinical trial coordinated by India's apex health research agency, but a study in Calcutta on 40 patients might yield deeper scientific insights.
The Indian Council of Medical Research announced on Friday that it has started a clinical trial to offer plasma — a blood product — from patients who have recovered from Covid-19 to 452 patients in 32 hospitals that could shortly be expanded to include 83 more hospitals.
Apollo Gleneagles, Tata Memorial Centre, AMRI Hospitals and CliniMed LifeSciences in Calcutta are among the hospitals that are expected to join shortly.
Multiple Covid-19 patients in Delhi and other cities have already received plasma therapy on an emergency or compassionate grounds and several such patients have recovered. But the ICMR has cautioned that it should not be considered routine unless proven through clinical trials.
Convalescent plasma contains antibodies to the virus that causes Covid-19 and is under assessment worldwide for its efficacy against the infection. The use of such plasma had been studied earlier elsewhere in the world in outbreaks of other severe coronavirus infections.
The ICMR plans to use the trial to assess the safety and efficacy of the convalescent plasma to curb the development of serious Covid-19 and its complications in patients with moderate disease.
Doctors in hospitals across the country will offer patients with moderate Covid-19 disease the option to participate in the trial which has only one arm — patients — and no placebo arm.
All trial patients will receive only the plasma and no one will receive placebo, or sham medication considered necessary to establish with rigour that the effect is due to the experimental medication.
But many doctors argue that it would be inappropriate to offer placebo to Covid-19 patients in plasma trials. "It would be unacceptable and unethical to offer placebo when plasma is the alternative," said T. Jacob John, a clinical virologist and former professor at the Christian Medical College, Vellore.
"This is the time to create evidence from experience — not from experiments. This is not the time to do experiments on patients," John said.
"Plasma therapy is a very well-known treatment widely used and is similar to a blood transfusion."
In the absence of a placebo arm, an independent convalescent plasma therapy trial planned by the Indian Institute of Chemical Biology, Calcutta, assumes significance because it will look at clinical outcomes of patients, the immunological changes they show and their virus profiles.
Under the trial supported by the Council of Scientific and Industrial Research, scientists at IICB will collaborate with doctors at the Infectious Diseases and Beliaghata General Hospital in Calcutta to offer plasma therapy to 40 patients.
"A placebo-controlled arm is ideal for scientific rigour because it helps generate stronger evidence for the effect of an experimental treatment than without it," said Dipyaman Ganguly, a physician-turned-immunologist at the IICB.
"However, because placebo is not possible in these circumstances, we will instead look at whether the plasma triggers specific immunological responses in the patients," Ganguly said.
"We'll also examine mutations in the viruses infecting individual patients to determine how, if at all, the immunological responses and the type of the virus might influence the outcome of the therapy."
While the ICMR trial will provide quick information about outcomes on patients, the Calcutta study will allow medical researchers to probe the mechanisms through which the plasma therapy might work, if at all, and build a stronger evidence base for the treatment.
The ICMR's trial will be conducted in 32 hospitals in Chandigarh, Gujarat, Karnataka, Madhya Pradesh, Maharashtra, Punjab, Rajasthan, Tamil Nadu, Telengana and Uttar Pradesh. An additional 83 hospitals in several other states are also expected to join shortly.