Covid: Health ministry records India's first vaccine-related death
A 68-year-old man died following anaphylaxis, a rare but severe allergic reaction, after receiving a Covishield dose on March 8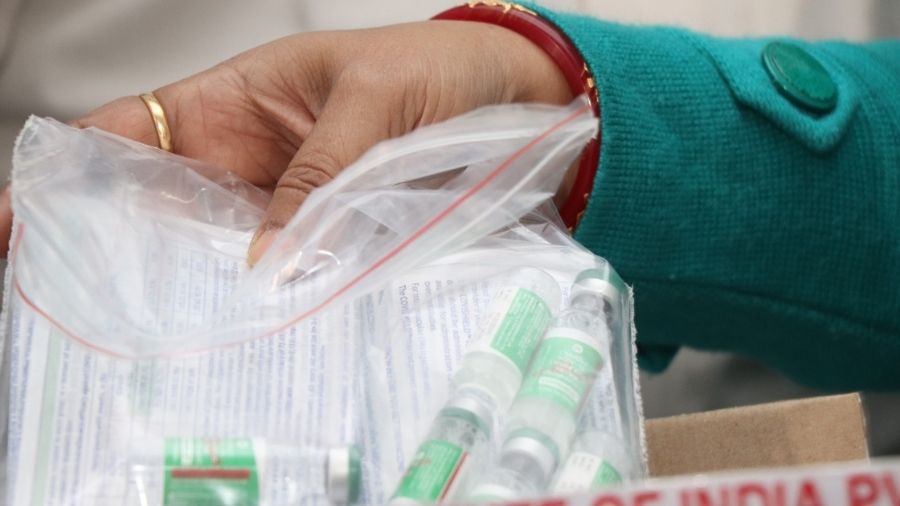 Centre classified seven post-vaccination deaths as "indeterminate", meaning there is no evidence to link them to the vaccines
File picture
---
New Delhi
|
Published 16.06.21, 01:23 AM
|
---
The Union health ministry has recorded the country's first vaccine-related death since the start of the Covid-19 vaccination campaign and classified seven post-vaccination deaths as "indeterminate", meaning there is no evidence to link them to the vaccines.
A 68-year-old man died following anaphylaxis, a rare but severe allergic reaction, after receiving a Covishield dose on March 8.
This was part of the findings of investigations into 28 deaths, all occurring within March 31, by a national panel on the adverse effects following immunisation (AEFIs.)
An anaphylactic reaction can be triggered by exposure to something one's allergic to, among them peanuts, shellfish, bee stings, penicillin, even aspirin, milk or the latex in gloves or balloons.
Every vaccination site is expected to have an emergency medicine called epinephrine to be administered immediately if a vaccine recipient shows any symptoms of anaphylaxis such as itching, low blood pressure, a swollen tongue or throat, or breathing trouble.
The AEFI panel has classified 18 of the other 27 deaths as coincidental, for which there were clear causes other than vaccination, and two as unclassifiable for which there was not enough evidence for a diagnosis owing to "missing crucial information".Health officials have asserted that the Covid-19 vaccines are safe and that the data on AEFIs, released as part of a transparent reporting process following investigation into the events, should not be used to create any doubts about the vaccines.
"The vaccines fulfil the criteria of huge, huge safety," said Vinod Paul, chair of the national advisory panel on Covid-19 vaccination policy.
The information on AEFIs being "truthfully presented should not be used to create any doubts about vaccines", he said.
The ministry released data on 31 serious AEFIs, including 28 deaths and three hospitalisations that were followed by recoveries assessed by the AEFI panel.
The ministry said the vaccination campaign had, since its start on January 16 till June 7, administered over 235 million doses and received reports of 488 deaths. This translates into 0.0002 per cent deaths, which is "within the death rates expected in the population".
For a comparison, the US had between December 14 last year and June 7 administered 302 million vaccine doses. During this period its vaccine adverse events reporting system received reports of 5,208 deaths, or about 0.0017 per cent.Immunisation advisers have underlined that the mere reporting of adverse events does not imply the events were caused by vaccines, and the serious events, including deaths, may be coincidental in people with diagnosed or undiagnosed health disorders.
"The minuscule risk is negligible, almost non-existent," Paul said, asserting that the one anaphylaxis-linked death should be viewed through a public health perspective where the gains of vaccines far outweigh their small risks. "It is unfortunate if such reactions occur, but this should not be a reason for creating any doubts," he added.Two of the three AEFI patients who recovered had suffered anaphylactic reactions. The AEFI document released by the ministry did not provide details of the circumstances under which the 68-year-old died after anaphylaxis.
Seven of the 28 deaths were indeterminate, implying the reactions occurred soon after vaccination but there was no definitive evidence in the medical literature or clinical trial data to link them to the vaccine.
"Further observations, analysis and studies are required," the ministry said.