Covid takes job, collector gives
The pandemic-induced lockdown forced a youth who earned Rs 15,000 a month to work for Rs 207 a day — as it had done to millions across the country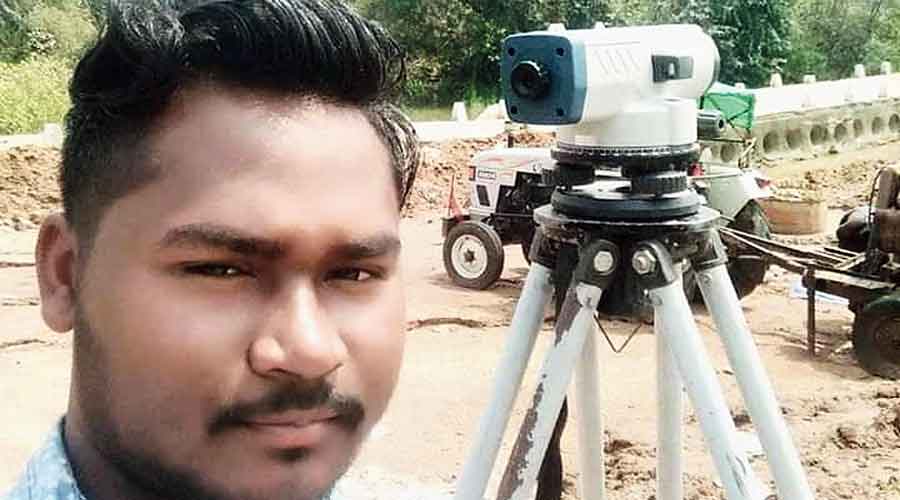 Ananta takes measurement of a construction site before the lockdown
Telegraph picture
---
Bhubaneswar
|
Published 23.10.20, 01:12 AM
|
---
Baishnab Beria had scrimped and saved to send son Ananta to engineering college so that the boy need not become a labourer like him.
He had not reckoned with the coronavirus. Two years after Ananta had earned a BTech degree from a Bhubaneswar college and gone on to secure an assistant engineer's job with a Chennai company, the 23-year-old was back in Odisha, working as a labourer alongside his father.
The pandemic-induced lockdown had cost him his job — as it had done to millions of old and young across the country — forcing a youth who earned Rs 15,000 a month to work for Rs 207 a day.
Unlike many of his fellow sufferers, Ananta can hope for a happy ending. His lucky break came when Bolangir collector Chanchal Rana arrived in Jurlakani village on Tuesday to inspect the work being done under the Mahatma Gandhi National Rural Employment Guarantee Act.
Rana told The Telegraph on Thursday: "When I examined the muster roll to find out the number of workers engaged, I found a young man working there. When I talked to him, I was quite impressed."
"I enquired about his qualification and was surprised to learn that he had a BTech degree. I called him to my office in Bolangir the next day."
On Wednesday, when Ananta visited the collector in the district headquarters town of Bolangir, 320km from Bhubaneswar, he was offered a government job.
"We have decided to absorb him in the MGNREGA cell (which maintains ledgers and records of all the rural job scheme projects and workers in the district) at the district headquarters. He will get between Rs 10,000 and Rs 12,000 a month," Rana said.
"But we'll make it clear that it's a temporary arrangement to tide him over his present financial problems. He should now work to realise his dreams. He can go in for higher studies or wait for things to change so he can land a good job. I shall do whatever I can to help him."
Ananta's family is overjoyed. "We have no words to thank Collector Sahab," father Baishnab said.
But trade union activist and CPM leader Janardan Pati underlined that there were millions of others in the same boat as Ananta for whom the authorities needed to do more.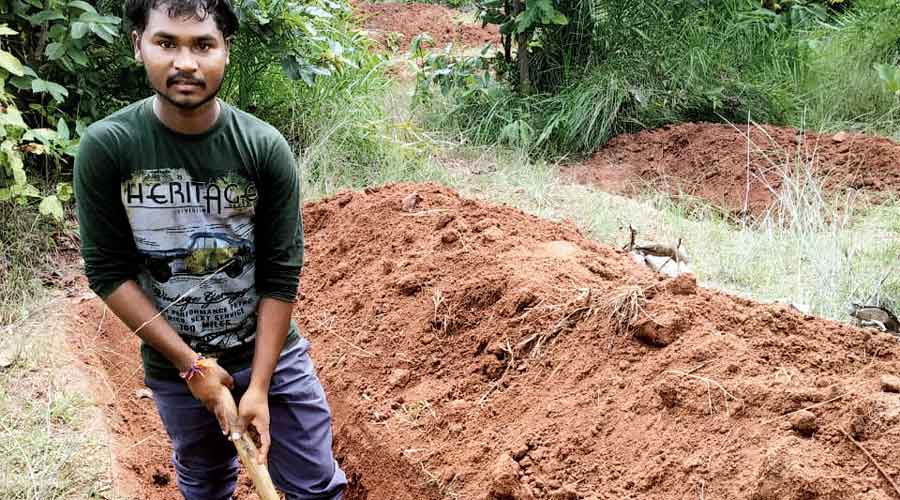 "We must also think of those 16 crore other people who have lost their jobs to the lockdown. Among them are nearly 2.3 lakh engineers and technicians. The Centre and the state government have failed to come to their rescue," he said.
Ananta, who was first employed with the Bhopal Municipal Corporation before moving to Chennai, said the loss of his job had come like a thunderbolt.
"My father had toiled as a labourer to send me to college. All his hopes were pinned on me. Before the lockdown I used to send him Rs 10,000 every month," he told this newspaper.
Ananta, who has a 17-year-old brother and two married sisters, said he had come home on leave in the first week of March. Just as he was about to set off for Chennai after the holiday, the lockdown was announced on March 24.
His colleagues in Chennai told Ananta not to undertake the journey as things had gone horribly wrong there.
"Friends who worked with me told me not to return as all their jobs had gone," Ananta said.
Soon, his savings were exhausted. "My father began working under the rural job scheme as a labourer and I decided to join him two months ago," the young engineer said.
Deogaon block development officer Navin Kishore Padhi said: "The boy worked on a canal project. He was paid Rs 207 a day. Earlier, his father and mother Binodini had worked under the scheme."
He added: "Under the MGNREGA, a skilled labourer gets Rs 453, a semi-skilled labourer Rs 338 and an unskilled labour Rs 207."
On Thursday, Ananta reported informally at his new office in Bolangir to learn the ropes at his new job. He will join formally on November 1, officials said.
Bolangir being just 20km from his village, Ananta plans to commute every day.