Prohibitory orders in Delhi till March 31
Railways, metro services halted; lockdown in 75 districts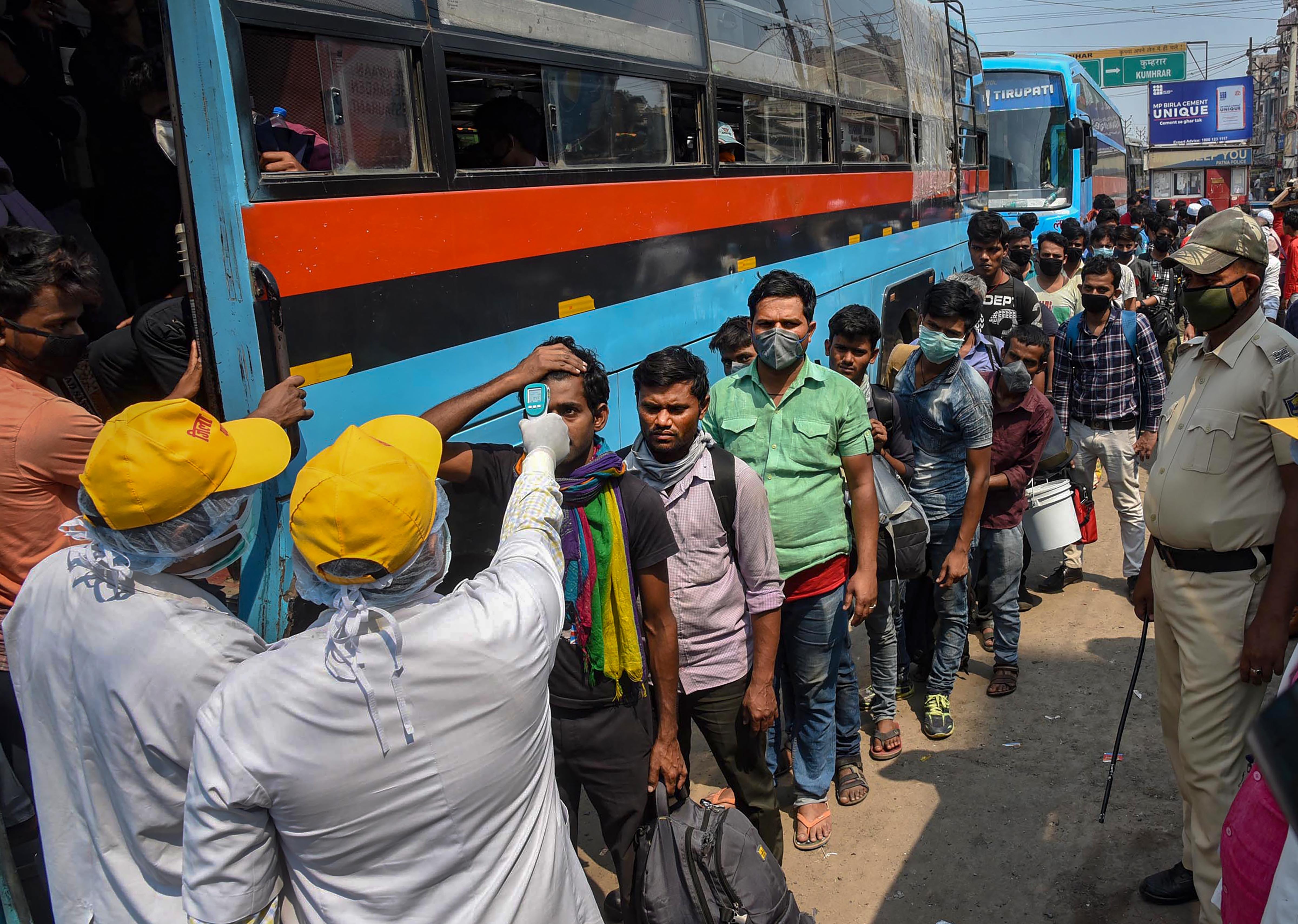 ---
---
The Delhi Police on Sunday declared prohibitory orders till March 31 midnight in view of coronavirus outbreak and banned protests, demonstrations and other gatherings in the city.
The order issued by Delhi police commissioner S. N. Shrivastava will come into effect from 9pm on March 22 and will remain valid till 31st of this month.
According to the prohibitory orders issued, assembly of any kind for demonstrations, processions, protest is banned.
Any gathering- social, cultural, political, religious, academic, sports, seminar or conference is prohibited.
Metro services suspended till March 31
The central government on Sunday decided to suspend all metro train services across the country till March 31 in view of coronavirus outbreak.
In a message to managing directors of all metro train corporations, Union housing and urban affairs secretary Durga Shanker Mishra said this is being done in continuation of suspending metro services during the 'Janata Curfew'.
'In view of the current global pandemic of this Corona Virus & for containing its further spread through inter-personal proximity, it has been decided to close down metro rail services on all operational networks across the country till 31 March 2020,' Mishra tweeted.
Further, in view of the current global pandemic of this Corona Virus & for containing its further spread through inter-personal proximity, it has been decided to close down metro rail services on all operational networks across the country till 31 March 2020. pic.twitter.com/Ns6yCNiz5M

— Durga Shanker Mishra (@Secretary_MoHUA) March 22, 2020
In another tweet, he said by the act of social distancing, people can protect themselves and their dear ones, and win the fight against COVID-19.
First death in Gujarat
The man, with travel history to Delhi and Jaipur, was admitted to the hospital on March 17 with complications related to kidney and asthma. On March 21, he tested positive for coronavirus as well, they said.
'The man, a coronavirus positive patient, died at a private hospital here on Sunday afternoon,' Surat Collector Dhavalkumar Patel confirmed.
Seventeen others have tested positive for coronavirus in the state.
The number of coronavirus cases have risen to 342 after fresh cases were reported from various parts of the country, the health ministry said.
Delhi has reported 27 positive cases, which include one foreigner, while Uttar Pradesh has recorded 25 cases, including one foreigner.
Telangana has reported 22 cases, including 11 foreigners. Rajasthan has reported 24 cases, including two foreigners.
In Haryana, there are 17 cases, which include 14 foreigners.
Karnataka has 20 coronavirus patients. Punjab and Ladakh have 13 cases each. Gujarat has 14 cases while Tamil Nadu has 6 cases which includes 2 foreigners.
Chandigarh has five cases.
Madhya Pradesh, Jammu and Kashmir and West Bengal reported four cases each.Andhra Pradesh and Uttarakhand have reported three cases each. Odisha and Himachal Pradesh reported 2 cases each.
Puducherry and Chhattisgarh have reported one case each.
The figure of 324 includes 41 foreign nationals.
Meanwhile, to encourage social distancing and tackle the pandemic, the nation is observing PM Modi-proposed 'Janata Curfew' even as the streets across the nation wore a deserted look. The curfew started at 7am and will end at 9pm.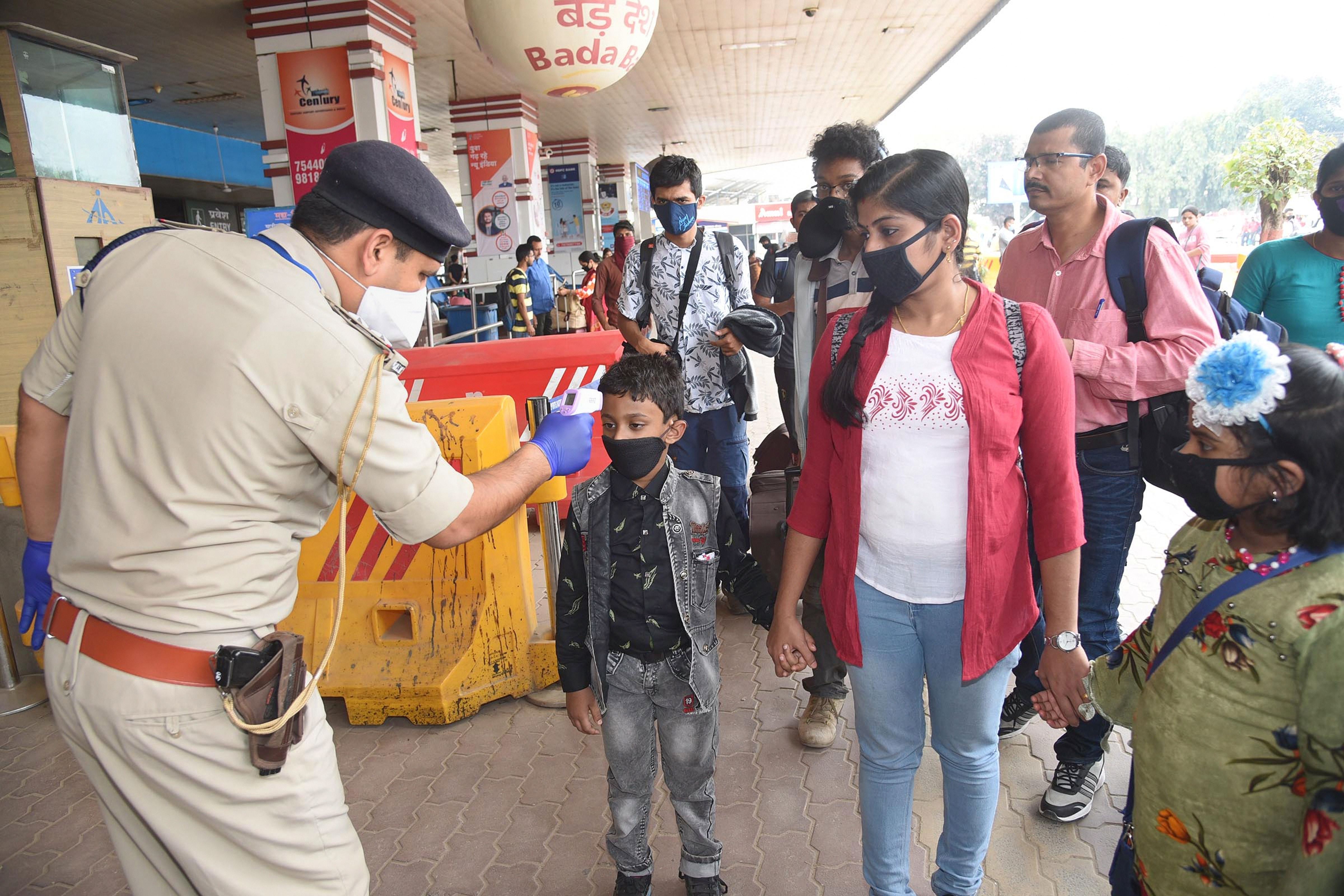 Lockdown in over 75 districts
The Centre and state governments have decided to completely lock down over 75 districts across the country where coronavirus cases have been reported, officials said on Sunday.
It has also been decided to suspend the interstate bus services till March 31, the officials said.
State governments will issue orders allowing only essential services to operate in more than 75 districts with confirmed COVID-19 cases or casualties.
The districts where lockdown was announced are from states that include West Bengal, Uttar Pradesh, Maharashtra, Punjab, Haryana, Karnataka, Tamil Nadu and Kerala.
Bihar reports 1st death; 2nd in Mumbai
The death toll in India due to the coronavirus pandemic rose to six on Sunday as two deaths were reported each from Bihar and Maharashtra.
The number of coronavirus cases rose to 342 on Sunday after fresh cases were reported from various parts of the country, the health ministry said.
Bihar reported its first death due to Covid-19 as a man with a travel history to Qatar died at the AIIMS in Patna, hospital superintendent C.M. Singh said.
The 38-year-old man, a resident of Munger district, was admitted to the hospital on Friday with a kidney ailment, he added.
Doctors noticed that he was also suffering from respiratory problems, following which his swab samples were sent to the Rajendra Memorial Research Institute.
The man, who was on dialysis, died on Saturday night, but his COVID-19 test results from RMRI came only on Sunday morning, Singh said.
Six more patients at the AIIMS, suspected to have contracted the disease, were awaiting their test results from RMRI, he added.
However, talking to reporters, chief secretary Deepak Kumar said another woman at the AIIMS had also tested positive for COVID-19.
He did not give any other details of the woman.
In Maharashtra, a 63-year-old patient in Mumbai died due to the virus, health officials said. Seventy-four cases have been reported from Maharashtra, which is the highest among all the states in the country.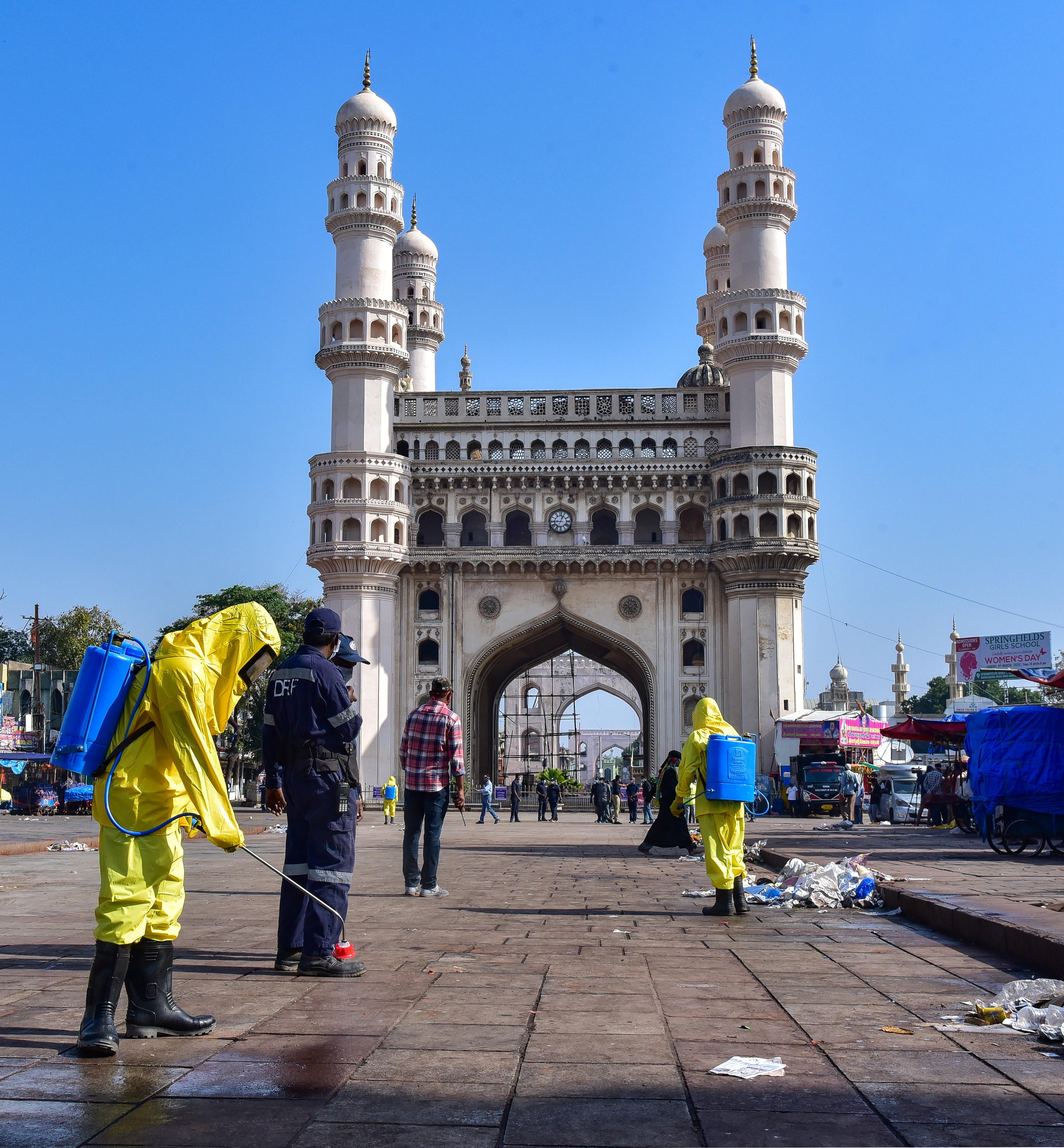 Seven Haryana districts, including Gurgaon, Faridabad, under lockdown

Seven districts of Haryana, including Gurgaon and Faridabad, were on Sunday put under lockdown by the state government to curb the coronavirus spread.
Five other districts, put under lockdown from Sunday 9 pm are Sonipat, Panipat, Jhajjar, Rohtak and Panchkula, said Chief Minister M L Khattar, adding the measure is being taken to prevent spread of the coronavirus spread.
The government has notified the lockdown in seven districts, he said, adding it will remain effective till March 31, he said.
All essential and emergency services, however, will remain functional during the lockdown period, he said.
Lockdown in Uttarakhand
The Uttarakhand government imposed a lockdown till March 31 in the state on Sunday to contain the spread of the coronavirus, officials said.
However, essential supplies such as medicines, food grains, vegetables etc. were kept out of the ambit of the lockdown, they added.
The lockdown was imposed on a day when Prime Minister Narendra Modi's call for a countrywide 'janata curfew' evoked a spontaneous response across the state with people staying at home and roads and marketplaces wearing a deserted look.
Chief Minister Trivendra Singh Rawat had thrown clear hints about harsher measures in the offing to check the spread of the coronavirus when in a thanksgiving message to the people of the state for the success of the 'janata curfew' earlier in the day, he had asked them to remain prepared for even tougher times ahead.
However, he had said there will be no shortage of food grains or medicines.
'We can even deliver food grains and medicines at people's doorsteps if we have to impose a lockdown. The state government will soon take a decision about people who eke out a living from day to day. We will not let anyone go hungry,' Rawat had said.
Uttarakhand has reported three coronavirus cases so far. All of them are Indian Forest Service (IFS) probationers from the Dehradun-based Forest Research Institute (FRI), who had recently returned from a study tour to Spain.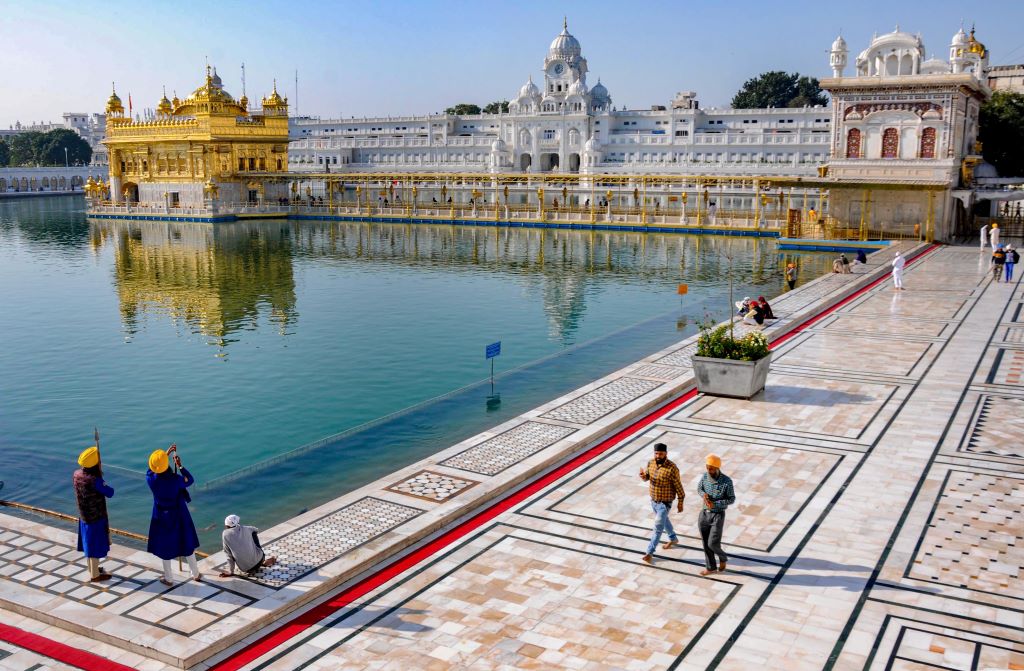 Indefinite lockdown from Sunday midnight in Nagaland
The Nagaland government has announced an indefinite lockdown in the state from Sunday midnight in view of the coronavirus outbreak, officials said.
The country is observing a 14-hour-long 'Janta curfew' since 7 am.
Chief Secretary Temjen Toy told media persons that though no positive coronavirus case has been reported in the state so far, the precautionary measure has been taken as per the Epidemic Diseases Act, 1897.
'All shops and business establishments barring pharmacies, petrol pumps and grocery stores shall remain closed till further orders. All commercial passenger vehicles such as buses, taxis, autorickshaws or two-wheeler taxis shall remain off the roads,' Toy said.
He said the movement of people has been restricted except for buying essential commodities or availing medical facilities.
All entry points to Nagaland shall be sealed except for the movement of essential commodities, medical equipment and supplies, security forces and goods vehicles passing through the state, Toy added.
Lockdown in Chandigarh
With Chandigarh reporting six positive cases of COVID-19, the Union Territory Administration on Sunday ordered a lockdown imposing restrictions till March 31 including suspension of public transport to prevent spread of the infection.
Till 31st March, all non-essential establishments including Offices, Schools, Colleges, factories and other business establishments shall remain closed. All public transport shall also remain suspended, said an official statement here.
All are also advised to stay indoors and not to come out unless there is urgency, it said.
However, essential services including vegetable shops, ration shops, chemists etc shall remain open, it said.
The statement said that people are advised not to believe in rumours and take all preventive steps as being communicated from time to time by authorities concerned.
Earlier in the day, the Congress government in Punjab announced its decision to enforce lockdown in the entire state till March 31 in the wake of the threat of coronavirus outbreak.
Ordered statewide lock down till 31st March to check spread of Covid 19, Chief Minister Amarinder Singh tweeted.
He informed that all essential and government services would continue during the lockdown in Punjab, where 14 have so far tested positive for COVID-19.
One fresh case of COVID-19 in Telangana; total rises to 22
A 24-year old man with travel history of arrival from London via Dubai, tested positive for coronavirus on Sunday, taking the total number of cases in Telangana to 22.
The resident of Guntur district of Andhra Pradesh is stable and presently admitted at a designated hospital in Telangana.
The Telangana government on Saturday constituted a committee of experts to study the measures needed to control incidence of coronavirus in the state and to suggest steps based on successful models from the world over.
Separately, The Epidemic Diseases Act 1897, was invoked in the state.
Chief minister K. Chandrasekhar Rao, who called for a 24-hour voluntary curfew 6 am on March 22 to 6 am on March 23, has appealed to the public to stay indoors and refrain from going out so that spread of virus can be prevented.
Railways suspends services till March 31
In an unprecedented move, Indian Railways has announced suspension of all its passenger services from March 22 midnight to March 31 midnight and said only goods trains will run during the said period.
The railways had already trimmed down its services on Friday by cancelling a majority of trains. However, it had allowed all trains that had already started the journey to continue.
According to a new order issued by the railways, only goods trains will run from March 22 midnight to March 31 midnight.
'However, a bare minimum suburban services and the Kolkata Metro Rail service will continue till March 22 midnight. Thereafter, these services will also be stopped till March 31 midnight,' a spokesperson of the Indian Railways said.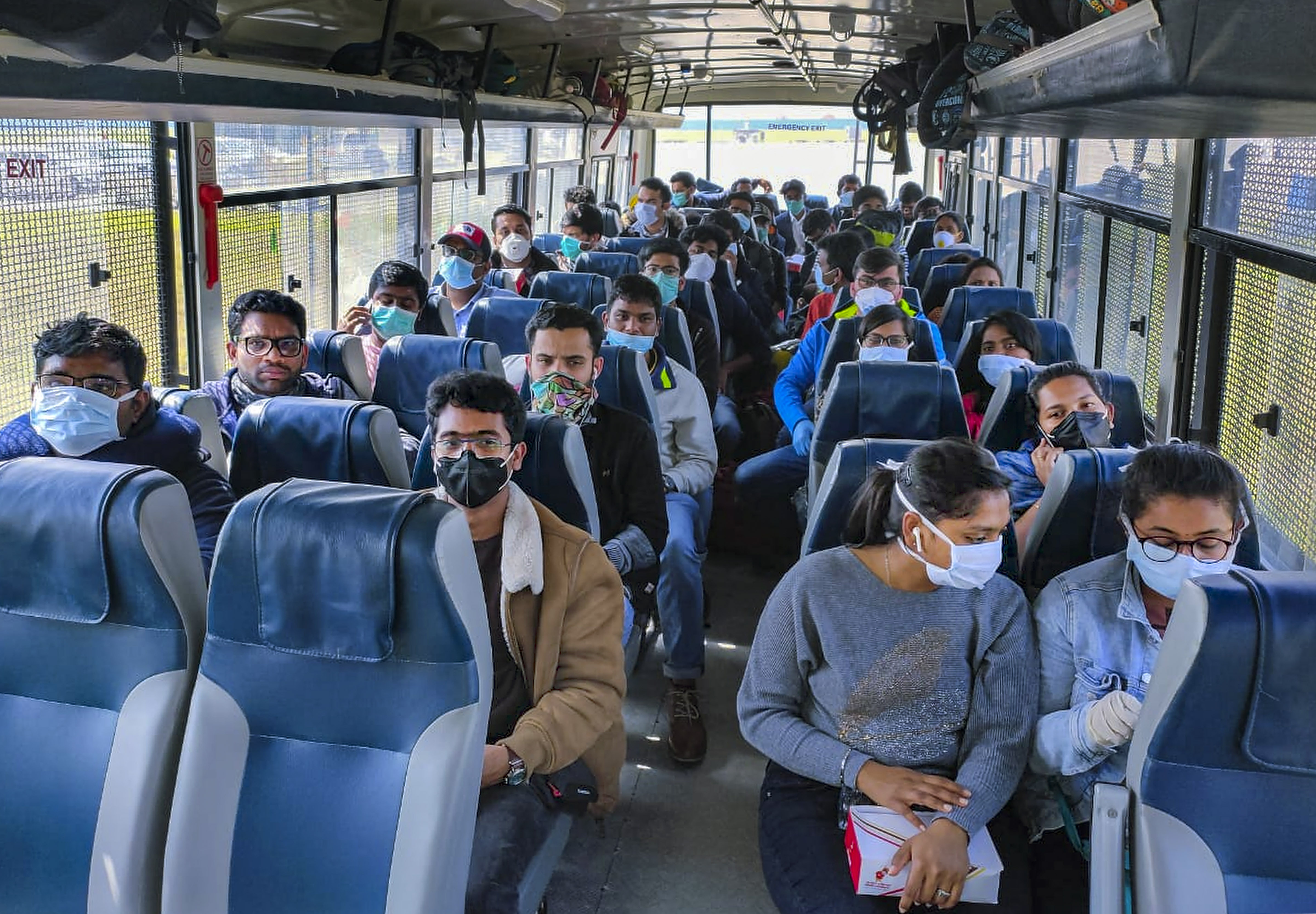 263 Indians evacuated from Italy
A batch of 263 Indians evacuated from Italy in view of the COVID-19 outbreak there were brought back to the country on Sunday and sent to a ITBP quarantine facility, officials said.
'The special flight had 263 passengers. It landed at around 10am at Delhi airport from Rome,' an Air India official said.
The Air India flight had taken off from the Delhi airport on Saturday.
'All the 263 people are being taken to our quarantine centre in Chhawla area of south-west Delhi after thermal screening and immigration at the tarmac,' an ITBP spokesperson said.
The Indo-Tibetan Border Police quarantine already has 215 Indians housed since March 15 after they were similarly evacuated by a special Air India flight from Rome.
The facility has earlier hosted two such batches of Indians and foreigners who were brought back from Wuhan in China in the wake of the coronavirus pandemic.
2nd death in Maharashtra
A 63-year-old coronavirus patient died in Mumbai on Sunday, taking the death toll in Maharashtra to two, a health official said.
The man was admitted to the H. N. Reliance Hospital in Mumbai on Saturday.
The Brihamumbai Municipal Corporation in a statement said the patient had chronic history of diabetes, high blood pressure and ischemic heart disease.
He developed acute respiratory distress syndrome leading to his death, the statement said.
Earlier this week, another COVID-19 patient died in Mumbai.
With this, the toll has gone up to two in the state, with both deaths reported from Mumbai.
The total number of coronavirus positive patients in Maharashtra has risen to 74 with 10 more positive cases reported in the last 24 hours, officials said on Sunday.
Of the 10 new cases, six are in Mumbai and four in Pune, they said.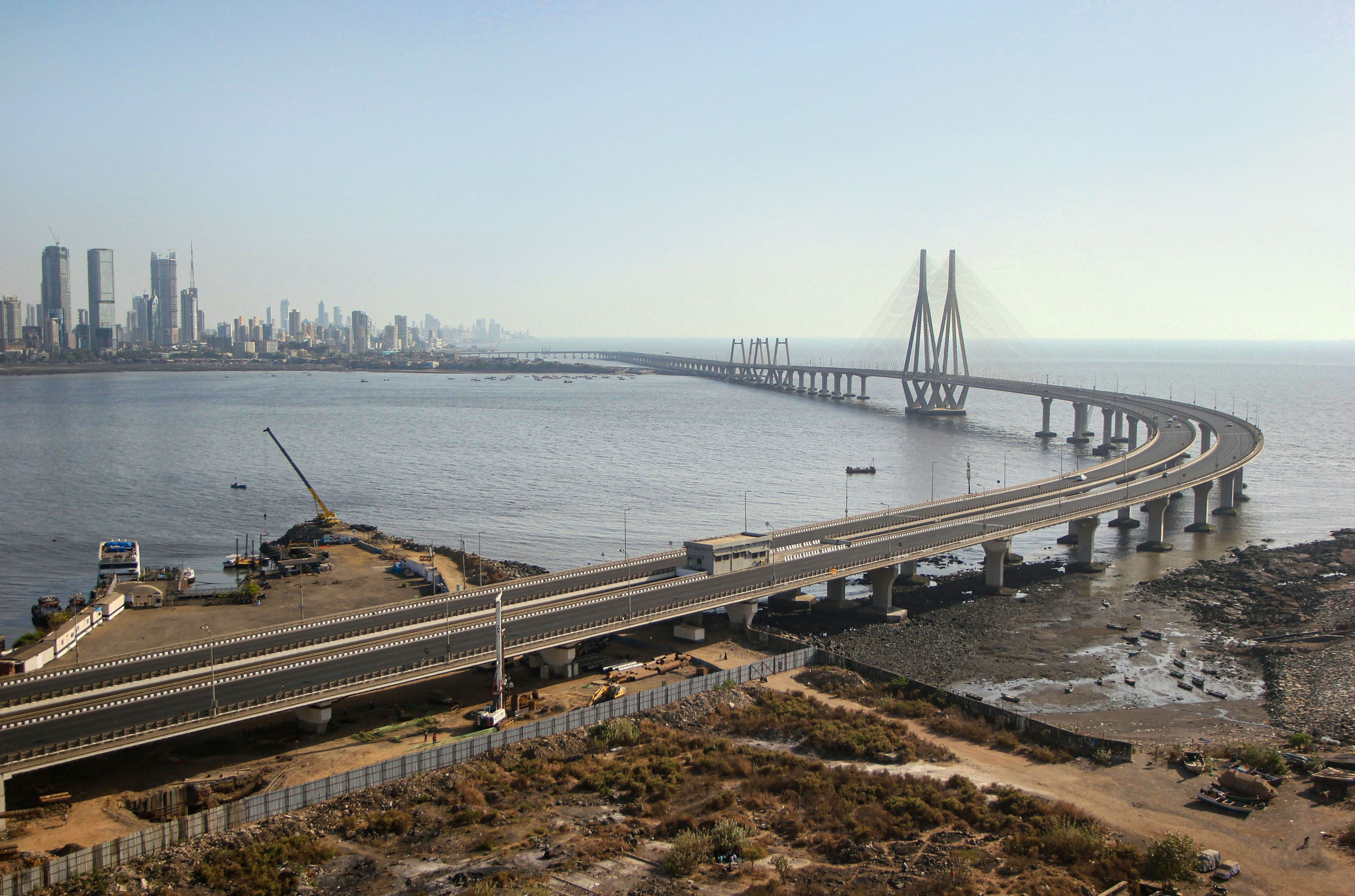 7 of 10 Indian could be infected

Seven in 10 Indians could be infected by the coronavirus under its current observed growth rate in the country without any additional social distancing measures or behavioural changes, the mathematical study has predicted.
The study by researchers at the Institute of Mathematical Sciences, Chennai, has underscored the need for quick detection and isolation of coronavirus patients and additional social distancing measures to avert what otherwise could be an epidemic that would overwhelm India's healthcare services.
Infectious disease modellers at the IMSc who have tracked the rise in coronavirus patients' numbers in the country from March 4 had projected that India by March 22 would have roughly 200 but at the most 500 active cases —not counting those who have recovered or died earlier.
This projection was more or less in line (if not conservative) with the Union home ministry's update on Saturday evening documenting 256 active cases across 22 states in the country. Twenty-three persons have been discharged and four patients have died. The cumulative figure rose to 315 at night.