Congress to govt: Re-appoint Verma as CBI boss
The desperation to remove the director in a midnight operation spoke volumes of the PM's own credentials, party says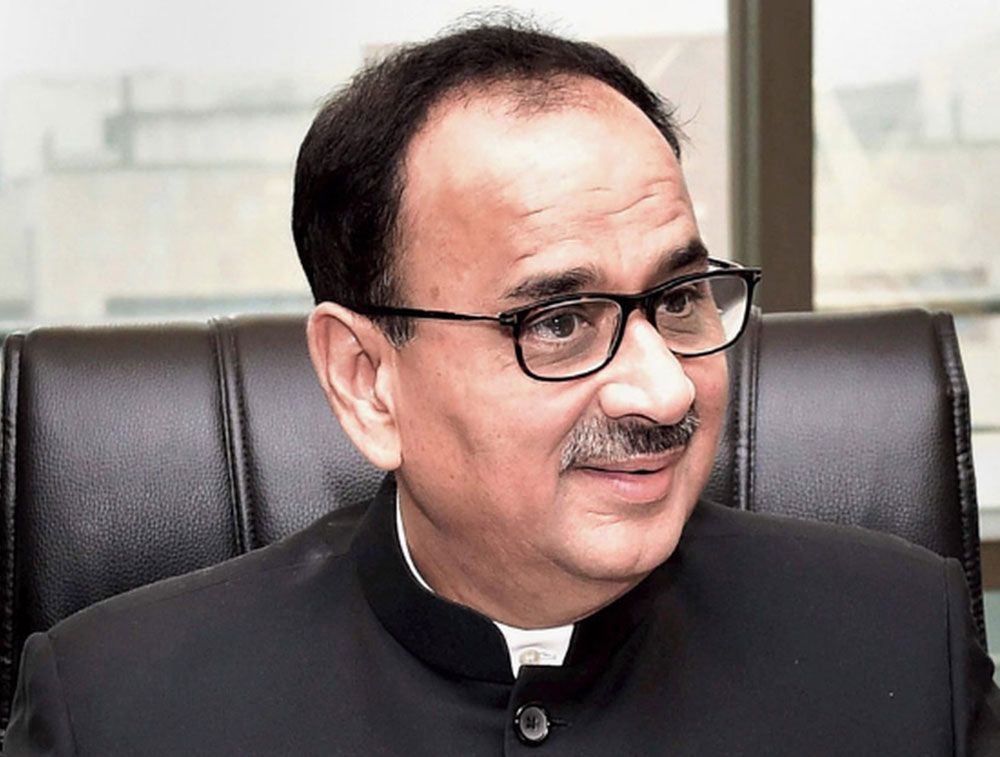 Alok Verma had lost 77 days of his term as CBI director because he was sent on forced leave by the Centre.
Telegraph file picture
---
New Delhi
|
Published 12.01.19, 09:29 PM
|
---
The Congress on Saturday demanded convening the selection committee to re-appoint Alok Verma as CBI director in the light of Justice A.K. Patnaik's assertion that the central vigilance commissioner's report did not have any conclusive evidence against him.
The desperation to remove the director in a midnight operation by misusing the office of Central Vigilance Commission spoke volumes of the Prime Minister's own credentials, the party said, responding to Narendra Modi's allegation that the Congress did not respect the Supreme Court, CBI, CVC, CAG and the Election Commission.
Party spokesperson Manish Tewari said: "The Prime Minister needs to clarify his position in the light of what Justice Patnaik has said. What was the reason for the undue haste in throwing Verma out of the office? He should also explain why two RBI governors quit in his tenure?"
Justice Patnaik, the retired judge who was asked by the Supreme Court to supervise the CVC probe against the CBI director, told The Indian Express there was no evidence of corruption against Verma and that the selection committee had taken a "very, very hasty" decision to remove him.
Congress spokesperson and top lawyer Abhishek Singhvi was blunt: "What is to be hidden? Who has to be saved? Why was the Prime Minister so scared of Verma's presence in the CBI? The layers of mystery need to be unravelled. The secrecy must go; people are waiting for answers. There will be investigation one day, if not now, and the truth will come out."
Singhvi continued: "We have three demands: One, the high-power committee must be reconvened immediately. Two, Verma must be reappointed; and three, the committee must get the charges fully investigated. Also, the loss of 77 days be compensated to complete the two-year term. "
Verma had lost 77 days of his term as CBI director because he was sent on forced leave by the Centre.
Singhvi said: "Justice Patnaik's statements are in the public domain. It proves the CVC report is a lie, with concocted conclusions. I quote him — 'Even if the Supreme Court said that the high-power committee must decide, the decision was very, very hasty. We are dealing with an institution here. They should have applied their mind thoroughly, especially as a Supreme Court judge was there. What the CVC says cannot be the final word.' He also said, 'There was no evidence against Verma regarding corruption. The entire enquiry was held on CBI special director Rakesh Asthana's complaint. I have said in my report that none of the findings in the CVC's report are mine.'"
Singhvi added: "I said this yesterday that the report is of the CVC alone. I said Patnaik didn't conduct any investigation. He is now saying, 'the CVC forwarded to me a statement dated 9.11.2018 purportedly signed by Rakesh Asthana'. Purportedly word is very important. He adds, 'I may clarify that this statement purportedly signed by Rakesh Asthana was not made in my presence.' He used the word purportedly second time.…"
Arguing that Congress leader Mallikarjun Kharge had raised most of these points at the selection committee meeting on Thursday, Singhvi said: "Why the haste in removing Verma? Was it that the CBI director was deep into the investigative stage of Rafale? Was it that he had evidence, witnesses, documents which would nail the multiple lies of this government, the Prime Minister, the ruling party president?"
The Congress also attacked the Prime Minister for ignoring vital issues in his speech at the last BJP national convention before the general election. Manish Tewari said: "Why was there no mention of the great decision of demonetisation which solved problems of counterfeit, black money, corruption, terrorism? Why no mention of GST which entailed midnight celebration? Why no mention of achchhe din?"
Tewari also questioned the government's claim that there were no major terror attacks in five years and asked if the "Uri, Gurdaspur and Pathankot airbase attacks were major or minor?"