Congress sets Modi-Shah test for Election Commission
After Yogi and Mayawati, the Congress seeks fair action against "habitual offenders"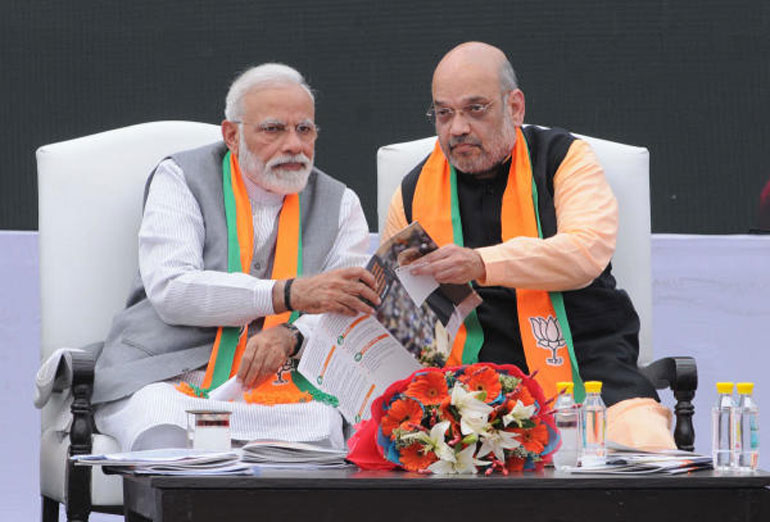 Narendra Modi and Amit Shah at the launch of the BJP's manifesto for Lok Sabha elections 2019.
The Telegraph file picture
---
New Delhi
|
Published 16.04.19, 12:22 AM
|
---
The Congress on Monday hailed the temporary campaign curbs on Yogi Adityanath and Mayawati but set the Election Commission a higher bar for "fairness and fearlessness", demanding similar action against "habitual offenders" Narendra Modi and Amit Shah.
"We hope the Election Commission will be even-handed and punish the habitual offenders (Prime Minister) Narendra Modi and (BJP president) Amit Shah. Nobody is above the law, and (the law) should be applied in a non-discriminatory manner," Congress spokesperson Abhishek Singhvi said.
The poll panel has barred the Uttar Pradesh chief minister and BSP chief from campaigning for 72 and 48 hours, respectively, for their references to religion during the campaign. Adityanath had alluded to Muslims as a "green virus" and separated the electorate into "Ali" and "Bajrangbali", while Mayawati had appealed to Muslims to vote en bloc for her alliance.
"The graded punishment announced today is an excellent start and we hope this will continue unabated. If the EC is fair and fearless, it should end all the illegal antics… instead of sending stereotype warnings," Singhvi said.
The Congress had on Saturday lodged formal complaints against Adityanath as well as Modi and Shah, who had commented on the predominance of minorities in Wayanad, from where Rahul Gandhi is contesting.
"We asked the commission to take action and suggested graded punishment for repeat offenders," Singhvi said.
"If politicians know that the gains that accrue politically by using divisive tactics can be annulled by severe punishment, they will not indulge in it. We are waiting to see what the commission does in the case of Modi and Shah."
Singhvi referred to Modi's April 9 comment that Rahul had chosen to contest from Wayanad because Hindus are a minority there.
"He said, 'Congress ke namdar ne microscope le kar Bharat mein ek aisi seat khoji hai jahan par woh muqabla karne ki taqat rakh sake. Seat bhi aisi jahan par desh ki majority minority mein hai (The Congress dynast has with a microscope discovered a constituency where he might have the strength to fight. The seat is such that India's majority is in a minority there).' This is a communal statement, and shows how Modi sees Wayanad," Singhvi said.
Shah had told a Nagpur rally: "Rahul baba apne gathbandhan ke liye Kerala ke andar aisi seat par jakar khade hai malum hi nahi padta juloos nikalta hai toh Bharat hai ya Pakistan ka juloos hai (Rahul is contesting from a seat in Kerala where, when processions are held, it becomes difficult to know whether it is in India or Pakistan)."
The allusion was to the green flags of Congress ally Indian Union Muslim League that were seen in Rahul's road show in Wayanad.
Shah also said that during UPA rule, any "Alia, Malia, Jamalia" (Muslim terrorist) could enter India, kill people and insult the army but the Modi government had struck fear into their hearts with its air strikes in Pakistan.