Congress cheers end of Chidambaram's 'vengeful' jail stay
The Congress tweeted 'Satyamev Jayate', articulating its belief that the former Union minister was being victimised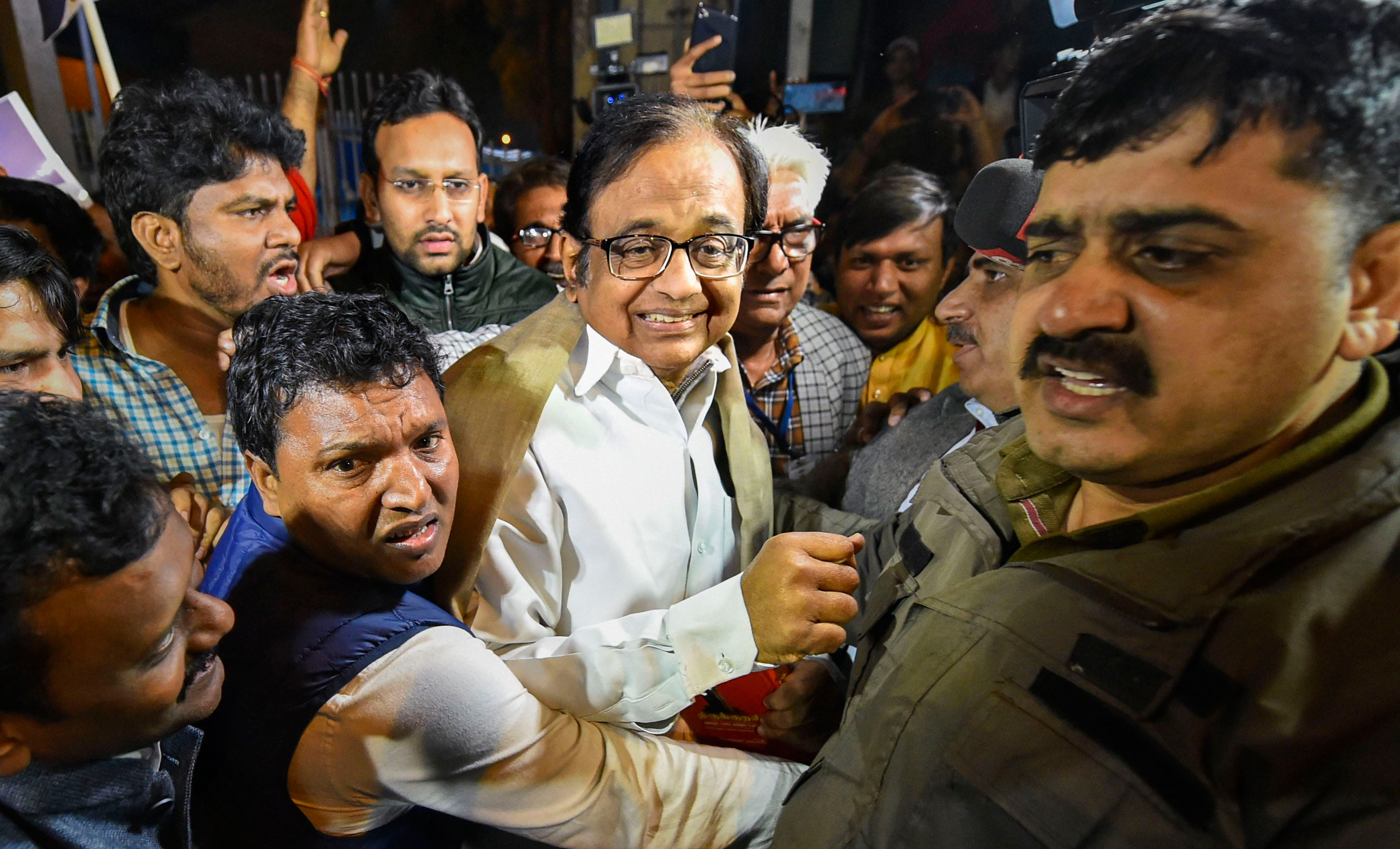 Chidambaram surrounded by party workers as he is released from Tihar Jail on December 4, 2019.
(PTI)
---
New Delhi
|
Published 04.12.19, 08:39 PM
|
---
The Congress on Wednesday expressed relief that the Supreme Court had granted bail to senior leader P. Chidambaram whom it described as a victim of a political witch-hunt and even hinted disgust at the 106-day imprisonment at the pre-trial stage.
MP Rahul Gandhi led the charge by tweeting: "Mr P Chidambaram's 106 day incarceration was vengeful & vindictive. I'm glad that the SC has granted him bail. I'm confident that he will be able to prove his innocence in a fair trial."
The Congress tweeted "Satyamev Jayate", articulating its belief that the former Union minister was being victimised. Unlike in the cases of other leaders embroiled in legal battles, the Congress leadership did not abandon Chidambaram, always maintaining that he was being framed as part of a political conspiracy.
While Sonia Gandhi, Manmohan Singh, Rahul, Priyanka Gandhi Vadra, Ahmed Patel, Ghulam Nabi Azad and other senior leaders visited Chidambaram in Tihar jail, veteran lawyers Kapil Sibal and Abhishek Manu Singhvi fought his case both in the Supreme Court and the lower courts.
The Congress leader in the Lok Sabha, Adhir Chowdhury, said on Wednesday: "Chidambaram was falsely framed in the case only because the Narendra Modi government wanted to silence him."
Referring to Chidambaram's arrest on August 21, when CBI officers scaled the walls of his house at midnight, Chowdhury said it seemed as if "Osama bin Laden's relative" was staying there, not a former Union minister.
Both Chowdhury and Anand Sharma said the politics of vendetta would pose a grave threat to Indian democracy.
The former minister's son, Karti Chidambaram, subtly gave vent to his frustration over the legal processes to grant bail by tweeting: "Phew. At last after 106 days."
Karti, a Congress MP, announced that his father would visit Parliament at 11am on Thursday to speak on the economic slowdown. Karti told a news channel that his father had been subjected to "unwarranted incarceration", blaming the agencies for levelling false charges under political pressure.
Chidambaram, who was arrested in the INX-Media money-laundering case, is not only a former Union minister, but also a key Congress strategist. Although Chidambaram has been restrained from speaking to the media about the case, he is expected to intensify the attack on the BJP, particularly over the economic crisis.
He is to meet Congress president Sonia before going to Parliament.
The BJP hit out at the Congress for "celebrating corruption".
Party spokesperson Sambit Patra congratulated Chidambaram on joining the "coveted out-on-bail club", recalling that Sonia and Rahul, too, were out on bail. He also named Bhupinder Singh Hooda, Shashi Tharoor, Robert Vadra and Motilal Vora.
Union minister Nitin Gadkari contested the perception of witch-hunt, saying that the agencies found enough evidence to book Chidambaram. Gadkari recalled that cases had been filed against Amit Shah, Narendra Modi and himself during Congress rule.