Congress and JDS in seat tussle
The names of Kumarasamy's actor son Nikhil and Revanna's son Prajwal are on the list of probable candidates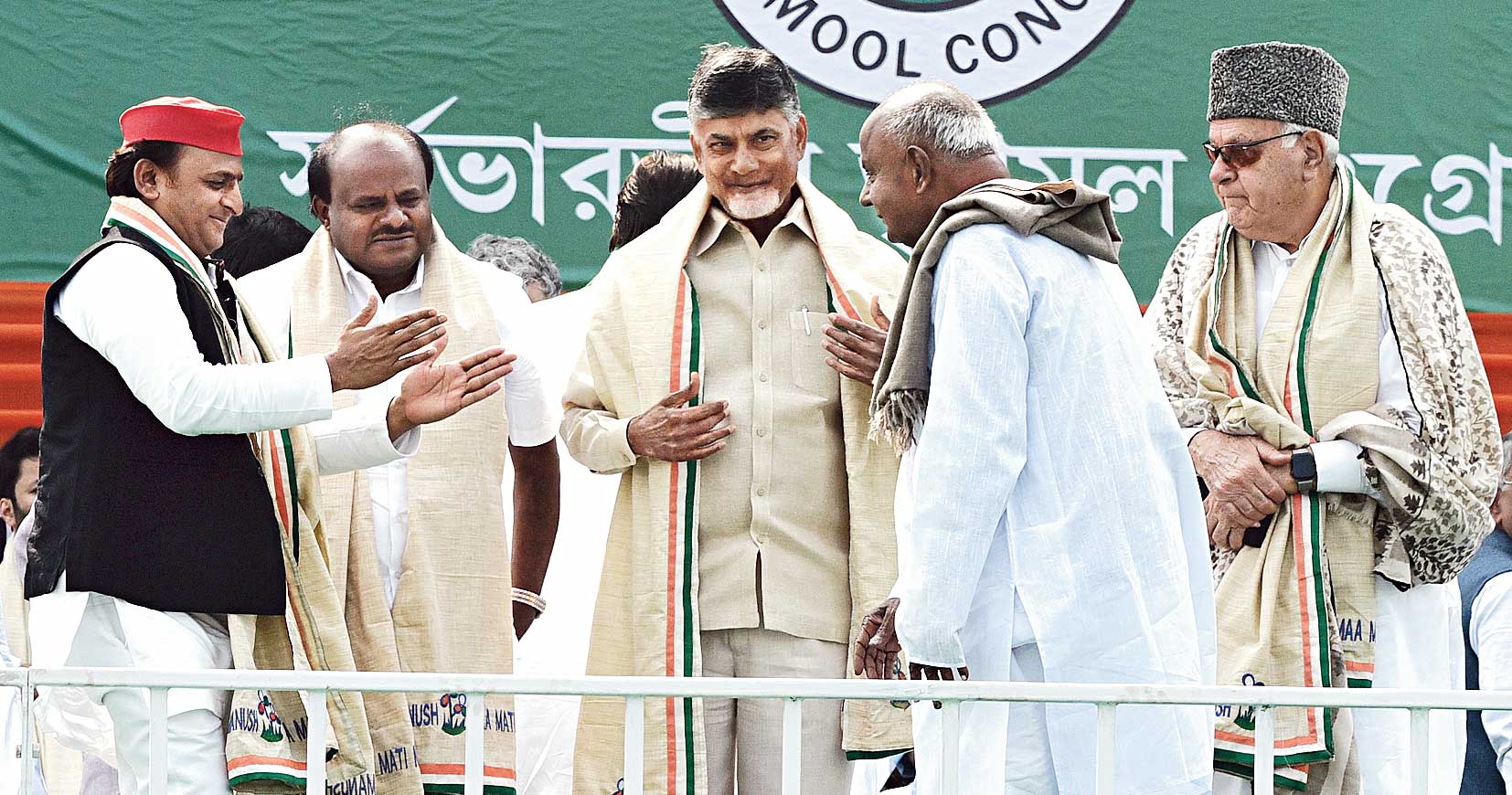 (From left) Akhilesh Yadav, H.D. Kumaraswamy, N Chandrababu Naidu, H.D. Deve Gowda and Farooq Abdullah at the Brigade rally in Calcutta on January 19, 2019.
Picture by Pradip Sanyal
---
Bangalore
|
Published 02.02.19, 07:48 PM
|
---
Seat-sharing between Karnataka's coalition partners for the Lok Sabha polls is becoming a challenge as the Janata Dal Secular has made it clear that it wouldn't mind going alone in contentious seats that its partner Congress is also eyeing.
While all indications point to the continuance of the alliance in the Lok Sabha elections, the JDS is particular about keeping all its pocket boroughs such as Mandya, Hassan and Ramanagara.
But since the Congress is trying to improve on its 2014 tally with the aim of enhancing its chances at the Centre, it is looking at even JDS bastions such as Hassan and Mandya.
Chief minister H.D. Kumaraswamy, who was recently told to get a grip on his emotions by his father and JDS patriarch H.D. Deve Gowda because the son's outbursts were straining ties with the Congress, said he was not ready to go against the "feelings of party workers" by conceding space to the bigger partner.
"The party was built by our workers. At this crucial juncture when we need everyone's support to improve our tally, we don't want to disappoint them," Kumaraswamy said, alluding to the JDS's insistence on not parting with its strongholds.
Former Prime Minister and JDS national president H.D. Deve Gowda had in December demanded 12 of the 28 Lok Sabha seats in Karnataka, but later scaled it down to 10 seats.
Considering that the JDS won only two seats in the 2014 general election against the BJP's 17 and the Congress's nine, the Congress seems unlikely to accept the demand for 10 seats. The Congress's Lok Sabha tally rose to 10 after it wrested Bellary from the BJP in a by-election.
At the Brigade rally in Calcutta organised by Mamata Banerjee on January 19, Gowda had stressed on the importance of seat-sharing and said it was a "Herculean task".
Kumaraswamy's elder brother and public works minister H.D. Revanna added fuel to the fire by claiming that the JDS wouldn't mind going alone in Hassan, where it is sure to win. "We are ready for a pre-poll alliance with the Congress. Otherwise we don't mind going for a three-way fight in Hassan," he said.
A senior Congress functionary ruled out allowing the JDS to dictate terms. "Being a coalition partner doesn't mean one will dictate terms to the other. But we are open to negotiation for sharing seats," said the leader, who didn't want to be named.
"It's not the first time the Congress is in an alliance. We have a very healthy alliance at the national level (the UPA) and in Kerala (the UDF) as fine examples of understanding between partners. So we expect the same from the JDS," he said, adding that the JDS might be looking for more seats to accommodate the sons of Kumaraswamy and Revanna.
The names of Kumarasamy's actor son Nikhil and Revanna's son Prajwal are on the list of probable candidates.
"Maybe they are trying to pitch the boys in Hassan and Mandya to make sure they win," the Congress leader said.
However, JDS spokesman Raghavendra Rao had no doubts about the partnership going the distance. "There is no doubt that we will fight the elections together. Seat-sharing is something our leaders will sit together and sort out," he said.
Rao said Revanna's words should not be misinterpreted, as he was only trying to ensure a JDS win in Hassan.
"He is the minister in charge of Hassan. Since we have been winning from there for many years, he is eager to maintain that history," said Rao.
"Seat adjustment is not an easy thing. But we will work it out since both parties want to defeat the BJP," he added.