Protesters pour out on Assam streets
Protesters allegedly damaged private vehicles and public buses and hurled stones at security personnel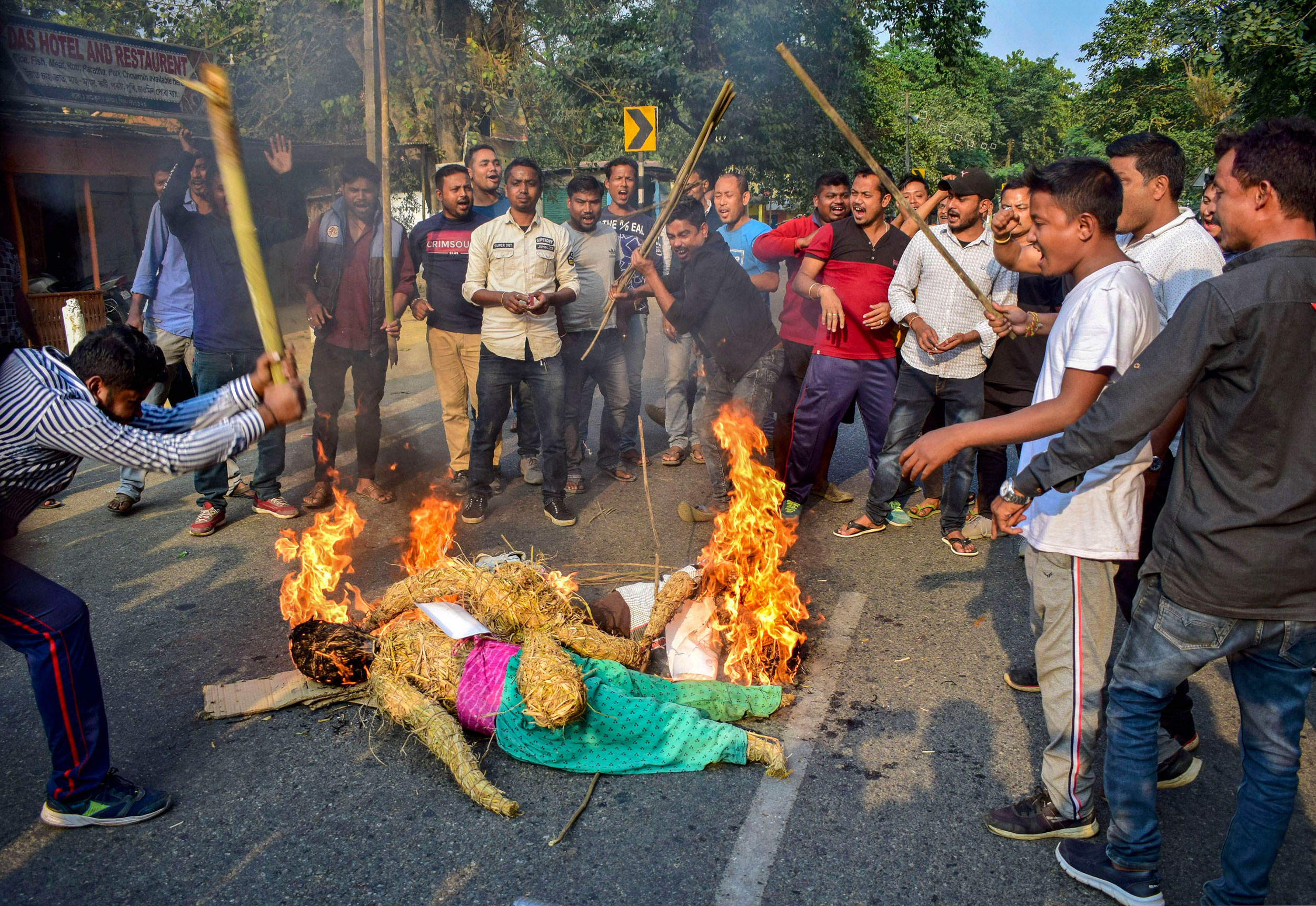 ---
|
Guwahati
|
Published 10.12.19, 09:10 PM
---
Normal life came to a halt while an old slogan made a comeback in Assam's Brahmaputra Valley on Tuesday during the 11-hour dawn-to-dusk Northeast bandh called by the North East Students' Organisation against the Citizenship (Amendment) Bill, which the Lok Sabha passed on Monday night.
The intensity of the protests on the streets, most in Guwahati felt, suggested a return to the days of the 1979-85 Assam Movement if the "contentious and divisive" bill was not shelved or the state was not exempted from its purview.
Organisations and individuals from all walks of life hit the streets, chanting slogans against the BJP-led government's decision to "impose" the bill. Offices and educational institutions remained closed.
"Joi Aai Axom (Glory to Mother Assam)," the popular and emotive slogan from the Assam Movement days, resonated across the state.
A team of motorcyclists that was criss-crossing Guwahati was heard chanting the slogan to pep up the visibly tired protesters at Borbari, VIP Road, Hengerabari, GS Road, Hatigaon, Beltola, Noonmati and other places. The youths said they were "sons of the soil" unaffiliated to any organisation, but had come out for "our motherland".
"The Centre is trying to weaken our movement by excluding some northeastern states from the ambit of the bill but today's total bandh showed that no matter what, the entire Northeast is united in protecting its constitutional rights," Neso adviser Samujjal Bhattacharjya said.
The Tripura government imposed a 48-hour Internet shutdown ahead of the protest, citing "rumours about clashes between tribal and non-tribal" people.
"WhatsApp and social media platforms like Facebook, Twitter and YouTube are being widely used for transmission of fake images and videos as well as text messages that have the potential to incite violence," the state government said.
Sporadic violence and clashes between security forces and protesters were reported from parts of Assam.
Protesters allegedly damaged private vehicles and public buses and hurled stones at security personnel. They put up blockades and burnt tyres on the roads, and prevented vehicles, even official convoys, from plying. Only the emergency services were exempt. The police used batons, water cannons and tear gas at some places. There were reports of firing in Jorhat in the evening.
Guwahati witnessed clashes near the Secretariat and Assembly buildings that injured at least three people, and protests outside BJP leaders' homes, including those of chief minister Sarbananda Sonowal, cabinet minister Himanta Biswa Sarma and MP Queen Oja.
The protesters blockaded trains at some places, and state transport buses plied between Guwahati and the city airport with police escort. All university examinations scheduled for Tuesday had been rescheduled.
In Dibrugarh, bandh supporters clashed with CISF personnel. The bandh, however, witnessed a mixed response in Bengali-dominated Barak Valley and Dhubri district.