Chaos at Delhi-UP border as migrants rush back home during lockdown
Walking without water and on an empty stomach, migrants expressed anger at the sudden announcement of the lockdown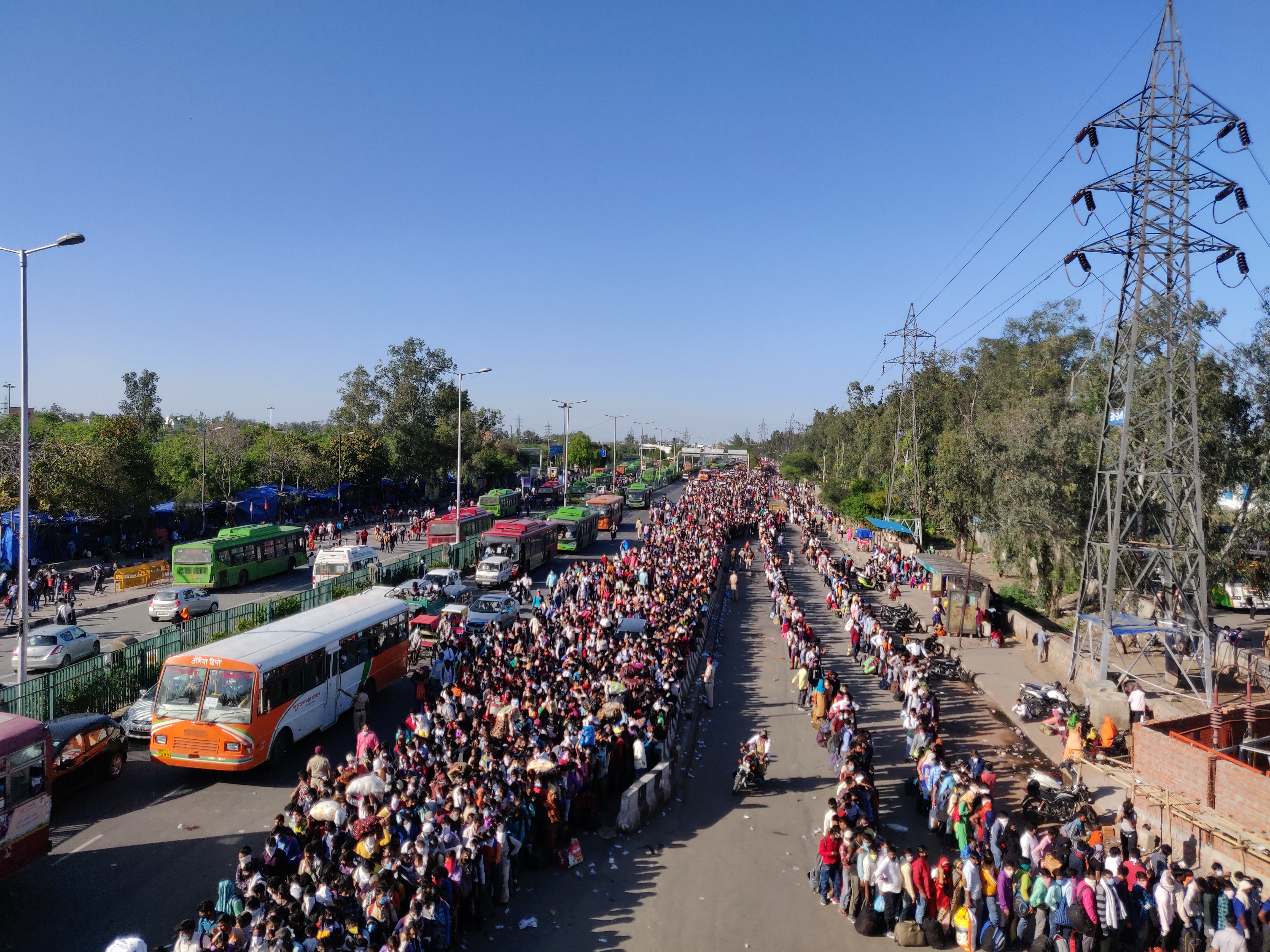 ---
---
The fourth day of the countrywide lockdown seems to be crumbling. Thousands of migrants had lined up outside the Anand Vihar bus terminal hoping to catch a bus home.
By late afternoon, the scene outside the Anand Vihar and Kaushambi bus terminals was of utter chaos. Thousands of people had stood on the highway trying to make it inside the bus terminal. Police and health officials conducted thermal screening of the passengers.
When asked if they feared the spread of this virus, a man standing in the queue to enter the bus stand replied, "Inse darr kya lagega yeh toh apne bhai hain. Jaise hum hain waise yeh log hai saare (They are like our brothers why should we fear them. They all are like me)."
For the past four days, a continuous stream of people – mostly daily wage workers from different parts of the country – could be seen walking to their homes. Initially, the police forces deployed to enforce the lockdown on both sides of the Delhi–Uttar Pradesh border tried preventing people to walk back home but were forced to allow as the numbers kept increasing.

With luggage on their heads or children on their shoulders, migrant workers can be seen walking on any road that goes outside Delhi NCR.
"Inse darr kya lagega yeh toh apne bhai log hain. Jaise yeh log hain waise hum hain"#21daysLockdown #coronavirusindia #MigrantsOnTheRoad #COVID2019 pic.twitter.com/IyD3mELO9L

— فرقان أمین | furquan ameen (@furquansid) March 28, 2020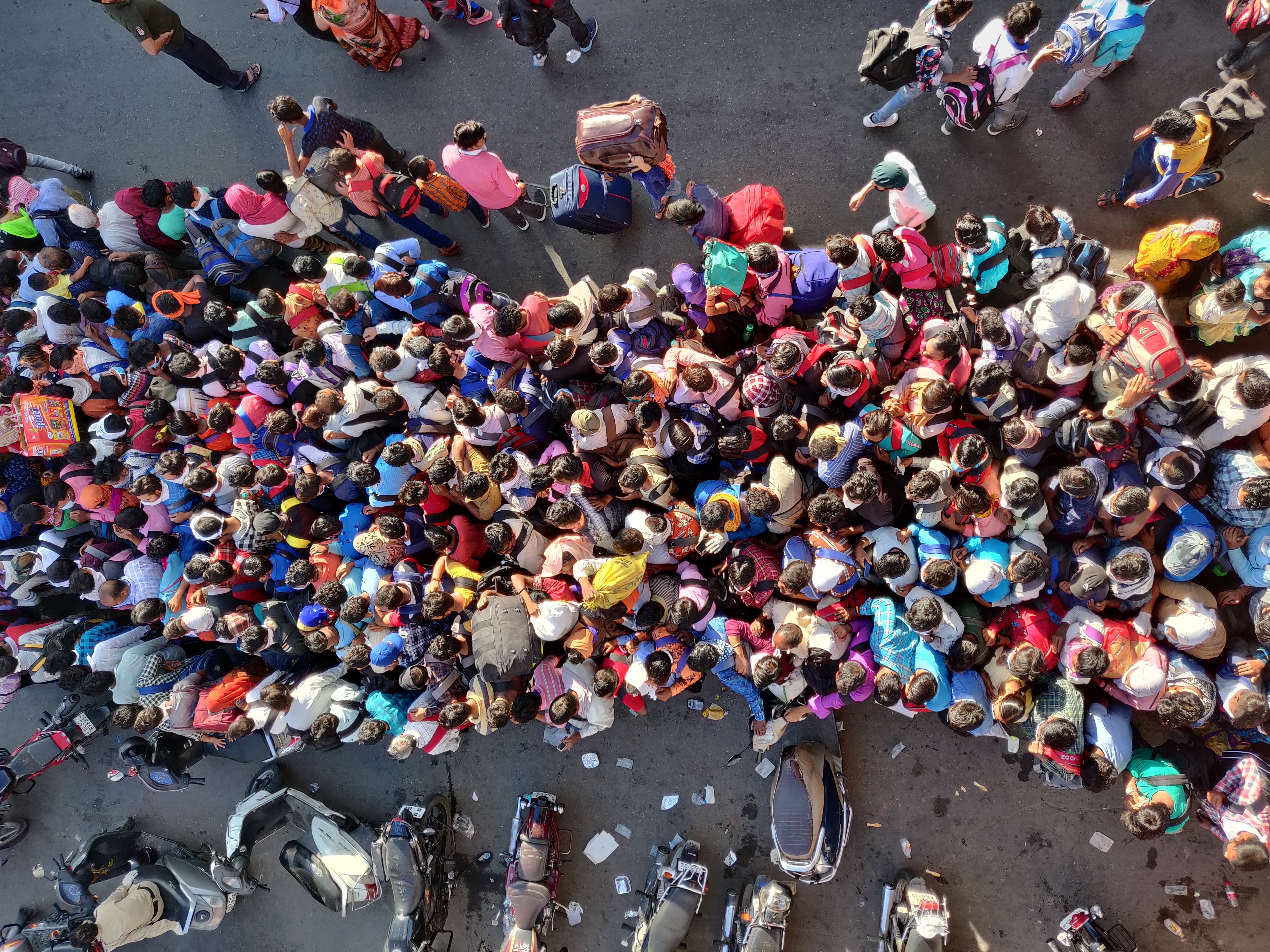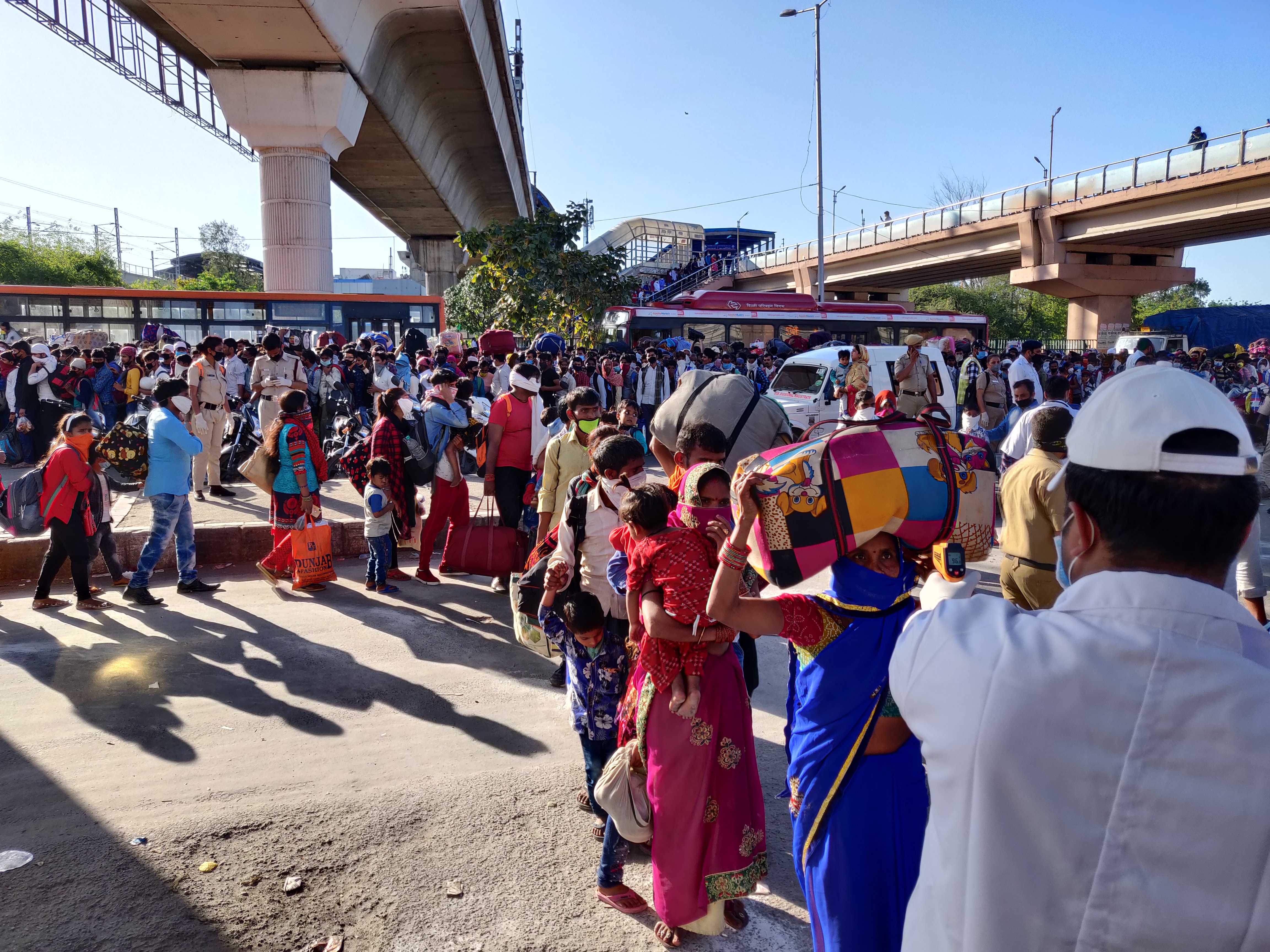 दिल्ली सरकार की क़रीब 100 और उत्तर प्रदेश सरकार की क़रीब 200 बसें दिल्ली से पैदल जाने की कोशिश कर रहे लोगों को लेकर जा रही है. फिर भी सभी से मेरी अपील है कि लॉकडाउन का पालन करें. कोरोना का असर नियंत्रित रखने के लिए यही समाधान है. बाहर निकलने में कोरोना का पूरा ख़तरा है.

— Manish Sisodia (@msisodia) March 28, 2020
Earlier in the day, Delhi's deputy chief minister Manish Sisodia announced that the Delhi government had deployed 100 buses and the UP government 200 buses for the migrants trying to walk to their homes. Sisodia, however, appealed that people should follow the lockdown.
An official of the Uttar Pradesh State Road Transport Corporation told The Telegraph online that the state administration had ordered the deployment of 1000 buses to facilitate the movement of these migrants.

"This could've been avoided if the government planned in advance. All the bus depots in the state have been told to send some buses but it will take time for them to reach, especially from far off places like Azamgarh or Kanpur," said the official who didn't want to be named.
Walking without water and on an empty stomach, migrants expressed anger at the sudden announcement of the lockdown. With four hours' notice, Prime Minister Narendra Modi on Tuesday had announced a nationwide lockdown to contain the spread of the pandemic.
"It is like a curfew," Modi had said.
Hashmat Ali, a 50-year-old construction worker in Delhi, said the curfew meant no work for them. Ali lived with 15 others who had migrated from UP's Bahraich for work.
"Malik ne bola kiraya dijiye ya room khali kar do. Bandi chal rahi hai kaam dhanda ho hi nahi raha hai… Roti ke liye paise nahi mil rahe kiraya kaise dun (Landlord demanded rent or asked us to vacate the room. There is no work in this lockdown… I don't have money for chapatis, how do I pay the rent)," said Ali.
Like Ali, many of these migrants were asked to leave their rented rooms. Others said that their employers refused to give them food or salary. But all of them said that hunger would kill them even before coronavirus would.