Randhawa, Soni will be Channi's deputies
Channi talks about inclusiveness as internal rift in Punjab Congress deepens
State leader questions AICC general secretary's statement on Sidhu, dubs it 'baffling'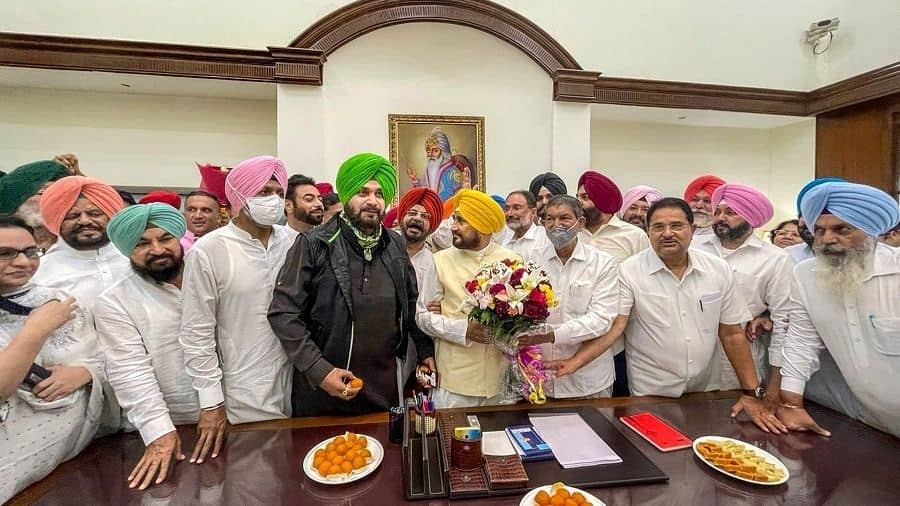 AICC General Secretary Harish Rawat with PPCC President Navjot Singh Sidhu and new Punjab Chief Minister Charanjit Singh Channi, after Channi's oath taking ceremony at Raj Bhawan in Chandigarh.
File picture
---
Chandigarh
|
Published 20.09.21, 02:31 PM
|
---
Congress leader Charanjit Singh Channi was on Monday sworn in as chief minister of Punjab on Monday, making him the first Dalit to hold the top post in the state, but the road ahead for him seems to be rocky with leaders issuing public statements reflecting the dissension within the party. 
Sukhjinder Singh Randhawa and OP Soni were also sworn in. They will be designated as deputy chief ministers.
Punjab Governor Banwarilal Purohit administered oath to the 58-year-old Channi at a ceremony held at the Raj Bhawan.
Thanking the party leadership, Channi told reporters, "The party has given a common person a great honour."
Channi said he will become the voice of the common people of Punjab and will always remain accessible to the people.
In his first press conference after being sworn-in, he appealed to the Centre to repeal the contentious farm laws. 
"Together, we have to make Punjab prosperous. Punjab is primarily an agrarian state. This government is a pro-farmer government, this is Congress government," he said.
However, Channi, who took oath in Punjabi, will need to resolve internal rifts which are tormenting the state unit before the Assembly elections due next year. 
Earlier on Monday, Congress leader Sunil Jakhar questioned AICC general secretary Harish Rawat's reported statement that the upcoming state elections would be fought under the leadership of Punjab Congress chief Navjot Singh Sidhu.
Jakhar, who is also the former Punjab Congress chief, dubbed Rawat's statement as baffling, saying it is likely to undermine the authority of the chief minister.
On the swearing-in day of Sh @Charnjit_channi as Chief Minister, Mr Rawats's statement that 'elections will be fought under Sidhu', is baffling. It's likely to undermine CM's authority but also negate the very 'raison d' tre' of his selection for this position, said Jakhar in a tweet.
Jakhar was one of the frontrunners for the post of new Congress Legislative Party leader after Amarinder Singh was nudged into quitting ostensibly over his failure to fulfil the promises made by the party in the 2017 assembly polls.
However, Congress finally picked Channi for the post and it was learnt that Sidhu backed it.
Reacting to Jakhar's tweet, BJP leader Amit Malviya called it a huge insult to the Dalit community.
This is a huge insult to the entire Dalit community if Charanjit Singh Channi has been made the CM, only to hold the seat for Navjot Singh Sidhu, the chosen Gandhi family loyalist. This completely undermines the Dalit empowerment narrative being peddled by the Congress. Shame, said Malviya in a tweet.
After his swearing in, which was held in the presence of senior Congress leaders including Rahul Gandhi, Channi said, "This government is of the people of Punjab, he further said, adding that Congress' ideology is to take everyone along.
On his predecessor, Amarinder Singh, Channi said he did good work as CM. "He is also known as protector of water rights. He is our party leader," he said.
"The party high command has given an 18-point programme and we are committed to it, said Channi," adding promises made will be fulfilled.
We will ensure a transparent government, he said.