Centre revises draft on Hindi
The revision came on a day protests against the draft threatened to spread from Tamil Nadu to Karnataka
---
---
The Narendra Modi government has sought to defuse a gathering language storm by deleting a reference to "non-Hindi speaking states" in the draft National Education Policy but sceptical parties insisted on an unequivocal statement from the Centre that Hindi would not be imposed on the states.
The sentence that has been removed reads: "Study of languages by students in the non-Hindi speaking states would include the regional language, Hindi and English."
The revision came on a day protests against the draft threatened to spread from Tamil Nadu to Karnataka.
Although the Centre is now scrambling to contain the backlash, it appears to have, deliberately or otherwise, sowed the seeds of suspicion when it uploaded the draft education policy on Friday.
It has emerged now that there were two versions, one with the red-rag sentence and another without it. For some reason, the Centre chose to upload the version with the reference to the "non-Hindi speaking states" although the second one was also ready on Friday and emailed to some journalists who had sought the draft.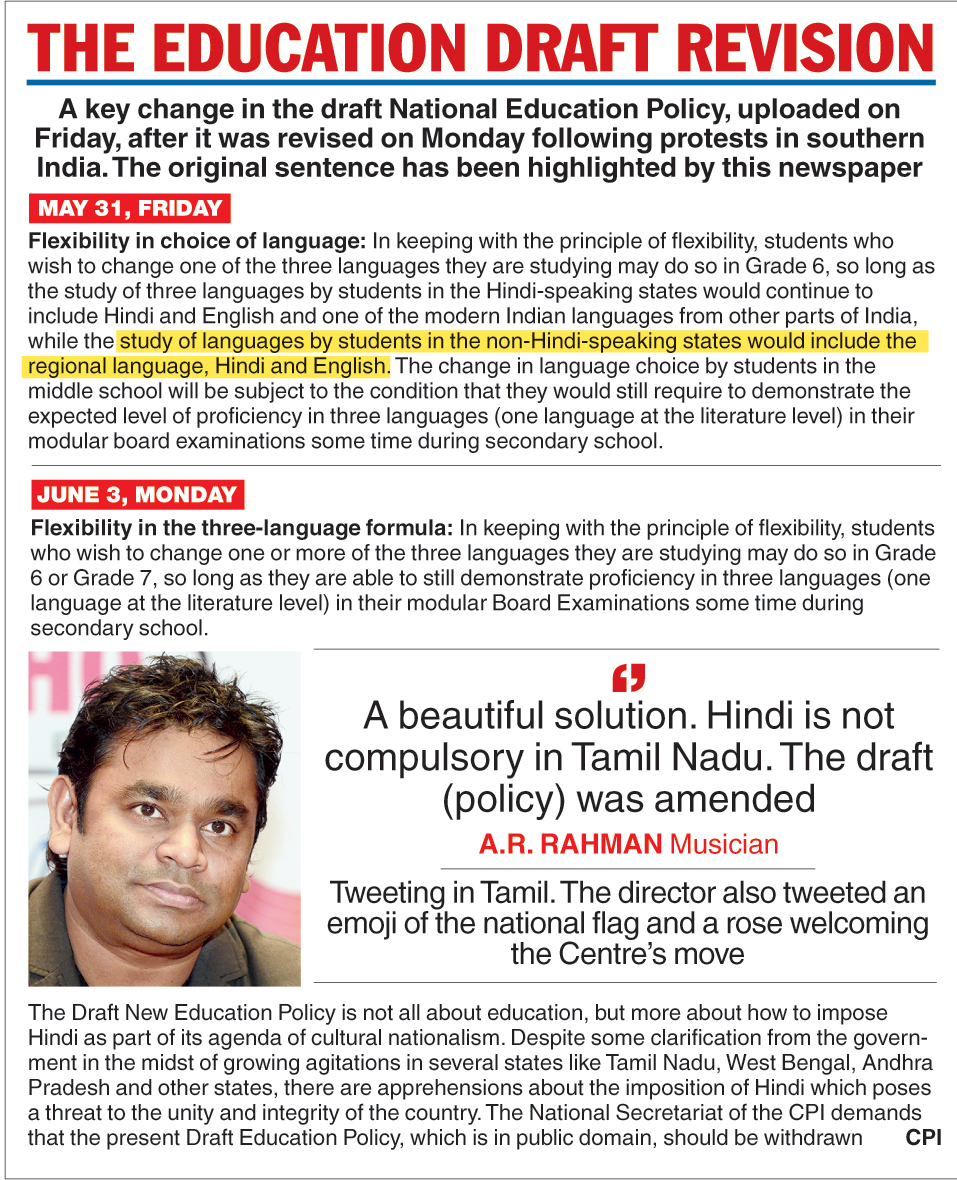 The draft was prepared by a panel headed by former Isro chairman K. Kasturirangan.
"The committee had approved two versions on the three-language formula," Kasturirangan told The Telegraph on Monday. "One version was printed. But it created a strong feeling in Tamil Nadu and Karnataka. We recommended that the other version be used. Accordingly, it has been done. If you look at the overall document, flexibility has been given to states on the three-language formula."
After the draft policy was uploaded to invite comments, several parties in Tamil Nadu had expressed fears that Hindi would be imposed on the state.
Language is a sensitive issue in the southern state that follows Tamil, one of the world's longest-surviving classical languages. Several people had been killed in Tamil Nadu in language-related agitations earlier.
The new draft does not make any dramatic departure from the existing policy, which also recommends a three-language formula, but Tamil Nadu has so far followed a two-language policy.
The latest fear appears to have been compounded by the huge national majority of the BJP, which does not have a base in Tamil Nadu and is largely seen as a north Indian party in the southern state.
The revised version, however, failed to pacify the parties.
"The central government must clarify that the three-language formula will not be implemented in Tamil Nadu," AIADMK Rajya Sabha MP A. Navaneethakrishnan said.